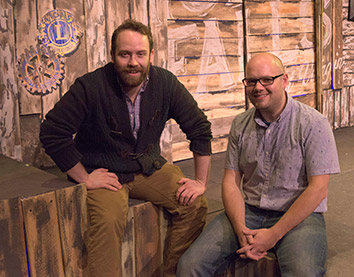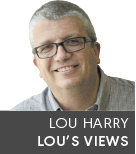 On seeing "The Great Bike Race" at the IndyFringe festival in 2014, I wrote that writer/director Zack Neiditch "is perfectly happy being creatively anachronistic without ever violating the spirit of the show." And that producer Zach Rosing "rises even higher than the occasion demands with constantly surprising, amazingly executed sound and video. It's the best use of video I've seen in any stage production in Indy in, well, maybe forever."
That was before I saw the Rosing/Neiditch production of "The Rocky Horror Show" later that year at the Athenaeum, complete with inspired credit sequence and seamless incorporation of video narration.
Thanks to those productions and more, the Zack and Zach dynamic duo has built a unique reputation as both innovative independent producers and a go-to, work-for-hire team that actors and other creatives hunger to work with.
Recently, they tackled "Bat Boy" for Theatre on the Square, where they are also prepping the local premiere of "Heathers" for a July/August run. In October, they'll move to the Athenaeum to take "The Rocky Horror Picture Show" for another spin.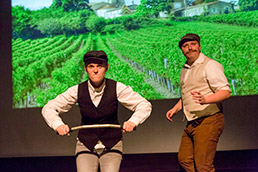 "The Great Bike Race" (Photos courtesy of Zach Rosing)
While the two come off as longtime pals, their friendship/creative partnership goes back only to 2012, when they both worked on a Footlite Musicals production of "Rocky Horror." Back-from-college Neiditch played leading role Brad while Rosing produced.
Soon, ideas began hatching for their own productions. In addition to the above, they also scored a Fringe hit with "Holy Ficus," selling out in part based on their joint reputation for creating joyful theater.
Rosing came to Footlite through a nontraditional route—as media director for a church in Whitestown, where he taught himself video and sound work.
"I'm forever kicking myself for not going to school for arts administration or sound design," he said. "I didn't find theater until the end of my college career."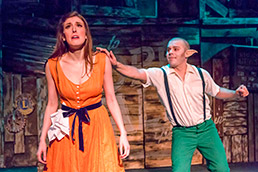 "Bat Boy" (Photos courtesy of Zach Rosing)
He was embraced, though, by the all-volunteer Footlite, where he became a member of the board and worked on a string of productions, finding ways to incorporate video when appropriate and learning on the job.
Neiditch, on the other hand, was acting since age 6, when he performed in "Fiddler on the Roof." As a teen, he participated in the Indiana Repertory Theatre conservatory, where he saw ShadowApe's production of "Gorey Stories."
"My head cracked open and my brain danced a little," said Neiditch, who became committed to a life in the theater.
That's the sort of reaction both now try to elicit from audiences. Together, Rosing and Neiditch pick and choose projects they feel they can both execute well and not lose money on. Along the way, they've not only raised the bar for their own work, but also helped upgrade facilities, most recently guiding a makeover of the lighting and sound system on Theatre on the Square's mainstage.
While innovation in the arts is often associated with eccentricity, Rosing and Neiditch have a strong reputation for efficiency. On the set of "Bat Boy," just a day before the first public performance, they both presented calmly and professionally amid the last-minute touching up of sets, adjustment of sound cues, and coordination of video effects. At the "Rocky Horror" auditions, cheerfulness reigned.
"When they say they are going to do something, they do it," said Mariel Greenlee, choreographer for "Rocky Horror." "They are so organized and their actors feel as though their time and effort and talents are valued and are being used efficiently. That makes a big difference when you are giving above and beyond."
"They both have such unique understanding of each other's talents," added actress/composer Paige Scott. "Their imaginations cooperate."
And, I'll add, lead local theater lovers to wonder what they have planned next.•
This column appears weekly. Send information on upcoming arts and entertainment events to lharry@ibj.com.
Please enable JavaScript to view this content.