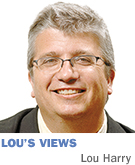 In 1992, "Scheherazade" closed David Hochoy's first season with Dance Kaleidoscope.

This year, when it was offered at the Indiana Repertory Theatre June 2-5, it capped a season celebrating Hochoy's 25th year as the company's artistic director.

Normally, I try to dismiss such factors when settling in to experience a work on stage. But in watching "Scheherazade," I couldn't help but allow Hochoy—and the quarter century of DK memories he created—to be part of the experience. Even as I was enjoying the performance, I was taking stock of Hochoy's career here—at least, the 21 years of it I've been privileged to witness.

When I moved to Indianapolis (to edit the long-gone Arts Indiana), I asked every arts professional I met to name the artist they admired and respected most in Indiana. More than half named Hochoy. And I'm guessing that percentage would be as high if the same question were asked today.



How many artistic directors in other disciplines write much of their own material? As a choreographer, Hochoy is the equivalent of a writer/director, with just about every DK program featuring at least some of his work. Season after season, we've seen premieres of his latest creations. Season after season, he's introduced Indianapolis audiences to fellow choreographers. Season after season, he's done the work of keeping a fluid company of dancers on their toes.

It's easy to take that for granted. But check in with other midsize cities to see how many have a fully professional, year-round modern dance company, let alone one as accomplished as DK. When I brought out-of-town journalists here for an American Theatre Critics Association convention a few years back, they were thrilled at the brief taste they got of DK's work—with some expressing jealousy over Indy's ability to retain such a company.

In my seat at "Scheherazade," I marveled at how one artist's vision can shape how generations think about an art form. As the choreographer whose work I've seen the most pieces by, Hochoy has certainly shaped mine.

Anyone who has read this column over the years knows I have not been a fan of every step Hochoy has created or every dancer he brought into the fold. But never, I hope, did my writings come across as critical of Hochoy's intent, discipline and integrity.
Dance Kaleidoscope's "Scheherazade" capped the company's 2015/2016 season. (Photo courtesy Dance Kaleidoscope)
Among local artists, Hochoy has also been one of the most open and conversational about his work and

the process he uses to create it. Offering a Q&A session with every new program, he's articulated his thinking but never told audiences what to think. If you can describe a dance in words, why dance it?

But in the words of someone who knows far more about dance than I ever will: "I think the reason dance has held such an ageless magic for the world is that it has been the symbol of the performance of the living … [The body] holds in its memory all matters of life and death and love."

That's Martha Graham, whose company Hochoy previously danced with.

"And there is grace," she added. "I mean the grace resulting from faith: faith in life, in love, in people, and in the act of dancing. All this is necessary to any performance in life which is magnetic, powerful and rich in meaning."

David Hochoy has given us 25 years of magnetic, powerful work that has been rich in meaning, even if difficult to put into words.

So, no review this time, just an appreciation. And anticipation (with pleasure) of what's to come.•

__________

This column appears weekly. Send information on upcoming arts and entertainment events to lharry@ibj.com.