Like many actors with a science fiction or fantasy credit, Edward James Olmos makes the rounds to pop culture conventions throughout the country.

But at 2015's Indy PopCon, the man best known to this crowd as William Adama on the acclaimed reboot of "Battlestar Galactica" found himself in the shadow of a very different kind of celebrity.

While the occasional fan trickled into Olmos' area for an autographed photo, thousands of teens lined the convention aisles hoping to have an up-close-and-personal moment with Markiplier.

Who?

If you are over 25, you are excused for not recognizing the name. But with more than 13 million subscribers to his YouTube channel, Mark Edward Fischbach is a new breed of celebrity, one who gained fame and followers not from acting, singing or doing stand-up comedy, but by providing commentary while playing computer games online.

Smith
"Olmos actually thought it was kind of cool," recalled Shawn Smith, one of the team of locals who created PopCon, which is offering its third annual Indiana Convention Center-based gathering June 17-19.

"Some of our guests were kind of miffed about these young whippersnappers getting all of the attention, but he had fun with it. And Casper Van Dien from 'Starship Troopers' took a selfie punching Markiplier."

Organizers give these YouTube stars and their fans much of the credit for helping boost attendance at PopCon last year. The inaugural outing in 2014 generated about 9,000 turnstile spins, growing last year to 24,000.

This year's lineup includes film director Kevin Smith ("Clerks"), "Doctor Who" star Karen Gillan, "The Bad Boys of YouTube" Machinima Etc., and musical comedy act Ninja Sex Party. New this year: A G-Fuel-sponsored eSports Arena is being set up for interactive gaming at PanAm Plaza, which will be live-streamed on Twitch.tv.

The choices reflect a deliberately broad range for a pop-culture convention. Unlike more focused events such as Comic Con and the tabletop-game-centric granddaddy of such events, Gen Con, Indy PopCon is built on nine pillars. While there is overlap in interest, each—gaming, internet, comics, cosplay, TV/movies, art/music, anime, fantasy and sci-fi—can have its own distinct fan base.

That can be a blessing or a curse—or both—for convention organizers.

Just as a soccer fan might have no interest in baseball, a comic book fan might not care in the slightest for costumed dress-up, while a fan of horror movies might turn a nose up at "Star Wars" activities. Diversification can draw broader crowds but can lead to disappointment if there's not enough activity to satisfy each group.

It's worse if they aren't spending money.

Doninger
Event co-organizer Carl Doninger admitted that not all vendors were happy after the inaugural PopCon.

"The first year there were numerous complaints," he said. "We didn't shy away from those and most of the vendors did come back."

Year two included a much smaller merchandise area with fewer vendors.

"And we were very cautious not to oversaturate the artists' alley, which was the biggest problem the first year," Doninger said.

He said PopCon was too quick to bring in all the artists who wanted to come, "but there are only so many people there to buy art."

"My favorite response last year," he said, "was from one vendor who said the weekend was better than Christmas."

One vendor returning for a third year is Doug Stephenson, vice president of Downtown Comics.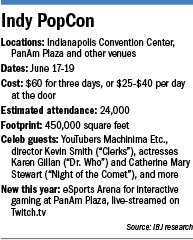 "I think they learned a lot in the first year," Stephenson said. "They came in the aftermath of the first Comic Con that didn't rent out nearly enough space, got swamped, and had to turn people away. PopCon wanted to make sure that didn't happen and ended up with too much space. They didn't have a sense of things bustling.

"The next year, they cut back the space to match the amount of foot traffic and there was always a sense of things to do. It had a crowd feel without feeling crowded."

Stephenson has also learned from past PopCons. This year, he is bringing fewer comic books (40-50 long boxes full instead of 80-90) and more action figures, pop dolls and posters.

"For us, Gen Con isn't worth our time," he said. "The booth is expensive and we have a 2,000-square-foot store three blocks from the Convention Center." He looks at PopCon more as promotion than revenue generating.

"It's a way to get our name out there and get brand recognition in the area so that people from Muncie and South Bend and elsewhere, when they come to Indy, they will think of Downtown Comics," he said.

"It was a fun event and probably the first con where we got any serious traction," said Brian Hartz, an instructor with the Indy Lightsaber Academy, a "Star Wars"-inspired fencing school. "On the other hand, it wasn't exactly our fandom—or, at least, the overlap between our primary fandom and theirs wasn't perfect." Still, his group is enthusiastically returning this year.

PopCon still doesn't have any full-time employees. But that hasn't kept the eight owners—some of whom work with the Indy-based Comics Price Guide—from having big ambitions for the little-con-that-could.

"We want to have an economic impact for Indy," Doninger said. "Ultimately, we want to grow to GenCon or bigger. We've got South by Southwest in our brains, with music and geeking and theatrical stuff in multiple venues all over Indianapolis. But it takes time to get there."

"We're hoping for more growth this year," said Smith, who nonetheless has budgeted for a slight shrinkage in case PopCon is hit with "con fatigue."

"If we get the same as last year," he added," "we'll be perfectly contented."

For now, unlike Gen Con, which takes over the entire convention center, Indy PopCon still has to share the space. This year, it will be cohabitating with The Gospel Coalition National Women's Conference.

"We've already had one concerned call about Ninja Sex Party," Smith said. "So I'm not sure they will be totally down with everything we do."•