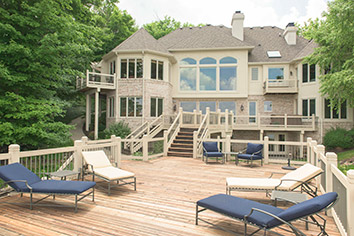 Though their three-level, 7,600-square-foot home offers lots of amenities, owners Charlie Brown and his wife, pediatrician Dr. Louise Tetrick, think its best feature is its windows. Particularly the ones offering sweeping panoramas of nearby Geist Reservoir.
"The views are what it's really all about," said Brown, the recently retired president of Bell American Group, which operates more than 200 Taco Bell franchises. "To get up in the morning and see the sunrise over the water, it's unbelievably beautiful."
Brown has lived in the Geist area for decades, but it wasn't until 12 years ago that he bought a lot by the water and built his home from scratch, using the services of builder Dan Elliott. The brick-and-stucco abode is on a cul-de-sac on the lake's west side. It's a stretch of geography he's always coveted.
"I've been around the lake for 30 years, and I definitely wanted to be on the west side," Brown said. "When you're on the other side, the afternoon sun just burns you up."
The home's main entry leads into a great room with a two-story coffered ceiling. The space takes full advantage of its lakeside view via floor-to-ceiling windows. Its other major feature is a 300-gallon saltwater aquarium.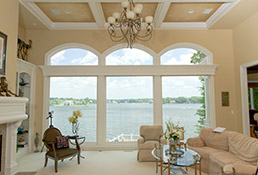 The great room offers beautiful views of Geist, as does the master bedroom, which has a tub just below a window facing the lake. (IBJ photo/Eric Learned)
The upper level also includes a den, massive kitchen with granite counters, a dining room, family room and ground-floor master suite. Of course, the suite also offers panoramic water views from its sitting area—as does the master bath's tub, which sits next to both a fireplace and a window overlooking Geist.
The lower level includes four bedrooms, which see plenty of use. Between them, Brown and Tetrick have four children. The last left home only a few weeks ago, but the couple expects regular return visits. Right now, however, their only "guest" is their labradoodle, Reggie.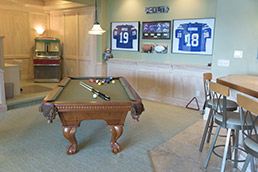 The two-story great room includes a 300-gallon saltwater aquarium. The home's basement includes a wet bar and game area decorated with sports memorabilia. (IBJ photo/Eric Learned)
The home's basement level offers a wet bar and game area decorated with framed, signed jerseys from Johnny Unitas and Peyton Manning.
"I was a Colts fan before most people in Indianapolis," Brown said.
He's also, almost by default, a fan of the comic strip Peanuts. The house is decorated with lots of Peanuts paraphernalia, from sketches to full-blown paintings.
"Some I've collected on my own, and an awful lot I've gotten as gifts," said Brown—who was born in 1949, the same year Charles Schulz launched the strip.
The basement also includes a large filtration system for the top-level saltwater aquarium. It's secreted away in a closet.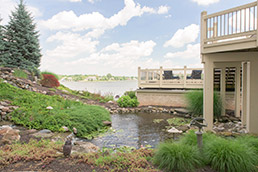 (IBJ photo/Eric Learned)
Brown, something of a fish fan, also keeps a large outdoor koi pond that he designed himself. Fed by three artificial streams, it dominates the home's steep, smallish back yard.
The fish are large, colorful and friendly, which sometimes poses a problem. The couple has occasionally caught blue heron wading in the pond, trying to make a meal of them. Fortunately, a bald eagle that also resides along the bank hasn't bothered them.
"The eagle has left us alone," Brown said. "It will go out and get fish out of the lake. It's interesting to see him eating fish out there."
The eagle's activities can be observed from a wooden deck that perches atop the property's boat dock. Instead of floating on the lake, the dock is literally a waterside garage, with a concrete floor that allows the couple's boat to be hauled up and out of the water.
"In the fall when the leaves are changing, it's just so peaceful out there," Tetrick said of the outdoors.
Though the two love the lake, they recently decided to build a house on a piece of historic property—one with no waterfront view. With somewhat mixed feelings, they're offering their current abode for sale at $1.45 million through Berkshire Hathaway's The Richwine Group.
"I'm definitely going to miss the lake," Brown said.•
Please enable JavaScript to view this content.