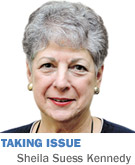 On June 11, Indiana Gov. Mike Pence, addressing the Republican State Convention, said: "We must resolve today that Indiana will be the first state on the board to make Donald Trump the 45th president of the United States of America."

The governor thus "doubled-down" on his previous endorsement of Donald Trump, raising a number of questions about the extent to which he also endorses the various positions Trump has taken and the many controversial statements he has made.

Here are just a few of the questions I would expect political reporters to ask our governor during the upcoming campaign:

• Gov. Pence, do you agree with Donald Trump that an Indiana-born judge with a Mexican heritage cannot fairly and impartially hear a lawsuit against him, simply because of his ancestry? Or do you agree with Paul Ryan that such a statement is a "textbook definition of racism"?

• Governor, do you agree with Donald Trump that America should ban Muslims from entering the United States? Do you believe that such a ban is consistent with either our Constitution or our American values?

• After the Orlando massacre, Trump reiterated his call to bar all Muslims from entering the country; he then went further, saying that U.S. officials should consider specifically profiling Muslims when looking to prevent future terror attacks. Do you agree with his insistence that racial profiling is "just common sense"?

• Donald Trump is famous for making numerous vulgar remarks denigrating women in general, and women who have criticized him in particular. Two examples: "You know, it really doesn't matter what the media write as long as you've got a young, and beautiful, piece of ass," and "Arianna Huffington is unattractive, both inside and out. I fully understand why her former husband left her for a man—he made a good decision." Do you consider such crass remarks and insults appropriate from a presidential candidate?

• Governor, Indiana has a substantial number of citizens who have come to our state from Mexico. Do you agree with Donald Trump that America should build a wall between the two countries? How would you explain the reasoning behind that proposal to Hoosiers of Mexican heritage?

• Do you agree with Donald Trump's assertion that many Mexican immigrants are rapists?

• Do you agree with Trump's statement that "politics today is a disgrace because good people don't go into politics"?

• Trump has routinely hurled outrageous accusations at President Obama; as a prominent "birther," he questioned whether the president was born in Hawaii, and more recently, he insinuated that the president was in league with Muslim terrorists. Do you agree with those accusations? If not, can you explain why you're willing to hand this nation's nuclear codes to a conspiracy theorist?

There are many more questions we might add to the list, but at a minimum, Hoosiers have a right to know whether Gov. Pence is simply being a "good Republican soldier," placing partisan power considerations above the nation's interests, or whether he actually agrees with his party's presumptive nominee on these issues.

As the race for the Statehouse gets under way in earnest, Hoosiers should have a clear understanding of just how far Gov. Pence's ringing endorsement of an unapologetically racist, sexist xenophobe extends.

When John Gregg accepted his party's nomination at the Democratic State Convention, he proudly labeled Democrats "the party of inclusion." It was intended as a pointed contrast to the GOP's positions affecting LGBT Hoosiers and women.

Pence's full-throated endorsement of Donald Trump underscores the comparison.•

__________

Kennedy is a professor of law and public policy at the School of Public and Environmental Affairs at IUPUI. She can be reached at skennedy@ibj.com.