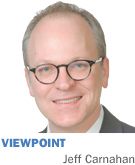 Kevin Costner's character in "Field of Dreams" built a baseball park in an Iowa cornfield on the seemingly ludicrous mantra: "If you build it, they will come."

He did, and they did.

I'd like to see a movie about an unemployed factory worker who hears in his head: "Buy a run-down, contaminated, out-of-date, hard-to-get-to brownfield site and they will come." Would they?

Cities, including Indianapolis, bet their economic futures on the idea that abandoned factories can be magnets for entrepreneurial software programmers, "clean" manufacturers, workspace sharers and craft brewers.

Carrier Corp.'s recent announcement that it will leave Indy—and 1,400 former employees—adds to the city's inventory. And Indianapolis already has plenty of vacant land and old buildings to get back into productive shape. It's working hard to do so, partially funding projects northeast, east and west of downtown.

The simplest assumption is that a newcomer could easily fit into the existing vacant plant, but that isn't usually the reality.

For one thing, today's manufacturing facilities are technologically more sophisticated than their predecessors. As an example, the RCA site enjoyed its heyday in the 1950s with over 8,000 workers. What modern manufacturer employing far fewer high-wage workers would be able to use what remains of that hulking facility? Bulldozing part of the plant was a good first step.

A second factor: Old pollution at that site—and dozens of others—must be dealt with. You can't ask multiple tenants of a refurbished manufacturing plant to put up with pollution under the ground or in the air.

Call them "brownfields of dreams." The U.S. Environmental Protection Agency coined "brownfields" in 1995 to identify properties where development or expansion might be complicated by real or perceived hazardous pollutants.

Environmental contaminants lurk underground at most old manufacturing sites. The EPA didn't exist until 1970. Before that, few regulations instructed companies on how to handle hazardous materials. Many pollutants went straight into the ground. Even after the Indiana Department of Environmental Management was established in 1986, periodic accidental spills still occurred. IDEM does a good job of providing rules intended to minimize the occurrence of environmental releases, but IDEM inspectors can't be on the manufacturing floor 24/7.

Cleanup takes money. It can cost millions—or several hundred thousand dollars—to redevelop a brownfield. But, once pollution is gone, the ultimate result can be profitable in many ways.

How to fund? Indiana's cities effectively use federal brownfield cleanup grants, but acquiring these funds is extremely competitive, so this source might not be reliable in the long term. Federal assessment grants awarded to local development corporations help but don't typically go far enough toward substantial cleanup.

Fortunately, significant sources of funding cleanup might be available even when it seems all avenues are exhausted. Old liability insurance policies are an example. Finding them can be tricky, but they can make the difference between a successful project and a wasted effort.

Indiana's brownfields fund has existed since 1996; however, dwindling budget resources for supplementing the U.S. EPA revolving loan fund make it difficult for the state's fund to help local cities and towns.

Indianapolis really faces a three-pronged financial and marketing challenge: finding financial resources to clean old sites and rehab buildings, developing new inventory, and zeroing in on companies that will profitably use old and new sites.

"If you build it, they will come." That is, new jobs and new customers.•

__________

Jeff Carnahan is vice president and chief technical officer for EnviroForensics Inc., a national environmental engineering firm based in Indianapolis.