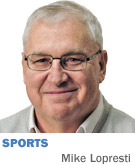 Here come the Summer Games, and to get in the Olympic spirit, let's review some of the latest items from Rio.
Might we expect any more human body parts to wash up at the beach volleyball site?
Will the USA rowing team's sewage-proof suits work against the fearsome super-bacteria of Rio's less-than-pristine waters?
Did they fix the toilets in the athletes' village yet?
Any new hospital shootouts lately with drug gangs? 
And finally, is it true all the Zika-carrying mosquitoes have flown north to Florida for the winter?
On that note, let the Games begin!
Forgive the personal bent here, but I covered 16 Olympics, and all of them came complete with flame and medals—and visions of doom. The sky was always going to fall. Terrorism, traffic, weather, unfinished venues. And then the Games arrived, and usually the sky turned blue. Until the bills arrived, anyway. (This just in: An item in Tokyo's budget for 2020 just went from $690 million to $2.6 billion.)
There was going to be unimaginable traffic gridlock in Los Angeles in 1984. Factories closed down for two weeks and residents fled the city for vacation, and the freeways had the smoothest flow in years.
Sarajevo was supposedly inadequate to serve as an Olympic host city—a downtrodden flashpoint of a place in tense Yugoslavia. But the locals pulled it off with hard work and the sunny optimism that it might give them a better future. Too bad it didn't. When the Bosnian War broke out a few years later, the bobsled run was used for Serb artillery positions, and many of the dead were buried outside the stadium that once hosted the opening ceremonies.
There was worry the harsh Scandinavian winter might put the Games of Lillehammer in a headlock. Yeah, right. They know snow in Norway. Every weather impact was deftly handled, including the guys who were on the roof of my apartment early every morning knocking off ice—the Norwegian alarm clock.
There was raw and real fear of terrorism in Athens in 2004. They were the first Summer Games after 9/11, in a city close to the Middle East and no stranger to terrorist activities. They went off without a murmur. The security had everything in order— including the Patriot missile batteries beyond the outfield wall at softball.
Beijing was supposedly too big and chaotic for things to run in a timely matter. The way it turned out, the Chinese—obsessed with flexing their efficiency—left nothing to chance. You could set your watch to their buses. I noticed only one running late, by 10 minutes, and I half-expected to see the driver the next day cleaning the restrooms at the press center.
It was going to rain every single day in London. But it didn't.
Atlanta was going to be a transportation disaster, with imported bus drivers who didn't know the capital of Georgia any better than they knew the capital of Thailand. OK, that one turned out true. Plus, there was a bomb.
But in most cases, the nightmare scenarios never showed up— except for 1972, when the Munich massacre changed the Olympics forever. One thinks of the Mark Twain line:  "I am an old man and have known a great many troubles, but most of them never happened."
That said, we have never seen pre-Olympic woes like Rio's. We have never seen oil slicks in the sailing bay, or teams refusing to check into the village, or angry and unpaid police standing at the airport and holding up signs, "Welcome to hell." Usually, it's local volunteers with smiles, handing out guide books.
The key is for the games to start. Once the competition begins—not to mention all the television commercials—the spotlight tends to fall more on who's winning or losing. For instance, who slows the unstoppable Chinese train in diving? Can it really be Purdue or IU? And in which sport will the United States thrive? The rifle and pistol range ought to be promising. If there is one skill Americans should be experts at, it's shooting.
And there are always remarkable stories. Perhaps you think of Michael Phelps when you think of the last Summer Games, in London. I think of Vassiliki Vougiouka, a Greek fencer who had two teeth knocked out during her match, and 20 minutes later insisted on competing in the next round. She lost her quarterfinal because she had to keep her mouth closed due to the pain, and eventually ran out of breath, but not heart.
The punch line? She was a dentistry student. Only in the Olympics.
Rio should produce such stories starting next weekend, once it gets the chance. But a last-minute change in karma is needed—more than any Olympic Games host city in memory. Rio will yearn for the world to look at its best side, but more severed body parts at beach volleyball will be kind of hard to ignore.•
__________
Lopresti is a lifelong resident of Richmond and a graduate of Ball State University. He was a columnist for USA Today and Gannett newspapers for 31 years; he covered 34 Final Fours, 30 Super Bowls, 32 World Series and 16 Olympics. His column appears weekly. He can be reached at mlopresti@ibj.com.
Please enable JavaScript to view this content.