A salvage hub of sorts is taking shape on the near-east side now that another antique shop with a familiar name has opened in the area.

Little Doc's Architectural Salvage on Aug. 1 began welcoming customers to its location at 411 N. Dorman St., in the same building housing the Smoking Goose Meatery and across from Flat 12 Bierwerks.

The new addition to the Holy Cross neighborhood, just east of the Interstate 65/70 leg, joins Society of Salvage and Rewired Antiques, both at 1021 E. Michigan St., and Midland Arts & Antiques Market at 907 E. Michigan St.

The four sit within a few blocks of one another, making it quite convenient for vintage buffs to hit multiple stores within walking distance.

"You don't have to drive all across town to go everywhere," said Sandra Jarvis, owner of Society of Salvage, while dismissing any concerns of competition. "I think it will be really cool."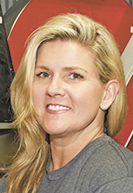 Jarvis
Little Doc's is a new venture launched by Doc C. Keys, who got his start in the salvage business working for his father, Doc G. Keys. The elder Keys has operated Doc's Architectural Salvage & Reclamation Services on West 30th Street near the Central Canal for 17 years.

He now has moved to Springfield, Tennessee, near Nashville, to open another Doc's location. The west-side shop remains active. But the younger Keys, 34, decided it was time to branch out on his own.

"It will be real similar to what my father did," he said of the new business. "That's where I've learned it all from."

Little Doc's occupies 10,000 square feet, much of it warehouse space, where visitors are greeted by a vast array of vintage Coca-Cola pop machines and signage. Rows of old doors and other materials stripped from buildings are available for scouring in the structure's rear.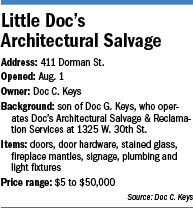 Keys began searching for a location about 18 months ago, to no avail. The space was either too big or the rent too
expensive. But with help from Coldwell Banker broker Matthew Cremer, Keys ultimately found what he considers the ideal location, particularly since learning more about the neighborhood.

"I didn't even realize the other antique places were here," he said. "It was kind of an accident. But once it happened, the antique gods aligned, I guess."

The emergence of Holy Cross as an antiques hot spot has occurred slowly, without any collaboration.

Midland opened in 1996, in a former factory at the foot of an Interstate 70 on ramp, and features the wares of more than 200 independent art and antique dealers from throughout the Midwest.

Jarvis moved Society of Salvage in 2013 from the southeast side and shares space with Jeremiah Goss and his Rewired Antiques shop.

The hub's unintentional formation comes as no surprise to John Franklin Hay, executive director of Near East Area Renewal, whose focus neighborhoods include Holy Cross.

"These things fall into place," he said. "Once a cluster of like-minded businesses starts in an area, it brings good competition from others."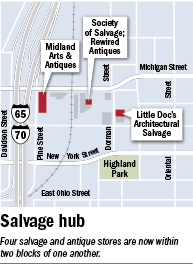 The Holy Cross neighborhood overall is experiencing a revival, bolstered by the Re-Development Group's building 16 custom homes on 1.6 acres the company purchased in 2012 at the southeast corner of New York Street and Highland Avenue.

"Holy Cross is like a fire that got ignited a while ago," Hays said. "It's a good fire."

While Keys is counting on walk-in business, he also has high hopes for robust e-commerce sales once he gets his website up and running—a critical move to reaching a broader audience.

He culls his merchandise from throughout the Midwest. His most expensive item, a wood bar he pulled from a country club in upper Michigan, retails for $25,000.

The bearded and tattooed Keys, who sports sleeves of ink, inherited his unusual first name from both his father and grandfather. Keys' great-grandmother so wanted her baby boy to become a doctor that she named him Doc.

None of the men became doctors, but the name has survived four generations. Keys passed on the family tradition by bestowing it upon his son, now 12 years old.

Keys grew up working for his father in the family building-restoration company, which launched in 1952. The elder Keys began accumulating architectural salvage items over the years as a hobby and, in the late 1990s, rented a booth at Midland to sell his stuff.

He quickly ran out of space and moved to part of the construction company's site on West 30th Street. He officially launched the salvage business in 2000.

The construction company no longer survives, but Keys intends to carry on with his father's love of antiques.

"I want this to be an extension of that," he said. "My dad's taught me a lot. I've been fortunate to have a father like that."

Keys graduated from Franklin Central High School, attended Ivy Tech Community College and took courses through the University of Phoenix before realizing he wanted to maintain the family business.

He's weathered the death of his sister, from a heroin overdose five years ago at age 30. Her memory lives on through a tattoo on his left arm depicting her as an angel. An accompanying tattoo of his sister's signature taken from her driver's license is embedded with her ashes.

Keys' five children, two with his current wife of four years, Lindsay, keep him on his toes. The four boys and one girl range in age from 12 years to 6 months.

"It's been a wild run, but we haven't even started yet," he said. "It's time for me to take this and grow."•