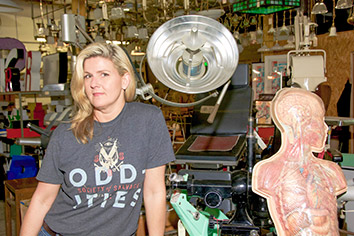 Chef Jonathan Brooks knew just where to turn to help outfit his trendy Milktooth restaurant that opened in the Fletcher Place neighborhood late last year.
A salvage store, of course, to complement the industrial feel of the former auto repair shop on Virginia Avenue.
But not just any antique depository. He sought out Society of Salvage, a 2-year-old shop on downtown's east side. Owned by Sandra Jarvis, the store has carved out an unusual niche in the salvage industry by unearthing industrial equipment and medical oddities from old buildings and factories.
Jarvis, 45, is a former commercial real estate broker who's mothballed her license to concentrate on the growing business. She expects revenue to jump about 20 percent this year, to $125,000.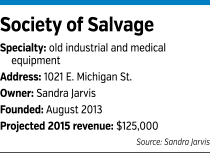 Brooks shopped Society of Salvage on the advice of friends and came away with about 40 dining chairs for Milktooth and some decorative items.
"What they have to offer is their eye," Brooks said. "There's a lot of [vintage] stuff out there on the market, but they're a great filter. You know it's going to be unique and cool, and probably comes from Indiana."
Jarvis indeed traipses the state, and sometimes even ventures outside its borders, in search of items to stock her store at 1021 E. Michigan St.
A quick perusal of the 9,500-square-foot space reveals exterior metal building letters selling for as little as $2.25 each to a $3,500 double-sided stainless steel cabinet. In between, the shop is strewn with industrial fans, scales, desks and chairs. More peculiar pieces include dental chairs, X-ray lights, and autopsic and surgical tools.
"I kept seeing all these cool things—stuff you would see in Restoration Hardware but the real thing," Jarvis recalled. "And it was getting trashed."
Jarvis—dressed on a recent weekday in a Society of Salvage T-shirt, jeans and red Converse low-top tennis shoes, opened the store under the name Indy Swag in August 2013. The original location was 4000 Bethel Ave. on the east side. Despite moving four months later to its current home on the outskirts of downtown, the store remains somewhat of a hidden treasure.
Word is beginning to spread, however. Store traffic is increasing and, early next year, Jarvis hopes to begin offering items for sale online. Social media accounts for the brunt of her advertising.
Jarvis began collecting her inventory while working as a real estate broker showing industrial buildings to clients. Medical oddities are among her specialties.
 (IBJ photo/ Daniel Axler)
Television shows such as "American Pickers" have made the salvage industry chic. For Jarvis, rescuing antiques at auctions sprung from her days as a broker.
A 1988 graduate of Arsenal Technical High School, she worked as a waitress, hostess and assistant manager for such culinary hotshots as Peter George. In 1995, she left for Key Largo, Florida, to operate a restaurant but ultimately became director of marketing for a private-jet charter firm in Fort Lauderdale.
She returned to Indianapolis in 2002, coordinating communications for The Columbia Club for two years, before her "passion for buildings" led her to earn a broker's license and join Urban Space Commercial Properties.
"She's always been kind of a pack rat," Urban Space owner Brian Epstein said, "so that job fits her well. I think she's found her niche."
Jarvis stayed at Urban Space until 2009, when she ventured out on her own and founded commercial real estate firm IndySquared. It was then that she began to covet the "tons of stuff left behind" while showing vacant industrial buildings to clients.
Sensing there might be a market for such items, she began attending auctions, most notably the sale of equipment at the now-demolished General Motors stamping plant downtown that closed in 2011.
Jarvis walked away with 1950s-era furniture from the plant's executive wing and equipment from its medical clinic.
Several sales later, Jarvis has managed to build a business from them.
"I think it's really cool that I'm saving this stuff from the landfill," she said, "and people really love it."
She also works her real estate contacts to further build her inventory and refers to developers as her friends.
Among them is John Watson, managing member of Indianapolis-based Core Redevelopment LLC. Core is working on a project in Cincinnati to retrofit a 1908 school building into apartments.
Jarvis took from the building enough equipment to fill a large moving truck.
"She's an entrepreneur in the truest sense," Watson said. "She's done real estate deals with me; she's brokered some salvage with me. She's just a hard-working person."
Picking buildings is a dirty and difficult job. Jarvis often ponders: Is there a market for the items, and is it really worth dragging them down from a second level?
Then even bigger challenges can arise: how to price the items to sell. There's a learning curve to that, Jarvis acknowledged, and it's typically done by "trial and error."
But here's the real predicament.
"One of the most challenging things is not wanting to keep everything," she quipped.
Society of Salvage is open Fridays and Saturdays from 11 a.m. to 6 p.m.•
Please enable JavaScript to view this content.