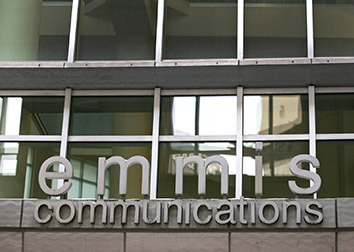 Emmis Communications Corp. CEO Jeff Smulyan has again proposed taking the radio and publishing firm private—the third time in the last 10 years.
E Acquisitions Corp., the company that Smulyan has established to complete the acquisition, would purchase all shares of publicly traded Emmis for $4.10 each, according to a proposal announced late Thursday. Smulyan stated that he had secured financing from Falcon Investment Advisors, a Boston-based private equity firm.
With approximately 12.2 million Emmis shares outstanding, the deal would be worth about $50.3 million.
If Smulyan's proposal is successful, Emmis would cease to be a public company, according to the proposal. Emmis shares were trading at $3.96 at market close on Thursday, meaning Smulyan was offering a scant markup for the shares.
This is not the first time Smulyan—the company's controlling shareholder with 1.5 million shares—has tried to take Emmis private. He also made attempts in 2006 and 2010 but hit obstacles. The 2010 attempt was blocked at the 11th hour by a group dissident investors. Smulyan called off the 2006 deal after he couldn't reach terms with the board.
This time, it appears he has a good shot at succeeding.
"I would think there is a reasonable chance this could go through at this time. Given how small the market cap is, I don't see any major holders that will dig in their heels and say, 'They're not paying us a fair price,'" said Mark Foster, a stock analyst with Columbus-based Kirr Marbach. "It's a decent premium based on where the stock was trading two months ago."
"The company must think word leaked on this proposal pushing the stock price up in recent days," Foster said. Shares had been trading near $3 before a sudden spike in the second week in July.
The company soon might look different than it does today, if the transaction goes through. Emmis is considering options to reduce its debt and "exploring strategic alternatives"—Wall Street lingo for exploring a sale—for its publishing division, according to the proposal. It also might sell some of its radio stations.
Emmis owns 19 FM and four AM radio stations in several major U.S. markets, including Indianapolis, Los Angeles and New York City. It also publishes six regional magazines: Indianapolis Monthly, Texas Monthly, Los Angeles Magazine, Orange Coast and eponymous titles for Cincinnati and Atlanta.
"They'll almost certainly sell what they think are non-core assets to reduce debt and make this happen," Foster said.
Indianapolis Monthly would be excluded from a sale of the magazines, according to the proposal.
Smulyan told Emmis employees about the proposal Thursday afternoon in an email.
"I wanted you to be among the first to know that Emmis' Board of Directors met this morning, and has formed a special committee to consider a proposal to purchase Emmis' publicly-held Class A common stock and take the company private. I am leading this effort, and fully expect that other officers, directors and certain other shareholders will join me," Smulyan wrote in his letter to Emmis employees.
Smulyan emphasized that this deal reflects his bullish attitude about the industry.
"I firmly believe in the power of radio and magazines," Smulyan told Emmis employees. "I believe in our ability to create compelling content and connect with listeners, readers and advertisers over the air, in print and digitally in ways other media cannot."
Smulyan said taking Emmis private "offers two primary benefits." It eliminates "substantial costs associated with being a public company" and helps the company "focus on long-term value creation and be less concerned with quarterly peer comparisons."
To finance going private, Smulyan told staffers Emmis would explore the sale of a Terre Haute radio station, WLIB-AM in New York, and the publishing division (excluding Indianapolis Monthly).
Robert Unmacht, a partner at iN3 Partners, a Tennessee-based investment banking consultancy focused on broadcasting and technology, agreed there is little to hold up Smulyan's latest attempt at going private.
"What's the upside for those shareholders to fight it?" Unmacht said. "The company has no focus and isn't going anywhere."
But Unmacht said that doesn't mean the company has no future. He said going private and downsizing could give Emmis a chance to refocus.
"I think Jeff and his team have some interesting ideas," Unmacht said. "Going private will give them the freedom of doing the innovative things they've been apt to pursue, and give them the time to show these things work."
Still, he said, the challenges are daunting.
"With all the advances in technology, radio has real competition right now and most radio companies, and that includes Emmis, don't have the resources to combat it. Going private won't change that."
In Indianapolis, Emmis' radio stations are WYXB-FM 105.7, WIBC-FM 93.1, WLHK-FM 97.1, 1070-AM and 107.5-FM The Fan.
Please enable JavaScript to view this content.