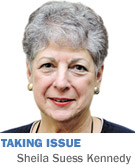 When Americans argue about laws and policies, we frequently focus on the consequences for children if we do—or more often, fail to do—thus-and-so. If we don't censor library books, children will access unsuitable ideas; if we don't place age restrictions on sales of liquor and tobacco, children will misuse them.
Often, as with age restrictions on sales of certain substances, laws are genuinely motivated by concerns for children; in other cases, pious pleas to "think about the children" mask different agendas.
That said, it is not an exaggeration to suggest that the measure of a society can be taken by looking at the practices that affect its children and youth. How children are nurtured and socialized reveals more about a society's priorities and values than all its public pronouncements or civic rhetoric.
There are really two sets of questions we must answer when we consider what America owes its future generations. The first set has to do with collective moral obligations: What basic life needs of children does a society need to ensure? What deficits of food, shelter and safety should a good society ameliorate?
The second set has to do with national continuity: What kind of education do our children have a right to expect? Whose obligation is it to provide that education? What are the civic skills and democratic values we must pass on to the next generation if America is to survive as an open society? How do we connect our diverse citizens to one another while still respecting their individual cultures and beliefs?
People of good will come to these questions with different perspectives, different ideas about how to achieve even those goals on which they agree.
One goal widely shared by people holding otherwise different political beliefs is the importance of civility, which requires us to raise children who will become kind and compassionate adults. School and parent groups work to eliminate bullying, whether expressed physically or in cyberspace; churches and not-for-profits focus children on sharing with those who are less fortunate and on appreciating and learning from those who are different.
Unfortunately, while we are trying to teach our children how to live in a diverse society, we are being assaulted by a political campaign that is undermining all those efforts. And the children have noticed.
When civility and simple courtesy are mocked as "political correctness," when juvenile name-calling replaces respectful discourse, when disabled people are publicly mocked, when people who worship differently are for that reason alone accused of being treasonous and un-American, when racism and anti-Semitism and misogyny are no longer covert but enthusiastically embraced—do we really think our children don't see those behaviors?
The Southern Poverty Law Center recently conducted a survey exploring just that question. The study concluded that "the campaign is producing an alarming level of fear and anxiety among children of color and inflaming racial and ethnic tensions in the classroom. Many students worry about being deported." Anecdotal reports are consistent with the law center's findings.
America's demographics are changing. Women and minorities no longer accept second-class citizenship. That reality is distressing to many—especially older white men who find themselves living in a society that no longer accords them the privileged status they once enjoyed. Raging against social change, however, doesn't reverse it; demeaning those who don't fit their definition of "true American" simply tears at the social fabric.
We teach children most effectively by example, and America's children are watching.•
__________
Kennedy is a professor of law and public policy at the School of Public and Environmental Affairs at IUPUI. She can be reached at skennedy@ibj.com.
Please enable JavaScript to view this content.