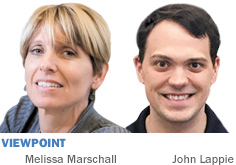 While political observers disagree on exactly how red Indiana is, there is no question that it beats out most of its Midwestern neighbors. But the state has not always been so red. In fact, until recently, Indiana was long considered a swing state.

Against this backdrop we set out to explore Indiana's local elections. Since all politics is purportedly local, how better to check the partisan pulse of Hoosier voters? And, since Indiana is one of the few states with partisan mayoral elections, it provides a test bed for a host of questions regarding the relationship between national and local politics.

Our organization, the Center for Local Elections in American Politics—part of Rice University's Kinder Institute for Urban Research—is uniquely positioned to study the issue. Our software automates the collection of election results, resulting in a database containing records on municipal elections in 22 states dating as far back as the 1980s.

In Indiana, we analyzed 474 mayoral races across more than 120 cities from 2003 to 2015. We found that, while cities have gotten redder over time, the Republican Party by no means dominates city politics. In fact, a majority (57 percent) of Indiana's cities elected Democratic mayors in both the 2003 and 2007 elections.

Furthermore, more than 60 percent of Indiana cities elected both Democratic and Republican mayors from 2003 to 2015. Only 29 elected all Democrats and 18 elected all Republicans. At least during the past four election cycles, it does not appear to be the case that Indiana cities tend to be overwhelmingly red or blue. Instead, they look more purple.

All of this notwithstanding, in 2011, there was a partisan shift. In that election, Republicans won roughly 53 percent of mayoral elections in Indiana cities, leaving Democrats with only 45 percent. Republicans lost some ground in the 2015 elections (mostly to independents) but still won in a majority of cities.

In addition to these trends in partisan voting, our analysis revealed a gradual but steady decline in turnout in mayoral elections, from an average of 29 percent in 2003 to 22 percent (of the voting age population) in 2015. Could this lower turnout help explain why Republican candidates did increasingly well over this period? If so, this suggests voter ID laws and other electoral reforms that suppress voter turnout might give Republican candidates the additional edge they need to give Indiana the title of the reddest Midwestern state. On the other hand, it's also possible the partisan shift in 2011 was a reaction to Democrats' winning the White House in 2008. The bottom line is that we just don't know.

Unfortunately, the Indiana secretary of state makes only a small fraction of Indiana's local election data available on its website. This is not unusual, but explains why we continue to know almost nothing about local elections in America. Given that 99 percent of all governments in the United States are local, one might infer that our lack of knowledge about local elections also means we know a lot less about politics and democracy than we think we do.•

__________

Melissa Marschall is a political science professor at Rice University and director of the school's Center for Local Elections in American Politics at Rice University's Kinder Institute for Urban Research. John Lappie is a post-doctoral fellow at the Center for Local Elections in American Politics.