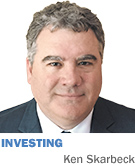 As we approach the November elections, the airwaves are full of mudslinging partisan politics, and yet neither the candidates, nor the media, have had a factual discussion with the American public about the shape of the country's finances.

If you listen to the presidential candidates, you would think there is unlimited money available to cut taxes and spend taxpayer money like a drunken sailor. Sadly, when it comes to addressing the national debt, there is no reason to expect any change in our government's habitual "kick the can down the road" policies.

In a recent hearing before the Joint Economic Committee of Congress, former Indiana Gov. Mitch Daniels spoke on the implications of the $19.5 trillion national debt. Daniels, now Purdue University's president, warned, "In my view, this issue transcends all the others before us; put another way, if we get this wrong, nothing we deal with successfully will matter very much."

Daniels couched his pointed topics with a repeated "you know, or should know," while hammering home the fact that entitlement spending is "squeezing every other federal activity." Left unchecked, when the next generations become aware of the vast debt burden we have left them and the unsustainable social welfare programs we have created, the public's confidence in democracy itself will be questioned.

After the hearing, Sen. Dan Coats introduced a bill that would create a civilian panel that would cut the debt by recommending reforms to mandatory programs. This sounds like another attempt to reach the rational conclusions of the Simpson-Bowles Commission in 2012, whose suggestions were never acted on by Congress. That study concluded, to the chagrin of both political parties, that taxes will have to be raised and spending will have to be cut in order to meet our long-term liabilities in Medicaid, Social Security and federal debt service.

Coats said the reason lawmakers refuse to take any serious action towards entitlement reform is they would be inundated with attack ads from interest groups. The K-Street lobbying groups would flood their constituents with the untruthful fears that their Social Security or Medicaid is going to be taken away.

Perhaps the only way Congress will address these issues is when it is forced upon them. Recent developments in student loan debt and health insurance could compel lawmakers to act.

Could the recent events surrounding the closure of ITT Educational Services be a catalyst that triggers a crisis in the $1.3 trillion in outstanding, government-guaranteed student-loan market? Consider that a small but growing number of former students of failed Corinthian Colleges and ITT Tech have launched a "debt strike" refusing to make any further payments on their outstanding student loans. The students believe they were misled by the for-profit educational businesses that were enabled by government-guaranteed student loans to deliver useless degrees.

Does the withdrawal of health insurers offering plans in several states signal the failure of the Affordable Care Act? It was recently noted that average cost of family health coverage through employers topped $18,000 this year.

As the political circus escalates toward the national election, it doesn't inspire confidence that our leaders are up to the important task of managing our country's finances•

__________

Skarbeck is managing partner of Indianapolis-based Aldebaran Capital LLC, a money-management firm. He can be reached at 818-7827 or ken@aldebarancapital.com.