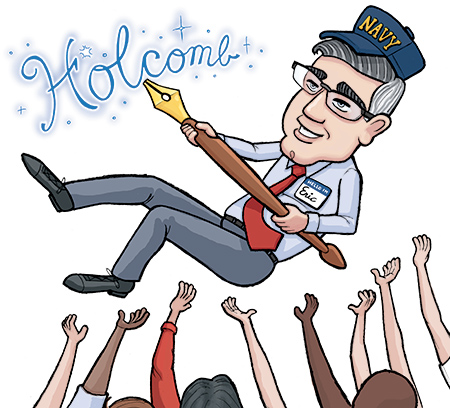 Eric Holcomb has experienced arguably the biggest Cinderella story of any Indiana politician in recent history.
It's been just a little more than seven months since Gov. Mike Pence plucked Holcomb from the Republican primary for the open U.S. Senate seat—a race in which he was trailing two other candidates—to appoint him lieutenant governor.
Then in mid-July, Republican presidential nominee Donald Trump tapped Pence as his running mate and a group of Republican leaders chose Holcomb as Pence's replacement on the ballot.
Now, with less than two months until Election Day, Holcomb, 48, is in a dead heat in the race for governor.
"Aristotle once said the secret to humor is surprise, and never has that been more true than in 2016," Holcomb told IBJ. "My wife asked me if I ever in my wildest dreams thought my career path would have anything to do with a decision Donald Trump was going to make. Who would have thunk?"
Holcomb described his career as one of "answering the call." But he said he reflected with his wife, Janet, before committing to this fall's campaign.
"It's one thing to run as lieutenant governor," Holcomb said. "It's another to run as governor and have to mount your own campaign and come up with your own agenda, and hire your own staff. When the buck literally stops on your desk for every decision. We … felt like we were best prepared to take the next step."
You've worked for and with well-known politicians, from Pence to U.S. Sen. Dan Coats to former Indiana Gov. Mitch Daniels. Describe your own political philosophy.
Many hands make lighter work. Everybody's role is just as important as the other person's. You can't win with one. That's kind of where I come from.
Mitch Daniels had a profound impact on my outlook for how to get things done—big, bold things. It centered on bringing as many people [as possible] together, not that that would avoid controversy or avoid contentious issues.
When we did Major Moves, I was visiting unions seeking support and at the same time I was meeting with the Realtors, the Chamber of Commerce. When we advanced that bill in the Statehouse, I looked around and saw people who hadn't worked together on projects in years, almost looking out the side of their eyes, skeptical. But because they came together, we got the deal done.
What are the big problems in Indiana that you want to tackle?
We're in a leadership position, not just fiscally, but we're also in a different place in terms of how we view the possible. I want to challenge folks to kill the heroin epidemic before it continues to kill our families. I want to continue to make advancements on mental illness that affects so many different walks of life—take the negative stigma out of the conversation and be able to address it just like we would address any other issue that had someone in its grips.
In many ways, you've been described in the way you are similar to and different from Mitch Daniels and Mike Pence. You've been described as someone who can "build or rebuild bridges" between the two elements of the party. What do you think of that characterization?
All of Indiana's governors have been their own people. I am my own man. I think it's unfair to compare. I have worked with supporters of both [Daniels and Pence] and seek to make them my supporters. It seems to me that that's happening, and it's pretty encouraging.
You served in the U.S. Navy from 1990 to 1996. How did that experience influence you?
When I was growing up, my grandmother would always send me clippings from newspapers—in big, thick envelopes—about what was going on. I had graduated from Hanover College and was looking about what to do next.
The headlines in the paper were already talking about what was brewing in Kuwait. I had talked to a buddy of mine who I knew was doing work in the Middle East. I'd expressed an interest, said I'd like to do my part. He said, "If you're serious about this, you better do it now while you're young." So I went home and I thought about it. Then I went to a recruiting station and signed up.
I took a special duty in Lisbon, Portugal, and worked in an underground NATO war headquarters. Serving in a multinational joint command, meaning there were folks from lots of different nations and service branches, definitely fosters incorporating lots of different opinions and perspectives. The thing that I found so enriching was the sense of humor that was there even during the toughest and tensest times.
Tell us about your wife, Janet.
She's uber-supportive. She is very wise beyond her years. She takes time to process things and is more patient than maybe I am. That's definitely rubbed off on me.
The two of you don't have children. Why not?
We just never have. It just wasn't meant to be.
What role does religion play in your life?
I was born and raised a Methodist. It answers a lot of questions for me. My faith instructs me to be a good person and someone in service, when I can be.
Your hobby is collecting presidential signatures. What's the deal with that?
I think everyone should collect something, whether it's pencils or ceramic roosters. I think the hunt is a worthwhile experience, and you learn so much along the way. You kind of become an expert in that field.
Which ones don't you have?
The expensive ones: Washington, the first Adams, Jefferson and Lincoln. I like to have the document, not just the signature.•
Click here for other interviews.
Please enable JavaScript to view this content.