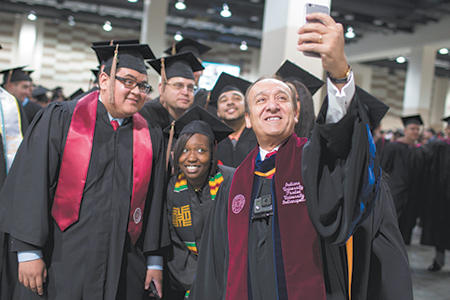 When IUPUI Chancellor Nasser Paydar heard in mid-January that black students and faculty planned to protest to demand a more inclusive, diverse campus, his actions sent a message that he understood their plight.
Paydar, 59, offered to meet with the students to talk about their frustrations and publicly thanked them for their commitment to improving the campus. The protest was canceled—and the students ended up meeting with Paydar a few times.
"Last year was a year of turmoil on most university campuses," Paydar said. "This campus was quite calm."
He said his approach to the situation was to be an active listener.
"They were very thoughtful," Paydar said. "We are very happy with the conversation we had. Sometimes there are misunderstandings; sometimes there are legitimate concerns. Sometimes we are able to help; sometimes we are not. I know the solution is conversation and communication.
"That's been our approach … that any concern is worth listening to. Any."
What can universities do to improve race and diversity relations on campus?
In order to set a fire, you need three things: You need something that is combustible. You need oxygen. And you need a spark.
You really need to make sure that all components—African-American, Latinos, other minorities, different genders—that everyone is at the table, feeling comfortable, welcoming and contributing. Those are all things we take for granted.
We violate that. We hurt each other's feelings by not being sensitive enough in what we say to each other. We judge everyone with our own standards. That is something we need to learn. All of us can do something in our own environment.
How do universities balance free-speech rights and academic freedom with those goals? Are they at odds?
We on this campus believe that every voice matters. We have, at any given time, people from complete opposite directions having events on campus. That could create and does create some uncomfortable situations at times, but we strongly believe that we need to hear all aspects. We may disagree, but we need to allow people to talk.
But we don't tolerate certain bigotry on campus or threatening others. There is a limit. Civilized conversation is healthy. It's part of the learning process.
If we just teach them one way of thinking, we have failed in really educating them. They are going to go out in the world and be engaged with different groups of people. They have to be able to carry on a conversation and respect the opinions of others.
Your goal this year was to increase enrollment of underrepresented minorities, including black students. How is that going?
The amount of African-American incoming freshmen is up 43 percent this year. This doesn't happen by accident. We are not done yet.
I'm a first-generation college student in my family. I was born in Iran. My parents did a good job. They always encouraged me to go to college even though they never had college education themselves.
They didn't have that background to help me. I assume that all first-generation students have some of that issue. It's a mystery to them. That's where we come in. We feel like first-generation students need a little bit more help.
I want students to know that I care about them. I'm passionate about them, about their education, about their success and their graduation. I give them the advice my father gave me: Take education as seriously as you can. Take it as high as you can.
What else is going on at IUPUI?
We have a huge research agenda. We have professional schools. We are job-oriented. We are looking at different neighborhoods to see if we could encourage our staff to live around here. There's so much.
In the mornings, I cannot wait to get out of the house and come to work. I want to come to work as early as possible. It's not work. It's passion. If I could do something that would make the life of one student better, that's a good day.
What can Indianapolis do to be a better city?
I've lived in Indianapolis for 31 years. I've fallen in love with it. We don't owe anybody any apology because we don't have oceans or mountains. We have a group of people who can and would do anything.
In May, I sent a letter to over 40 young professionals in the city that I did not know. I invited them to my home to have a conversation. My purpose was to engage them, to make sure they understood that the young generation is the future of this place. They should demand a seat at the table and they should communicate what their needs are and what they want.
We were supposed to talk for an hour and a half. After 2-1/2 hours, we had to bring the conversation to an end. They're proud of what we have but they also see improvement going forward.•
Click here for other interviews.
Please enable JavaScript to view this content.