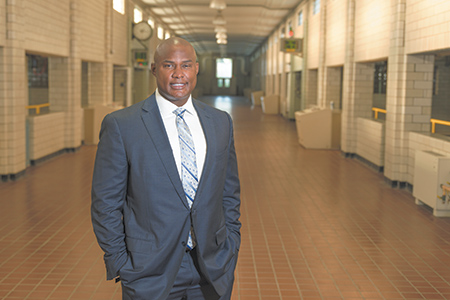 The decisions Jeff Harrison makes affect 400,000 customers in central Indiana—when they turn on their kitchen faucets, flush their toilets, heat their homes with natural gas, or pay their utility bills.
And lately, those bills have been higher.
Harrison, 50, president and CEO of Citizens Energy Group, recently pushed through a 17 percent increase in water rates and 30 percent increase in sewer rates to help fund repairs in the antiquated systems, which the company bought from the city in 2011.
Harrison joined Citizens in 2003 as director of market development and worked his way up to executive vice president and chief operating officer before taking the top job last year. He previously spent 13 years at Indianapolis Power & Light Co.
When you were a kid, did you think you would grow up to run a water and sewer company?
No, not even close. I'm the son of a bricklayer. I worked as a hod carrier. I mixed mud, carried blocks down to the basement, carried bricks up ladders onto roofs for chimneys. I originally planned to be a bricklayer like my father. But my high school guidance counselor talked me into engineering. I went to Rose-Hulman [Institute of Technology], graduated with an electrical engineering degree, then later acquired my MBA from Indiana University.
You've said that 700 water mains break in the city each year. How is that possible? How do utilities get into such disrepair?
Some of our underground infrastructure is over 100 years old. After a period of time, it deteriorates. We are now focused on going back and replacing that infrastructure so it can last into the future. In so doing, we hope to reduce the 700 main breaks down to something much less. We're starting to see a bit of trend down, which is great.
What's an acceptable level, in your mind, for number of breaks per year?
The goal would be zero. However, we've got to balance that with the cost of these repairs and affordability to customers. What we're trying to do is maintain our current level downward. We want to stay on that trend.
Can you put a little more detail on the trend you're seeing? If it's no longer 700, what's the number?
It's still early in the process, and I'm hesitant, but from the numbers we've seen, we're looking at 500, 550, in that range.
A few months ago, your company came out with a billboard and multimedia campaign to explain the rate increases that will fund these repairs. What kind of customer reaction have you received?
It's actually mixed. There are customers who really appreciated Citizens' coming out and explaining the rationale behind the rate increases. At the same time, there's another group that doesn't understand or believe or get it.
When we took over these assets, we knew there were going to be rate increases in the future for both the water and wastewater utilities. One of the things we said, however, is we believed we could bend that trajectory downward and reduce the future level of the increase. And the proof is in the pudding. In our last rate case, we decrease our level of capital spending by about $7 million annually on the water side.
A lot of municipal water systems are struggling with cash-flow problems. Does Citizens plan to continue this kind of expansion and attempt to purchase more financially strapped utilities?
I would say no. Citizens doesn't have a plan to acquire financially strapped systems. We, however, do make moves—that may or may not include an acquisition—that meet and fulfill the mission of our organization, which is to improve the quality of life here in central Indiana and communities where we do business.
One of your biggest projects is DigIndy, the 28-mile-long tunnel network. What have been the biggest challenges or discoveries?
That project is going very well. It's just an enormous project, some 250 feet below the surface. We've been quite pleased with our vendor. They set a few world records for mining the most feet in one day, the most feet in one week, and the most feet in one month. We're actually saving money for our customers. And ultimately, we'll be improving the environment. It will pull out 5 to 6 billion gallons a year of raw sewage and prevent that from going to our rivers and streams.
Your predecessor, Carey Lykins, was heavily criticized for pulling down a multimillion-dollar pay package while pushing through rate increases. Do you think that criticism was fair?
Our board compensated him in a manner they felt was fair, and the rate increases, again, they thought were fair. At this stage in time, we're looking to the future and trying to improve the quality of life here in central Indiana and the places we do business, and trying to do the great things that we just spoke of.
[Editor's note: Lykins earned $2.9 million in 2012, more than triple what the leaders of other large municipal gas utilities earned. Under fire, the board cut his pay twice, first to $1.9 million, then to $1.3 million. Lykins retired in 2015, and Harrison succeeded him at a base salary of $555,556.]
What kind of car do you drive?
One of my favorite cars is my Chevy Avalanche [a four-door pickup truck]. I'm an operations-engineering kind of a guy, so I love getting out in the field and heading to job sites. It serves that role very well, does great in the snow. I love my truck.
Do you have a car, too?
I've got a Lincoln MKX [luxury crossover SUV] that my wife drives. But, yeah, I like cars. They're fun to drive.•
Click here for other interviews.
Please enable JavaScript to view this content.