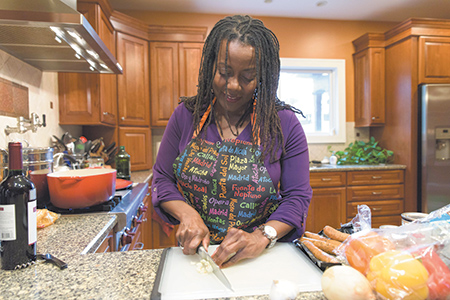 As the city's deputy mayor of economic development, Angela Smith-Jones, 49, spends her days trying to create more jobs for Indianapolis. In the evenings, she unwinds by cooking at home or enjoying an intriguing meal at a restaurant.
How did your enjoyment of food come about?
Actually, it's from my mother. She is an incredible cook and she has exposed us to all different kinds of ethnic foods and variations of dishes.
One is old-school Southern cooking. She would make fried chicken, macaroni and cheese, greens and cornbread. That was one of her great Sunday dinners. And then a couple of other dishes that she made that I love—she has this incredible chicken cacciatore recipe that is my all-time favorite, and she's really good at making desserts and breads.
How do you like to sample food: cooking at home or in restaurants?
Actually, both, so I try and pick different restaurants and at home I try to expose my children to all different styles of cooking.
With the demands of your job, how much do you cook at home?
I do still try to cook at home a lot. I try to do it on Sundays, and I may actually cook two entrees on Sunday for the week.
What is your favorite meal to cook?
I have a few. One of my all-time favorites is when you take a whole salmon fillet—and I have this really cool marinade that I found years ago. I'll marinade the salmon fillet overnight and I'll broil it, and then on the side, I'll usually saute spinach with fresh lemon and seasoning, and then I like to make either homemade lumpy potatoes from scratch or I'll make a rice pilaf from scratch.
What are some of the foods that you enjoy the most?
I'm a fan of trying different ethnic cuisines, and not everybody can cook that at home, so that's when I like to go out, to try different ethnic cuisines. Or one of my friends from an ethnic heritage, I'll ask them to prepare it.
And then I actually like a lot of the good old-fashioned comfort foods. One of my other favorite recipes, I forgot, is lasagna. I have this really awesome lasagna recipe. So I love homemade lasagna, homemade chicken pot pie. I am a fan of chili and how people can be creative with different chilis. I have a white chicken chili recipe, chili blanco. It's a lot of work to make, but the flavors are incredible.
Conversely, what foods haven't you tried, or what is your least favorite food?
This is interesting. I went to a wonderful Chinese restaurant here. It is authentic and actually a sister restaurant from Chicago. And everything was great, but there was one experience—it was a quail egg—but I didn't know what it was. Everything else was so traditional, excellent, very unique, the flavors, the textures. But I think because I didn't know it was a quail egg, that kind of threw me for a loop and I was like, that was kind of weird.
It was OK, because everything else, and literally, we had everything—beef, pork, duck, we had a huge variety—and that one was the only thing, the way it was prepared. The way it was presented. I would have eaten all of the other things before I would have selected that one again.
Did you ever consider becoming a chef?
Oh, gosh, no. Not to being a chef, but I am addicted to Food Network. If you see me watching television, 97 percent of the time, it's Food Network. And my kitchen shelf, it's like two shelves full of cookbooks.
What is your favorite cooking show?
Originally I loved "Iron Chef." The original "Iron Chef" was my all-time favorite. And now it's "Diners, Drive-Ins and Dives," because I find people try to be very creative with what is known as a traditional, like a cheeseburger even. But the way they mix it up, you take something old-school and make it something really unique. So those are probably my top two favorite Food Network shows.
What is your favorite restaurant?
My favorite right now is Tinker Street. It's great. I love the whole ambiance. I love that you get the prosecco when you arrive. I love the portions, so then you're actually able to eat every course. The food is prepared in an incredible way, so that's probably one of my all-time favorites.
Another great one is Meridian. It used to be Dodd's. That chef is very good at complexities and the recipes and flavors.•
Click here for other interviews.
Please enable JavaScript to view this content.