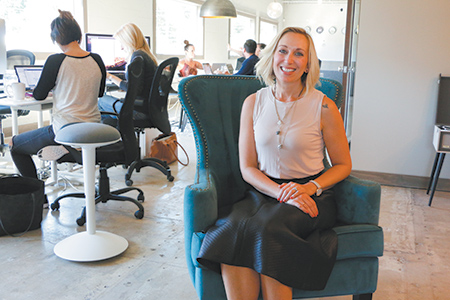 Jen Handley got her start in advertising at Bradley and Montgomery in 2005—and hated it, particularly the client-services part of the job.
But she did love to create. So two years after joining the Indianapolis-based ad shop, Handley created a media division for BaM.
Then in 2009, she and BaM executive Ben Carlson focused the media division on analytics and spun it out as its own company—Fizziology—which keeps tabs on social media for movie studios, television shows and other entertainment entities.
Now Indianapolis-based Fizziology works with nearly every major North American motion picture producer. And Inc. magazine this year listed it as one of the fastest-growing U.S. companies, with 756 percent growth over the last three years and revenue of $2.7 million.
That's enough to keep any mother of two busy. Still, Handley, 36, and Carlson just opened a new co-working space between Broad Ripple and Glendale called The Hatch.
At Ball State, you majored in advertising and minored in painting and French. It seems like an odd combination. How did you choose those areas of study?
I'm an artist—a painter—at heart, but I'm also very organized and business-minded, and I wanted to find a creative field where I could use both sides of my brain. As far as advertising, I've always been very interested in understanding what makes people tick and what drives them to make certain decisions. So it was an ideal choice for me.
What are your hobbies?
Painting. That's one of the reasons we built [The Hatch], so I could have a studio. And yoga. I've practiced for 15 years. I hope to get certified some day when things slow down. I travel a lot for work and for pleasure.
 
What's your favorite destination?
I just got back from Budapest; that was phenomenal. It was an amazing, eye-opening trip.
What was so phenomenal about it?
It's gorgeous. It's split by the Danube River and you've got Buda and you've got Pest and they're very different parts of the [city]. There's a lot of very rich history there. I went there [for business] knowing nothing about it, and came back totally in love with the place. 
What kind of painting do you do?
I do a little bit of everything. I currently do encaustics, which is painting with wax. It's kind of a new challenge. When I was in college, I did oil painting. It was a bit more realistic surreal, landscapes and still-life kind of stuff. I moved into watercolor for a long time because I didn't have the proper ventilation and space in my house to work with anything that smelled.
When I was painting with watercolor, it was almost stressing me out. I was going for perfection, which is the complete opposite of why I like to paint. So I decided to pick up a medium I have no control over and that's wax and paint guns. It's something where you end up with these beautiful, wonderful forms and you almost feel like you didn't create [them] yourself because it blows the way it wants to blow.
You paint with wax?
You have a little, like, pancake griddle and you have tins of colored wax and you dip your paintbrush in it, put it on the surface and use a heat gun to blow it flat and get all the bubbles out. I probably do 15 to 20 layers. 
What do you like most about painting and what do you hate most about painting?
I hate not being able to make things as precise as they are in my head. I also love that.
Did you do paint by numbers when you were a kid?
I did. Then when I was 5, my mom gave me a [coloring] book with tracing paper. It was Strawberry Shortcake. I laid the tracing paper next to the coloring book and said, "I'm drawing this." And she said, "No, you need to lay it on top of the picture." And I said, "No, that's cheating! I can't do that!"
Describe your work style.
I'm a blend of very focused, heads-down technology worker—I love working with spread sheets and numbers—but I'm also a creative. So I always feel like I have two sides that are pulling. So in the morning, I get all the hard tasks out of the way that I don't want to do and then I spend more of the afternoon doing my more creative work.
How was the idea of Fizziology born?
In the summer of 2009, I was at BaM with my partner, Ben Carlson. We were working on a campaign for Microsoft. We released a video to a room of developers in Las Vegas. I was tracking it on Twitter and I noticed it was a Twitter trending topic. I thought, "This is great, but I have no idea what it means." So I went to the social media company Microsoft was working with and said, "Tell me what this means. What are people saying? Is this good? Is this bad?" And they said, "You have some new likes and follows."
I said, "I don't care what's happening on our account; I care about how people are influencing other people based on this," and they didn't have an answer to this. So Ben and I saw there is an opportunity here. So we decided to build it our damn selves. That was July and we spun it out as a new company in October. I had a 9-month-old at home, signed the papers to form the company, and two days later found out I was pregnant again. 2010 was kind of a blur, but it worked.•
Click here for other interviews.
Please enable JavaScript to view this content.