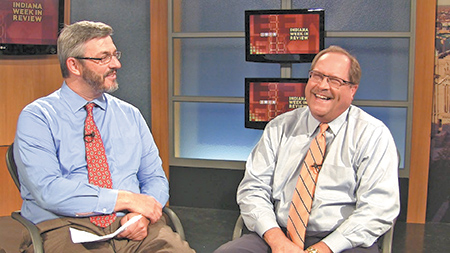 Veteran TV reporter Jim Shella quietly celebrated his 25th year as host of WFYI's political talk show "Indiana Week in Review" early this month—without even a whisper on air of the anniversary.
But the 62-year-old Minnesota native with a larger-than-life personality has never gone unnoticed at the Indiana Statehouse, where he's covered politics for WISH-TV Channel 8 for 33 years.
IBJ asked "Week in Review" panelist John Ketzenberger to interview his friend and colleague about the show, his career and his personal life, including the death of his son, Andy. This is an edited version of the discussion, but you can watch the entire interview at IBJ.com.
So why are you a reporter?
That's a good question. I can tell you that, when I headed off to college, I had it in my mind that I wanted to be a professional, and I actually started out in pre-pharmacy.
That's out of left field.
Couldn't cut it in chemistry.
Why TV?
I guess, my major was mass communications, and I actually studied radio and television and public relations, and again, just kind of gravitated to what seemed to fit my skill set.
 
Tell me about Cedar Rapids, Iowa [where Shella started his career].
Cedar Rapids is the second-largest city in Iowa. Everybody's heard of Des Moines, maybe. Not so many, Cedar Rapids. I had a lot of fun there, because that's where I started covering politics. I was in Iowa for the 1980 Iowa caucuses. I covered a caucus at the Richard Nixon Elementary School in Hiawatha, Iowa.
George H.W. Bush won that caucus.
Do you remember your first story?
The first time I ever got on TV was on Christmas Day. I did a story about people who have to work on Christmas Day.
In '82, you ended up at WISH-TV. How did you end up down here?
Someone who I had worked with who had taken a job at WISH-TV knew of an opening there and called me and said I should apply. I started on Dec. 13.
Do you remember your first story at WISH?
Yes. My first day on the job at WISH was the day of a special session wrapping up at the Statehouse where they'd passed a tax increase.
A special session in December?
That's right.
We think everything's crazy now.
As you'll recall, in 1982, there'd been a lot of talk during the campaigns about money troubles in state government, and the Republicans who were in control at the time wouldn't acknowledge that until after the election. And then they immediately acknowledged it and called a special session and passed a tax increase, and I did a sidebar story on the tax increase that day.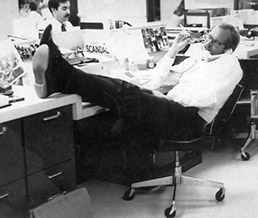 Jim Shella has covered politics for WISH-TV for 33 years. He estimates this photo—in the Channel 8 newsroom on Meridian Street—was taken in the mid-1980s.
(Photo courtesy of Jim Shella)
I am terribly impressed by the fact that you can remember, that you even have records of the things that you did in 1982.
I keep records of all the stories that I've done. In the days before computers, I would keep all the scripts.
We hire a lot of folks at WISH-TV now who are younger than the 33 years that I've spent there, and so one of the things that I like to do just for fun is, I'll ask them what day they were born, and then I'll look up and tell them what story I did that day.
You're not the first host of "Indiana Week in Review."
I'm the second.
You changed it quite a bit.
Well, "Indiana Week in Review" was created as a radio program, and prior to me coming on board, it was done as a radio program with television cameras in the room, essentially. It was not scripted for television, and there were not video elements, and when I took it over, I felt that it needed to be a television program, and what I do is TV. So we figured out how to do video elements and to do actual stories to set up the discussions instead of just throwing out topics.
Do you remember who the guests were or what your topics were the first week?
I can tell you it was in the middle of a race for mayor of Indianapolis. That was the big story that fall, and it was the year that Steve Goldsmith was elected.
I've got to ask … who's your favorite panelist, Jim?
Well, at the risk of upsetting somebody, I'm going to say Ann DeLaney. Understand that, I'm the producer as well as the host, and the producer half of me wants things to be ginned up and foolproof.
You've figured out a way over the years to make sure you ask the right question of her.
I tell people my job is to start fires and then put them out before they get out of control.
A lot of people who talk to me about the show think it's scripted.
Well, first of all, it doesn't make sense to do a show and have a panel who doesn't know what material is going to be discussed. So the subject matter that's going to be discussed I email out in advance.
I don't email out the questions. I don't email out what direction the discussion's going to go in. In fact, often, I don't know. I go with the flow. I'm, myself, often surprised at how quickly panelists come up with an answer to what might be an off-the-wall question.
What do you tell somebody [who complains about the show]?
It may sound like I'm being trite, but I tell everyone, "Thanks for watching." Whether we make you mad, or whether we make you happy, whether you feel like you learned something, thanks for watching.
Is the show heavily edited?
No. "As-live" is the television term. We don't edit it at all. We start the cameras and we try not to stop.
This is 52 weeks a year and you rarely miss a show.
Twenty-five years we've been doing it—we've done three reruns, I had a substitute host when I took a vacation on three occasions, and then there were two times when there was a death in the family that I didn't make it. We always try to tape a week in advance with the year-end show, so I get a Saturday off at the end of the year, or I mean a Friday off. I tend to work an average of 51 Fridays a year.
Why does it mean so much to you?
Part of the problem is that there's no safety net. You know, on the two occasions when there was a death in the family, you filled in for me. But I was the one who produced the show, because I don't have a backup producer. Most of the way the show is created is in my head, so if I'm not here, it's hard to accomplish.
Do Ann DeLaney and Mike McDaniel really hate each other?
No. Everybody on the panel gets along pretty well. We socialize on occasion.
Is it true that the parking lot conversations are, maybe, sometimes better than the ones in here?
Well, that's Mike McDaniel's line. He always says the best show is in the parking lot. There's more honesty in the parking lot.
So Jon Schwantes, Ann DeLaney and you have all done this show for 25 years.
Ann took a hiatus for a little while to run for Congress in 1996.
And then Mike McDaniel took over from Rex Early. Who's the most colorful person you've covered?
Probably Rex. Of course, Rex ran for governor, and, yeah, it's hard to argue that there's anybody more colorful than Rex around.
Do you have a favorite Rexism?
Well, here's what you need to know about Rexisms, because he wrote a book and he titled it, "It's a Pretty Thin Pancake That Don't Have Two Sides," which everybody attributes to him at this point. When I first heard him use that, he attributed it to [the late] Judge John Hesseldenz. Rex is one of these guys who collects things and reuses them.
Tell me about the sine die tradition among reporters at the Statehouse.
This goes back to the '80s, I believe. Reporters tend to gather after the Legislature hits the final gavel to go home for the year and we do shots of Jack Daniels. Then one thing we do is, we give the session a name, from a reporter perspective.
Do you miss the press club?
Absolutely. I thought that the Indianapolis Press Club was a great institution, and it was a place where Republicans and Democrats and members of the media could socialize together, and I think we were able to get to know each other in ways that we don't now.
Where did you meet [wife] Connie?
Connie and I met on a blind date. She was a student at the University of Minnesota and I was a student at St. Cloud State University.
So why is diabetes such an important issue for you guys?
Our daughter, Kate, was diagnosed with diabetes when she was 13 months old. We found that there were very few resources and very little education available and not a lot of knowledge about diabetes in a child that age. And so Connie was already a registered nurse, but at that point, she decided that, in order to help Kate and herself out, that she would make [diabetes education] her career.
It was a great career move. She ended up working for Eli Lilly and Co., traveling around the world, dealing with diabetes issues, but born out of need.
You have aligned yourselves with the American Diabetes Association. Both your kids went to camp as kids. How important was that to them?
We're strong believers in diabetes camp. Connie's been a camp nurse. Both of our kids went to camp numerous times. It's a place where kids can learn that they're not all that different. There are other kids like them, but they also get intense education on how to live with diabetes.
Well, it must have taken, because I was impressed that Katie marched in the band through college.
She was in the Marching Hundred.
Andy was a rugby player, and so they were both very active people.
Yeah, and Andy had diabetes, too.
It's been six years since Andy died.
Right. He was 27.
What's that meant?
Well, I don't wish that on anybody. Andy died of a drug overdose. He had an addiction problem, and we'd gotten him treatment and pursued everything we could, and just a … it's a disease that we couldn't stop.
One of the things we've done in his memory is create a scholarship fund through the Diabetes Association to pay for what are called senior campers. They're kids at diabetes camp who hope to become counselors. We've raised several thousand dollars to help make that happen.
He was a brilliant kid with a major flaw.•
Click here for other interviews.
Please enable JavaScript to view this content.