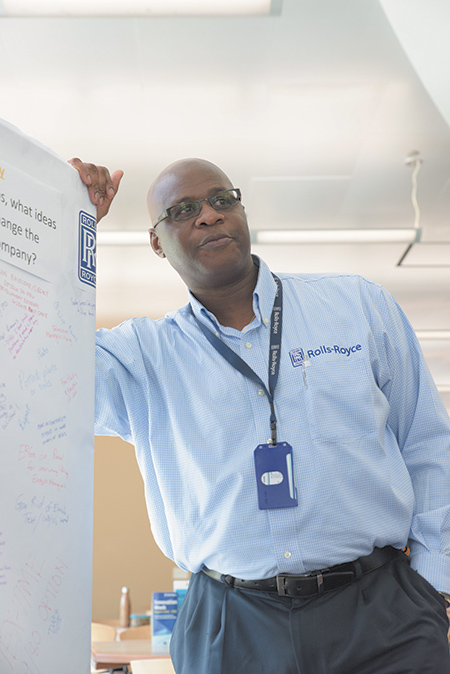 Reginald McGregor, 50, has always had a fascination with how things work.
As a boy, he tinkered with his bicycle to see if he could add extra gears. He remembers getting in trouble for taking the back off the family's television set. His mother was a teacher and his family owned three sets of encyclopedias.
That little boy grew up to become an engineer and now it's his job to inspire the next generation of talent.
As manager of engineering employee development at Rolls-Royce Corp., McGregor is tasked with making sure the aircraft-engine maker has enough engineering talent for the years ahead. His primary role is to work with college engineering students who are doing co-op work at the company. But over the years, he's discovered the value in interesting students as young as middle-school age in science, technology, engineering and math classes—often called STEM—and of building a network of Rolls-Royce volunteers who can help him with this effort.
What's the thinking behind targeting students at younger ages? How did you come to that realization?
Talking on the college campuses, we realized there were a lot of students coming to our career fairs who actually required visas—international students. We all of a sudden recognized: Where are the U.S. engineering students?
Then we started having a conversation with deans and professors. A lot of our students are not even pursuing these science, technology and engineering degrees. We started having conversations at high schools. So we launched a high-school internship program. And that program was actually two things: One, let's understand the interest at the high-school level. And, two, let's understand the preparation at the high-school level.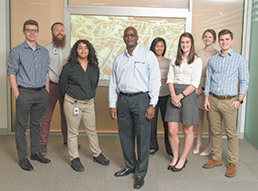 (IBJ photo/Eric Learned)
In terms of having enough math and that sort of thing, so you're not remedial when you get to college?
Correct. In high school, you have students now who say, "Well, I don't like math." Where's the disconnect?
And then you start looking at this whole gender thing. You go to a math class, a fifth-grade class, and it's almost 50 percent females, 50 percent males. You go to a math class of sophomores, and now you're looking at 70 percent males, 30 percent females. What happened?
So what do we do at the middle-school level to encourage everybody to pursue these STEM careers?
What did your mom teach?
First grade. Said she would never teach anything else. And as I got older I asked her, "Why do you teach the first grade?" And she said something to me that I think about all the time. She said, "When you teach first-graders, you teach parents. And if you teach parents the right way, their kids will matriculate."
Was there anybody else close to you that you would say you got your technical curiosity from?
My [high school] physics teacher was retired from the U.S. Army. He used to talk about how technology changes the way people live, and we can't even fathom—this was in the late '80s—we can't even fathom what it will look like.
"You guys have to understand—you've got to be part of that. You have to learn all the time," he said. "It's bigger than physics."
But he made physics fun. He made us build a homecoming float. He said, "Here's the thing. You guys have got to design this. It's got to have parts on it that are movable. I don't care what it is, but it's got to be moving." He just made it fun. Then I got to college and my physics teacher wasn't as fun. [Laughs]
I think that was all my questions, unless there was anything else that you wanted to say.
Let's think about Rolls-Royce as a company. You come in here and you really get to see this wonderful gas turbine system. How many people walk up and see an airplane engine or a helicopter engine? You see something hanging off a wing, but you don't see the intricate parts of an engine.
We know we have a unique product. Have you ever thought what it takes to put a piece of metal full of people in the sky? Let's say you fly from Indianapolis to California. You know what that means? Do you know who creates that? Who puts that together?
As a company, we are now really focusing on our message to young people, which gets back to my volunteers. It's more almost like a mentorship. They really talk to the students about who they are, what they do, along with some of the technical skills. Because we have such a strong group of people who are dedicated to young people and programs, it really makes us stronger as a team inside.•
Click here for other interviews.
Please enable JavaScript to view this content.