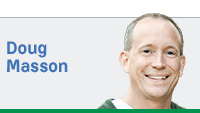 Public schools are part of the social glue that binds us together. They help transform us from a collection of individuals into a community. As Neal Postman put it, "Public education isn't important because it serves the public. (It's) important because it creates the public."
Often, the debate over school funding focuses almost exclusively on educational achievement while ignoring the larger context in which the schools operate. This is not entirely inappropriate. Educating children should, after all, be the primary function of a school. But, educating individual children is not the entire story.
One reason all taxpayers fund public schools, whether they have children or not, is because schools improve the public welfare—not just for the children being educated, but for us all. The relationship of the schools to that public welfare should be a consideration when designing school policy.
Schools help create a knowledgeable citizenry that can be economically productive and civically involved. Public schools also provide a focal point around which the city or town can coalesce. It is not uncommon for the local schools to be the heartbeat of a vibrant community.
The Founders recognized how central schools were to civil society. In the Land Ordinance of 1787, Congress required that Section 16 of every surveying township be reserved for the maintenance of public schools within the township. Both Indiana's 1816 and 1851 Constitutions provided for common schools. (Though, it must be said, the 1816 provision was more aspirational than real.) A system of common schools helps unify a diverse population and prepares its members for citizenship.
My primary experience is with the schools and communities of Tippecanoe County and, when I was a kid, Wayne County. The schools are very much part of community life. By and large, Richmond kids go to Richmond High School and West Lafayette kids go to West Lafayette High School. The schools commingle kids with other kids from a variety of backgrounds and interests based on simple geographic proximity to the school. Everyone is a Red Devil. I confess that I do not have a good sense of how well this works in cities with populations large enough to require numerous high schools. But, in small and mid-sized communities, the school is an important part of the public identity.
Because kids are participating together, parents necessarily become familiar with one another. The schools and their various academic and extracurricular efforts become a source of interest and pride for community members even when they are not directly involved with the school. It is "e pluribus unum" on the local level. The public schools create a communal "third place"—a place that is not home or work but is a place where (in addition to education) social mingling and civic activity takes place.
The fragmentation caused by public funding of private schools and even public funding of charter schools erodes that unification. Doubtless, students and alumni at private institutions take pride in their particular schools, but, in contrast to public schools, this often does not extend beyond that population. Our cities, towns and counties are stronger when we interact with our fellow citizens and share a common identity with one another.
Community building should not take priority over providing a quality education. (Whether private or charter schools are more effective at educating students is a dubious proposition.) However, where other factors are more or less equal, the value of the public school as a community institution should be a significant consideration for policymakers.•
__________
Masson is a Lafayette attorney, author of Masson's Blog and former counsel for the Legislative Services Agency. Send comments on this column to ibjedit@ibj.com.
Please enable JavaScript to view this content.