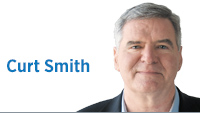 Is Evan Bayh a thoughtful centrist or a partisan liberal? The answer could steer the direction of the U.S. Supreme Court and the country for generations to come. With the passing of Justice Scalia and with three other justices in or nearing their 80s, Indiana's next senator may vote on as many as four nominees to the Supreme Court. Hanging in the balance are the scope of the First Amendment, the Second Amendment, the integrity of elections and the president's power to disregard Congress on issues ranging from immigration to global warming.
When it comes to the Supreme Court, Bayh has always acted as a pure partisan. While Bayh voted to confirm both of President Obama's nominees, Justices Kagan and Sotomayor, he voted against every Republican nominee. This includes his vote against Chief Justice John Roberts, a fellow Hoosier with a distinguished record and moderate reputation.
Bayh also voted against Justice Samuel Alito, a brilliant jurist and former prosecutor with a stellar track record. In fact, Bayh sided with Hillary Clinton, Barack Obama and Ted Kennedy in voting to filibuster Alito, a hyper-partisan move meant to deny his fellow senators a vote on the nomination.
Thanks to partisans like Bayh, virtually every contentious legal issue is now viewed through the prism of politics, rather than as a good-faith attempt to interpret the Constitution or federal statutes. Bayh's actions also run counter to the deep history of Hoosier bipartisanship when it comes to the Supreme Court. Former Sen. Richard Lugar, a genuinely thoughtful centrist, voted to confirm both Republican and Democratic nominees to the Supreme Court, sometime to his political detriment (and against my views). Likewise, retiring Sen. Dan Coats demonstrated his fairness and independence by voting to confirm Justice Ruth Bader Ginsburg, an esteemed but very liberal jurist.
Bayh's track record suggests he would rubber stamp any Democratic nominee and reflexively oppose any Republican nominee. The stakes are too high for Bayh's brand of partisanship.
In the next few years, the Supreme Court is likely to reevaluate whether a citizen has an individual right to bear arms, whether a state can require voters to present photo identification at the polls, and whether individuals have a right to fully express their views during elections. Pro-life cases are also likely to continue to come before the court.
It also will determine the balance of power between the White House and Congress. President Obama has repeatedly sought to bypass Congress, such as by unilaterally refusing to enforce the nation's immigration laws and by implementing sweeping environmental regulations to cripple coal-fired power plants. On both issues, the Supreme Court has already played a critical role. The court blocked Obama's executive amnesty plan on a 4-4 vote, and just prior to Justice Scalia's death, blocked his anti-coal plan on a 5-4 vote.
The ideological balance of the Supreme Court rests on a razor's edge. With Justice Scalia's passing, there are now four liberal justices, two conservatives, and two moderate "swing" justices.
If the next justice is conservative or centrist, the Supreme Court will remain a balanced institution that thoughtfully analyzes legal issues from all perspectives. If the next justice is liberal, however, all bets are off. With a secure majority of between five to seven liberal justices, likely for decades to come, the Supreme Court could rewrite the Constitution in ways that we can only begin to imagine.•
__________
Smith is president of the Indiana Family Institute.Send comments to ibjedit@ibj.com.
Please enable JavaScript to view this content.