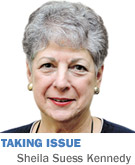 A brilliant young colleague of mine—Aaron Dusso, an assistant professor of political science who focuses his research on political psychology—has concluded that many Americans do not vote "correctly."
What constitutes a "correct" vote has nothing to do with voting for an objectively superior candidate; instead, casting a "correct" vote means, for purposes of his research, voting for the candidate whose positions are most closely aligned with those of the voter.
The research for his first book consisted of asking voters willing to participate in the study what they believed, what political opinions they endorsed, and then comparing those beliefs to the stated positions of the person for whom they'd cast a ballot. If that candidate was closer to their expressed ideology than the opponent, the voter had voted "correctly."
Judged by that standard, significant numbers of Americans don't really vote their beliefs, no matter how much they insist that the candidate of their choice best represents their positions.
Worse, better civic education or information wouldn't necessarily make much difference. In an excerpt from his upcoming book, Dusso says:
"While the goal of better education is laudable, as a remedy to the problem of civic ignorance it presupposes that the cause of this problem is a lack of exposure to information. In other words, if people only knew the facts, they would think and behave differently. The problem with this belief is that, at best, it is only partially true. Research in psychology has routinely shown that people do not engage the world with an open mind. They actively avoid information that may contradict what they already believe, interpret ambiguous information so as to fit with their existing beliefs; rationalize and actively reject disconfirming information; are biased when retrieving information from memory; overestimate how much others agree with them; and assume others are more influenced by media than they are."
For advocates of improved civic literacy, of whom I am one, this is a very depressing conclusion. As Dusso notes, functioning democracies depend upon the ability of voters to connect their personal policy preferences to the political party that most closely represents those preferences. Voters can believe anything they want, be it factual or not. All they have to know is which political actors have the same beliefs. Yet, 20 percent to 30 percent struggle to make this connection.
Dusso's research suggests that this struggle is related to personality characteristics.
This line of research might help explain why voters who say they revere the Constitution nevertheless support a presidential candidate who has espoused not only ignorance of its contents ("I'll defend Article 12"—which doesn't exist), but has taken multiple positions that would clearly and unambiguously violate basic American tenets enshrined in the Bill of Rights: registration of Muslims, "stop and frisk" policies, muzzling of the press, to note just a few.
If better civics education is important but not sufficient, what can we do to make our election results reflect what many Americans insist are their values and priorities?
Dusso concludes that we need a lot more research on why citizens fail to vote "correctly," i.e., in a manner consistent with their professed beliefs. His conclusions are worth pondering as we come to the (merciful) end of a presidential campaign that has encouraged what can only be characterized as America's political id.
If we are lucky, the destructive forces and ugly bigotries unleashed during this campaign won't overwhelm our capacity for reason, and we'll have time to conduct that research.•
__________
Kennedy is a professor of law and public policy at the School of Public and Environmental Affairs at IUPUI. She can be reached at skennedy@ibj.com.
Please enable JavaScript to view this content.