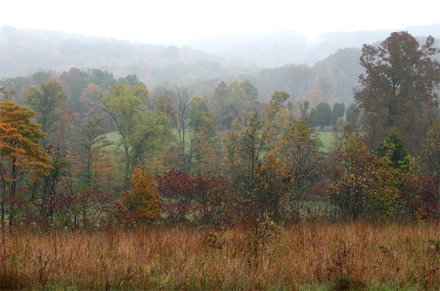 Two candidates for governor have diverged on how to manage Indiana's public woods.
Asked last week at the second gubernatorial debate about concern over the "significant increase in commercial logging in our state forests," Republican Lt. Gov. Eric Holcomb said the state strikes the right balance when it comes to how to prioritize logging versus protecting wildlife, nature and recreation at Indiana's 158,000 acres of public forests.
Holcomb said "we are being good stewards" of the state's forests and that he "could not be prouder" of state forestry personnel at the Indiana Department of Natural Resources.
But Democrat John Gregg said he didn't think the forests were being managed correctly, and that the state is improperly competing with private industry with excessive logging.
"I've been to many areas of the Hoosier state forests, from Brown County all the way to the Southern part of the state, and I have seen … we've had a lot of devastation in our forest area," Gregg said. "We are allowing a lot more timbering than we have in the past. And we're selling below market costs. That's just wrong."
Indiana's forest and hardwood industry has a total economic impact of $13.5 billion and employs nearly 31,000 people, according to the state. The state is a leading producer of wood office furniture, cabinets, manufactured homes and other wood products.
Making those products means timber harvesting of Indiana's 4.9 million acres of forest. About 85 percent of that land is privately owned, producing most of the harvest.
But the state, over the past 12 years, has "skyrocketed" its participation in logging, according to Indiana Forest Alliance executive director Jeff Stant.
The state has an annual timber harvest of about 14 million board feet, according to the Indiana Department of Natural Resources strategic plan released last year, which is the unit for measuring the harvest. Stant says that's up more than 300 percent from the 2004 timber harvesting level, which was 3.4 million board feet.
And commercial logging is making up a larger part of the state Forestry Division's funding. In 2008, 33 percent of its funding came from product sales generated from activities including logging. In 2015, product sales made up 50 percent of the Forestry Division's funding.
Stant said the state is practicing "budget-driven forestry," and that the goals of preservation, protecting native Indiana wildlife, and outdoor recreation have been overlooked in favor of making more money.
"All these public purposes have become secondary to logging in the state forests," Stant said. "We're destroying what's valuable about the state forests to produce logs so that we can produce money to pay the staff. It's a circular system."
But Indiana's forestry division—and Holcomb—maintain the state is striking the right balance.
State forester John Seifert defended the department's practices, saying that it has been upfront about its increase in logging. Seifert said the reason the harvest has increased is that the "forest is maturing, and some species are falling out."
"There's a point where they become old, and become susceptible to diseases," Seifert said. "Proper forest management is good for the forest. We always look at the forest holistically, and not just how to cut a tree to make money."
Holcomb at the debate noted that the state's forestry program has "met the national and international standards" for proper management.
The DNR's strategic plan notes that current average annual growth on state forests is about 24.8 million board feet, meaning that the harvest is 60 percent of the growth.
The DNR says that harvesting is "used to perpetuate healthy forests," according to a white paper on its website. Seifert recently told the site AgriNews that the state thinks "forests are a renewable resource" and that selective logging results in environmental benefits.
"Removing mature, defective or otherwise undesirable trees from the woods creates openings where sunlight can reach the forest floor, allowing shade suppressed seedlings to thrive and dormant tree seed to germinate," the paper says. "Aside from any financial gain that might be realized from harvesting, these ecological benefits to forest health and productivity are even more significant."
Please enable JavaScript to view this content.