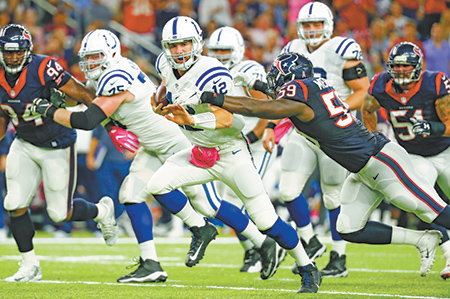 While the NFL's TV ratings as a whole this season are getting sacked for a sizable loss, the Indianapolis Colts have escaped the big hit.
Despite a less-than-stellar performance on the field, the Indianapolis Colts have actually seen their TV ratings through the first five weeks increase 2 percent over last year.
In fact, ratings were up for each of the Colts' first four games, although its fifth showed a slight decline, according to New York-based Nielsen Media Research.
The Colts are averaging a 32.2 rating in the local market, according to Nielsen; that's an average of 349,790 central Indiana households. The increase follows a small decline last year, but the team is now on par with its ratings in 2014—a season that saw the team go 11-5, win the division, and make it to the AFC championship game.
For comparison, fewer than 15 percent of the TV shows in the local market score a rating half as high as the Colts are earning. Many local newscasts have ratings below 5.0, with few having ratings as high as 10.0, according to Nielsen.
Sarah Angel, media director for locally based ad agency Mortenson Safar Kim, said ad buys during Colts games are attractive "because they carry so much clout" and the team has a unique "connection to the community."
The broadening of Colts viewer demographics is also a plus.
"It used to be that sports were a male-targeted placement," Angel said. "But with the rise of the Colts over the last decade, more women are interested in and watching Colts games."
Meanwhile, the NFL's national TV ratings are flagging across the board—down a whopping 17 percent on ESPN's Monday night games, 15 percent on CBS' Thursday night games, 13 percent on NBC's Sunday night games, and 3 percent on CBS and Fox on Sunday afternoons.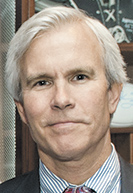 Ward
NFL owners aren't yet "overly concerned," Colts Chief Operating Officer Pete Ward told IBJ.
"I've heard some talk about the ratings, but no one is ready to push the panic button," Ward said from the recent NFL owners' meetings in Houston. "It's way too early to say what the cause of it is. There's a confluence of factors and no reason to think [the ratings] won't bounce back."
One Indianapolis media buyer, who asked not to be named, said the local market has not yet hesitated to buy ads during NFL games—especially Colts games—but that the situation could change, especially given the relatively high cost of those ad slots.
"This story has the attention of everybody in the ad community because NFL ratings have been so good for so long—almost bullet-proof," the buyer said.
Until this year, NFL viewership was up 27 percent over the last quarter-century, according to Nielsen. The steady rise came despite changing TV habits that brought a 36 percent decline in the same period in overall prime-time viewing—changes like fragmentation of cable TV audiences and smartphones siphoning audience share.
"If the declines continue after the Nov. 8 election, alarm bells will start ringing," the local media buyer said. "And if the Colts tank and their ratings take a dive, it won't take long for [local] media buyers to start asking for lower rates or make-goods. As the patience of Colts fans wanes, so goes the patience of ad buyers. It's really that simple."
Mortenson Safar Kim's Angel said ratings will always be a key factor in determining the value of spots during the game.
If the Colts can't get their season turned around and the ratings nosedive as many expect, that could hurt WTTV-TV Channel 4, which airs eight of the 10 remaining games. The other two games are on WTHR-TV Channel 13 and ESPN. WTTV officials were not available to comment.
Manning halo effect
The NFL ratings decline is being blamed on everything from the attention-sucking presidential campaign to the league's ongoing problems with concussions and rule changes that have created a plethora of penalties and game delays.
Some even surmise the retirement of star quarterback Peyton Manning and the suspension of fellow star Tom Brady for the first four games of this season have hurt. Still others point to millennials, who they say are tuning out the nation's most popular sport or watching it via non-traditional means—including cell phones and tablets—that aren't yet fully measured by Nielsen or its competitor, ComScore.
But none of that, it appears, is having much of an impact on central Indiana Colts fans. Some sports marketers even credit Manning, who played 13 seasons for the Colts before departing for Denver in 2012, for the team's sustained popularity.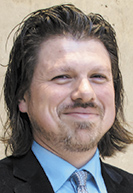 Clavio
"The Peyton Manning era created a diehard fan base in Indianapolis that still supports the team," said Galen Clavio, a professor of sports media and director of the National Sports Journalism Center at Indiana University. "That's how teams get made—establish themselves off the track record of one player or one string of success."
Ward said the strong local ratings "mean we have a lot of Colts fans that are really engaged," noting that the team's home games are essentially sold out and merchandise sales are strong.
"We've worked hard over the years to build a loyal fan base," Ward said. "And the fans in turn have been good to the team."
Team owner Jim Irsay was one of the first owners to start a regional marketing campaign, more than a decade ago. Following its 2007 Super Bowl triumph, the team took the Lombardi Trophy on a statewide tour. The team has for years reached out to fans in Fort Wayne, Evansville and Louisville as well as in its back yard.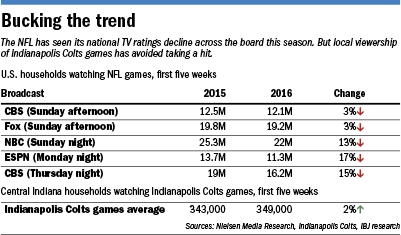 Still, Clavio warned that the Colts, and especially the league, should guard against complacency.
"One problem I've seen in this league during the era of [NFL Commissioner] Roger Goodell is that the league sees [itself] above the business problems that plague everyone else. That's ludicrous," Clavio said.
"The league is blaming everything and the actions of everyone else but itself for this ratings decline," he said. "Those are the actions of a league that still thinks it's invincible. They need to look at the quality of the on-field product, which, from what I can tell, is the worst it's been since the late 1980s."
Clavio cited poor officiating, rules changes, and inconsistent quarterback and offensive play among the problems.
Horseshoe lifestyle
The week six Sunday night matchup on NBC offered an interesting contrast between what's happening locally and nationally.
Despite an exciting game that saw the Houston Texans beat the Colts 26-23 in overtime, the game scored a paltry 9.0 rating (9.9 million households) nationally—not only a season low for "Sunday Night Football" but its worst rating in five years, according to Nielsen.
Locally, however, the game scored a 35.0 rating (380,205 households). Indianapolis was the highest-rated market, by far—a whopping 10.0 points ahead of Houston, the No. 2 market for the game.
Ungar
Ken Ungar, founder of locally based sports marketing firmCharge, said he doesn't see a softening of the local market for Colts football.
"In fact, it's the opposite," he said. "Going to and watching Colts games on TV is now part of a lifestyle in central Indiana, and that's a tremendously powerful place to be," Ungar said. "In Indiana, lots of people view Sunday as a day to go to church, then watch the Colts game. … It's become interwoven into the local culture."
So it's no surprise that, despite the team's 2-4 start, fans here are still tuned in.
"When a sport becomes interwoven in people's lifestyle, viewing isn't always predicated on winning," Ungar said. "If fans enjoy the experience, it can be an ongoing part of their life. Exhibit A: The Chicago Cubs."
Despite making a deep run in this year's Major League Baseball playoffs, the Cubs have historically been known as lovable losers with a streak of failing to make it to the World Series dating back to 1945 and not winning the World Series since 1908.
That type of devotion means a club can rely on fewer "casual fans," Clavio said.
But the NFL, he said, has been hurt by the loss of casual fans.
"Teams with a really strong following like the [Green Bay] Packers, [Dallas] Cowboys and [Pittsburgh] Steelers are less likely to see the types of downturns the league is seeing this year," he said.
During a winning season, most NFL teams see a ratings spike late in the year. How the Colts' TV ratings end up will no doubt be affected by how they play. If the team, which has yet to face the most difficult part of its schedule, turns things around, it could see an even more impressive ratings hike. But many see the opposite scenario more likely.
"Peyton Manning certainly turned Indianapolis into a football town—taking the Colts to two Super Bowls and winning one—but you shouldn't get this confused with the relationship Chicago has with the Cubs," said Milt Thompson, president of Grand Slam Cos., a locally based sports marketing consultancy. "Colts fans' patience is finite. The team can't continue on the track they're on and expect to keep this fan base's attention. There's a lot on the line in the second half of this season."•
Please enable JavaScript to view this content.