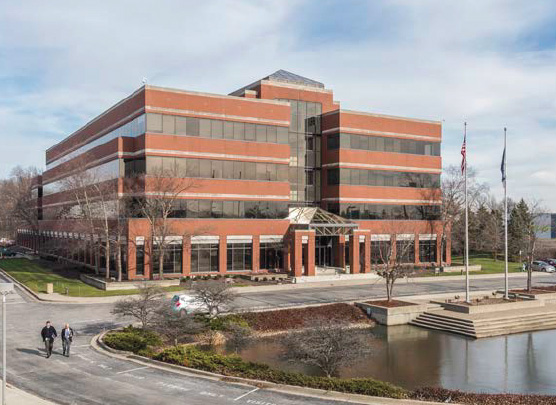 The corporate headquarters building for Fishers-based Marsh Supermarkets LLC is on the market for $28.6 million, according to real estate brokerage CBRE.
The 177,293-square-foot office building at 9800 Crosspoint Boulevard includes a 13-acre lot in a highly visible location on the west side of Interstate 69 between 96th Street and 106th Street, where a new interchange is under construction. The building is owned by a partnership that includes Marsh.
Marsh said it will continue to lease the 25-year-old building from the buyer until Nov. 21, 2026, at an initial annual rent of more than $2.8 million, with a rental increase of 7 percent in five years.
As a selling point, Marsh said the property comes with zero landlord responsibilities. "Tenant is responsible for maintaining, repairing, and replacing all aspects of the property, as well as all required insurances, taxes, and utilities," Marsh said.
Marsh said it will have the right to sublease the property to another tenant but will remain liable under the terms of the main lease.
The building has a large multi-story atrium, 293-seat auditorium with stage, food-service area, garden-style patio area, fitness center with lockers and showers, two docks, backup generator and 582 parking spaces.
CBRE's national investment property team and local broker Dan Richardson are marketing the property.
Marsh originally occupied most of the four-story building after construction was completed in 1991, but it moved most of its headquarters staff out in 2008, two years after the supermarket company was acquired by Florida-based Sun Capital Partners. In a cost-cutting move, Sun implemented a sale-leaseback of the building.
After Marsh moved out, Roche Diagnostics Corp. agreed to sublease the entire building from Marsh in an 18-year deal worth more than $47 million, but Roche abruptly pulled out of the deal before occupying the building over document issues.
In 2013, an Indiana Court of Appeals judge ordered Roche to pay Marsh almost $18.2 million to settle a legal dispute over the sublease agreement.
Marsh reoccupied about 40,000 square feet in the building in 2011 and subleased about 44,000 square feet to First Advantage, a St. Petersburg, Fla.-based firm that offers employee-recruitment services.
A recent listing by Loopnet said 114,000 square feet of space was still available for lease in the building.
Please enable JavaScript to view this content.