MoveSmart LLC

Type of business: Work place change-management consultant, office design and furnishings, project management

Location: 6050 Victory Way, Indianapolis

Phone: 216-1415

E-mail: marybeth@movesmartindy.com

Web site: movesmartindy.com

Founded: October 2008

Owner: Mary Beth Oakes

Owner's background: Oakes, 40, graduated from DePauw University in 1990 with a degree in communications. She was a manager at a Lazarus department store for two years before joining Business Furniture LLC, where she worked for 16 years and developed a service called Move Genius. She struck out on her own last year, but maintains a business relationship with Business Furniture, which her husband, Dick, owns.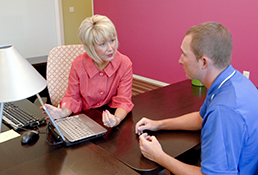 Mary Beth Oakes of MoveSmart discusses a project with employee Terry Richard. (IBJ Photo/Robin Jerstad)
Why started business: Not content with simply helping corporate clients furnish their offices, Oakes wanted to help them design their space to maximize productivity and efficiency. MoveSmart, which is seeking women's business enterprise status, offers both the physical product—furniture—and the change-management service. Among Oakes' first clients: Eli Lilly and Co., which hired her to help redesign its corporate offices into a so-called "integrated" workspace that includes collaborative areas for group work and more secluded areas when employees need to focus on the task at hand.

Competitive advantage: Few, if any, other companies provide the mix of services MoveSmart does. "What we offer [is] … very different," Oakes said. "We really get to know the end users. We train them on how to use their new technology and the new culture that they're going to be working in." Her consultants work to improve clients' productivity, employee satisfaction and office-based communication. MoveSmart upgrades and improves common areas and office spaces so that they are more easily accessible and so that employees feel more comfortable communicating with clients and one another. "To my knowledge, we're the only company in this industry that has a service like that that we offer," she said. "It's really about change management."

Startup cost: $200,000

Funding source: Personal savings

Projected first-year revenue: $500,000

Potential problem and contingency plan: Since the service is so unusual, Oakes has to spend time educating potential clients about its value and getting started with customers as early in the redesign process as possible—before they're just looking for someone to help choose furniture and figure out where it goes. "If we are brought on early enough in the process, we can engage in meaningful dialogue" about the goals of the redesign, Oakes said. "The 'how you get there' part is critical."

First-year goal: To earn WBE certification and reach out to companies that want to work with minority-owned vendors.

Five-year vision: To build the customer base beyond Indiana, working with companies that have locations all around the world. "I think that would be very exciting—to get to that point where we can take this service and we really can customize it, not only to different work cultures, but different cultures in general," Oakes said.•