Did Indiana Democrats get caught up in a Donald Trump tsunami in this election or did they simply fail to pick progressive candidates who could tap into the frustrations of working-class voters?

It's a question they'll be trying to answer as they autopsy big losses they suffered Nov. 8 when their establishment candidates—John Gregg in the governor's race and Evan Bayh in the Senate contest—got trounced.

"The ultimate takeaway is, there's a sense that the establishment has failed people," said South Bend Mayor Pete Buttigieg.

But some Democrats say it was President-elect Donald Trump's decisive victory in Indiana that propelled Republicans to success in the key races: Republican Eric Holcomb was elected governor. U.S. Rep. Todd Young was elected as the next U.S. senator. State Superintendent of Public Instruction Glenda Ritz, the sole Democrat holding statewide office, lost to newcomer Republican Jennifer McCormick.

And the GOP held onto its supermajorities in both chambers of the Indiana General Assembly.

"Quite frankly, we're a little stunned and shocked tonight," Gregg Campaign Manager Jeff Harris told IBJ on Nov. 8 as supporters trickled out of the Indiana Convention Center, where they had gathered to watch returns. "I think this is a direct correlation to the Trump effect. It was a wave … and took out the whole ticket."

Maybe it was pride talking, Harris acknowledged, but he was unsure how Indiana Democrats could top the fundraising and organization Gregg's team accomplished. The former House speaker raised more than $13 million, more than doubling the amount he raised in his unsuccessful 2012 gubernatorial bid against Gov. Mike Pence.
Bayh told supporters on election night that he'd be "ready in the years to come to help my fellow citizens in any capacity they see fit to have me." (AP photo)
"We ran a flawless campaign," Harris said. "Everything we needed to get done, we got done."

It's hard to overstate how unusually promising the Democrats' chances seemed just a few months ago. There was jubilation from the party that Bayh—the biggest name in Indiana politics—had jumped into the Senate race, tagging out Baron Hill, who seemed assured to lose to Young.

Democrats were similarly confident in voters' support for Ritz, who would be harder to unseat as an incumbent, and in their ability to cast Holcomb, who didn't have much time to define himself, as "Pence 2.0."

But ultimately, the voters decided they'd had enough of establishment candidates nationally and statewide.

"What we saw is a lot of people who were overlooked or who felt overlooked asserting themselves at the polls," said Buttigieg, who is widely considered to be a young star of the Democratic Party.

So where do Democrats in the Hoosier state go from here?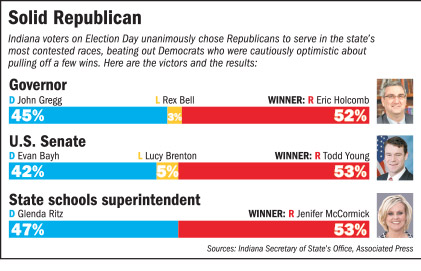 Robert Dion, political science professor at the University of Evansville, called the losses "a crushing blow … that will really, really knock the wind out of the state party."

"It sends a really chilling message about their [future] chances," Dion said. "They've already been clobbered in the state Legislature. It's a reminder that this is aRepublican state and that Democratic victories are few and far between."

As far as leadership goes, Bayh and Gregg might not appear again in Indiana politics. Bayh told supporters he'd be "ready in the years to come to help my fellow citizens in any capacity they see fit to have me." Gregg acknowledged this could be the last time his name is on the ballot, but he praised his running mate, Democratic state Rep. Christina Hale, and said she had a bright future.

Harris said the party needs to build its bench by "investing in young people" and "come back and offer ideas" for Indiana.

While Gregg and Bayh were mainstream candidates, Indiana Democrats picked Bernie Sanders over Hillary Clinton in the presidential primary, raising the specter that they're looking for more progressive options.

Buttigieg said voters need to be sure that, once in office, a leader will take action on issues that matter to them.

"People want to see somebody who will stick up for them, somebody who isn't satisfied with the status quo, especially not for the economy," Buttigieg said. "If we want to offer leadership in the state, we've got to have a message that explains how everybody is going to be better off in a fair and more inclusive economy."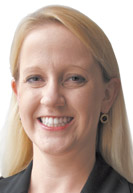 Wagner
He also said Democrats need to lead on redistricting and civil rights issues. For example, he said, "Are we serious about [curbing] money in politics?"

Democratic strategist Jennifer Wagner said political parties—as machines that once recruited candidates, trained campaigns and funded races—are becoming less relevant.

Wagner, citing Trump's success, said this cycle "has really hammered home that establishment party operations have very little effect anymore."

"We've got a system where candidates, by whatever means possible, have to distinguish themselves from the rest of the pack and prove to the big-money backers that they can win … so they can get the cash infusion to get in the game," Wagner said.

Jesse Kharbanda, a Democratic candidate who lost a close Indiana Senate race in the Indiana primary, stuck around at the Democratic event long after most supporters had left. He said he was disappointed in the outcome, especially for Gregg's loss, but he expressed confidence in the Democrats' message for the future.

"How we uplift working families remains a very powerful focus of the party," Kharbanda said. "They developed a really thoughtful set of proposals and were just caught up in the whirlwind of national trends.

"There's a candid assessment that needs to be done," he said, "but I think the effort … was highly committed to building a broad-based coalition that resonated not only with traditional Democrats, but independents and Republicans."

Buttigieg urged despondent Democrats to "get back to work."

"There's no time to lose," he said. "Obviously, as an American, you want your president to succeed. And as a Hoosier, you want your governor to succeed. In the event they put policies forward that aren't going to make us better, you've got to come up with a better alternative."