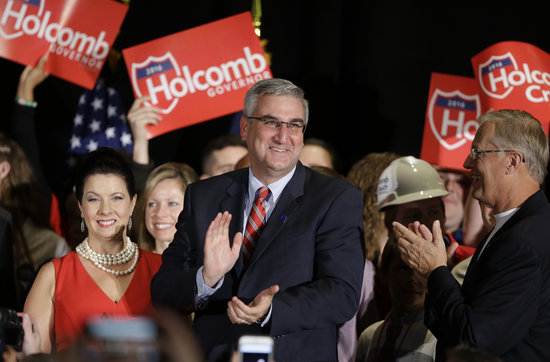 Republican Eric Holcomb—the unlikeliest of candidates just a year ago—will be Indiana's next governor.
The state's current lieutenant governor, Holcomb had 52 percent of the vote, defeating Democrat John Gregg, who had 45 percent with 82 percent of precincts reporting. Libertarian Rex Bell had 3 percent of the vote.
Holcomb told Republicans gathered at the JW Marriott that he knew there were many people who didn't believe he could win given the short campaign.
"Holcomb can't do this. Holcomb can't do that," Holcomb said. "Well, they were partly right. Holcomb couldn't do it, but we did. We did it because we have the best volunteers in the nation." 
Holcomb said he accomplished a lot during his 100-day campaign, and he's looking forward to the next 100 days. "Let's make some history."
The victory caps off a tumultuous ride in politics for Holcomb this year, and is another disappointment for Gregg, who ran unsuccessfully in 2012.
Holcomb is a former state party chairman who had never previously won an election and who dropped out of the state's U.S. Senate Republican primary earlier this year, a race in which he was trailing two other candidates.
In March, he was appointed by Gov. Mike Pence as Indiana's lieutenant governor. 
Then In late July, after Pence was selected to be Republican presidential nominee Donald Trump's running mate, Holcomb was tapped to be the GOP nominee for governor by the Indiana Republican Party's 22-member central state committee. The group picked Holcomb in a secret ballot, defeating better-known candidates including U.S. Reps. Susan Brooks and Todd Rokita.
Holcomb told IBJ earlier this year that he recognized the unlikeliness of his journey. "My wife asked me if I ever in my wildest dreams thought my career path would have anything to do with a decision Donald Trump was going to make," he said at the time. "Who would have thunk?"
Despite Indiana's solid 12-year-run of Republican governors, Holcomb's victory is a bit of a surprise. He had just more than three months to campaign for the job, and he was behind in the polls until this week when one survey showed him tied with Gregg.
"I think this will be a race that will be studied for years and years," said Republican State Chairman Jeff Cardwell. "Here's a statewide candidate for governor running a race in 100 days, raising millions of dollars, criss crossing the state. This is one that's going to be in the history books, and we're very proud of Eric."
WTHR/Howey Politics Indiana had Gregg and Holcomb in a dead heat in a poll released Friday, both with 42 percent of the vote.
But an Oct. 19 poll from WISH-TV and Ball State University had Gregg leading by 5 points at the time. A Monmouth University poll had Gregg leading by 12 points among likely voters.
At a Democratic gathering at the Indiana Convention Center, Gregg lamented that "this was not the speech I planned on giving."
"I love the promise of a better Indiana that comes with each sunrise," Gregg said. "If we choose it, although tonight is disappointing, tomorrow can still be our day. Indiana is a great place and still has a bright future."
He said Democrats shouldn't ask themselves, "How can we ever win?"
"Democrats, we can win," Gregg said. "We will win. View this as a time for us to re-engerize our party."
In spite of the early poll results, Holcomb's team had said throughout the race that he was "on a winning trajectory" in the contest. They released internal polling showing the race tied in mid-October.
The short campaign was funded by groups with deep pockets—but Holcomb struggled to break through the political noise of a presidential race and a contest that would help determine control of the U.S. Senate between Democrat Evan Bayh and Republican Todd Young.
Unions and the Democratic Governors Association fueled Gregg's campaign, while Holcomb was aided largely by the Republican Governors Association and a big donation from Pence.
Gregg tried to cast Holcomb as the "status quo" candidate and made the argument that he would continue pushing the "divisive" social issues that hamstrung Pence's tenure as governor. For instance, Gregg has said that if elected, he would issue an executive order granting civil rights for LGBT state employees, while Holcomb has said he doesn't plan to focus on LGBT rights.
Holcomb has said he is "proud" of the state's leadership under Pence and his predecessor Mitch Daniels. And his policy positions largely appear to be continuances of the Pence team's policies.
For instance, his economic plan touts his commitment to "continue the strategies that have made our state the most competitive, vibrant, and diverse economy in the Midwest."
One of the key challenges that Holcomb faced getting into the race was his low name identification. Political analyst Brian Howey estimated at the beginning of the race that Holcomb's name ID stood somewhere near 20 percent statewide, compared to Gregg's estimated 60 percent.
Still, Holcomb's team expressed confidence Holcomb could pull it off.
On Tuesday night, Indianapolis Mayor Greg Ballard said "it was nice to see Eric get across the line. I'm happy he got there."
In his speech Friday, Gregg positioned his running mate, State Rep. Christina Hale, as the future of the party, saying this may be the last time his name is on the ballot.
Hale "gave up her seat, sacrificed her seat because she wanted to serve," Gregg said. "She is filled with passion and compassion. She has a bright future. I know we'll see her in the arena again soon."
Hale said her heart was "broken," mostly because Hoosiers "deserved John Gregg to lead as governor." She said it was "my dearest wish to see him lead our state."
"John and I have a heart for Indiana," Hale said. "We love Indiana. We love the people. We were in this race for all the right reasons. Everybody saw we were the prepared campaign. I'm so sorry that wasn't reflected in the vote. If people could see into our hearts, they would know. We just want to do good things for people."
Please enable JavaScript to view this content.