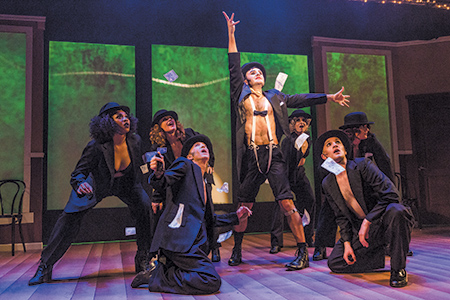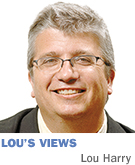 The emcee—the iconic character that stands front and center of the musical "Cabaret"—is an original creation. Go back to Christopher Isherwood's novel "Goodbye to Berlin" or John Van Druten's hit stage adaptation of it, "I Am a Camera," and you won't find the sardonic emcee at the core of the story.
Yet he's the linchpin that holds together a seminal work of American theater that, even after 50 years of productions, leaves plenty of room for individual interpretation—and can still unsettle—as evidenced by the strong Actors Theatre of Indiana production (at the Studio Theatre through Nov. 20).
Sure, there are hints of Alan Cumming's bold reinterpretation of the cabaret emcee character in Ben Asaykwee's performance here. And it's impossible to fully escape the stamp Joel Grey originally put on the part. But Asaykwee's performance brings an interesting world-weariness to the mix. As entertaining and compelling as he makes his numbers (including "Money' and "Two Ladies"), there's a fascinating sense that he's done this act so many times he's thinking about the audience and other matters while performing. In the midst of the second-act number "If You Could See Her," the point where the show picks up the pace of its plummet into darkness, there's a sense that he, too, realizes he's not just commenting on what's going on in the world, but he's also a part of it.
What's going on in the world is the rise of Nazi Germany and the efforts of a handful of characters in Berlin to act as if life can go on as normal. The play weaves together traditional musical-theater book scenes—one where dialogue gives way to song—with numbers taking place within the cabaret that comment on the action. Crossing over into both is Sally Bowles, a singer trying hard to appear sophisticated and outrageous, and Cliff Bradshaw, a novelist from America looking for inspiration.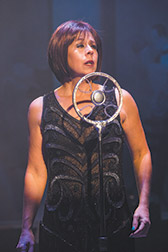 Cynthia Collins (above) shows that the title song from "Cabaret" is far from a cheery anthem. (Photo courtesy of Zach Rosing)
Cynthia Collins' Sally is less show-biz savvy than Liza Minnelli's career-defining take on the character and has been around the block more times than Julie Harris' version in the original non-musical film version. She's less defiant but as clearly drug-addled as Jane Horrocks' London creation (take a look on YouTube for that bold approach) but a stronger singer than Natasha Richardson's Broadway variation.
You get a sense that Collins' Sally could have made something of herself and that the cabaret patrons still got their money's worth when she was in control of her faculties. But it seems the chance of her becoming the star she wants to be has passed. Her drug-fueled ride through the title song emerges not as a showstopper-in-a-vacuum but as the natural progression of a character with a sudden window into the downside of her "whatever, darling" philosophy.
The show puts no musical weight on its central character, the novelist Cliff. As Christopher Isherwood wrote, he is "a camera with its shutter open, quite passive, recording, not thinking." But here, too, a talented actor freshens the role. Eric J. Olson doesn't have the innocence I've seen in other productions but, instead, brings a more mature desire to find pleasure and inspiration. He seems at war with himself—his desire to dive into Berlin bohemia in conflict with the darkness he sees around him. There's a sense that, as much as he wants to be blind to the facts, he—as do we—sees that he and Sally don't have long-term prospects.
There's less variance to be had with the other central characters in "Cabaret:" Jewish grocer Herr Schultz (Darrin Murrell), boarding house proprietress Fraulein Schneider (Debra Babich), prostitute Fraulein Kost (Judy Fitzgerald) and businessman Ernst Ludwig (Patrick Vaughn), but all bring their A games under Billy Kimmel's direction.
The production is played out on a minimal set, with a few chairs and set pieces keeping things mobile. The minor overuse of projections sometimes overplays an idea rather than underlines it (especially in an unnecessary opening moment), but otherwise accentuates without upstaging. Music Director John D. Phillips has put together a compromise-free band, often visible behind a row of sliding screens, that delivers John Kander's outstanding score without being so polished that it would seem unnatural in the seedy Kit Kat Club environment.•
__________
This column appears weekly. Send information on upcoming arts and entertainment events to lharry@ibj.com.
Please enable JavaScript to view this content.