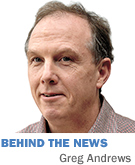 The top brass of companies in Indiana and across the nation are fawning over stock buybacks these days, pushing share repurchases to near-record levels.
The appeal is obvious: When companies buy their own shares on the open market, they leave holders of the remaining stock with a bigger slice of the ownership pie. With profits spread over fewer shares, the stock price often rises, at least temporarily.
Korzenik
Repurchases can have their place, to be sure. "Share buybacks have some value if you have a company that is in a mature business, your cash flow is strong and predictable, and you already have satisfied your capital expenses," said George Farra, co-founder and principal of Farra Woodley Manion Portfolio Management in Indianapolis.
But Jeff Korzenik, chief investment strategist at Cincinnati-based Fifth Third Bank, said executives' infatuation with buybacks increasingly has come at the expense of capital expenditures that would benefit the businesses—and the overall economy—long term.
The nation's "capital stock has been getting older and older," said Korzenik, the keynote speaker at IBJ's economic forecast breakfast last month. "Older and older probably means more and more obsolete and less and less productive."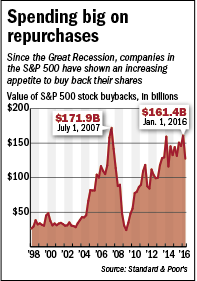 He added: "You have to go back to the aftermath of the Great Depression to find capital stock as old as it is today."
Korzenik, who holds a degree in economics from Princeton University, said what's partly driving the buybacks is a perverse incentive in the tax code.
In the interest of promoting income equality, Congress in 1993 limited the deductibility of executive pay for the five highest-paid executives, a move that made anything over $1 million taxable. Instead of reining in pay, however, boards came up with new formulas in which the bulk of compensation is tied to performance—and thus falls outside the cap.
Frequently, Korzenik said, that means executives are rewarded for increasing earnings per share, which top brass can accomplish through buybacks. There is no similar financial reward for two other potential uses of excess cash—paying out dividends, which immediately puts cash in shareholders' pockets, or making capital expenditures, a move that can take years to pay off.
"Economists will tell you this is the best use," he said of capital expenditures. "It's the highest use, because it drives productivity, and productivity drives societal wealth."
In his economic forecast presentation, Korzenik noted that a lack of capital investment is one of the key reasons the nation has seen declining productivity for three consecutive quarters. Productivity gains typically support higher worker incomes late in a business cycle. The absence of those gains means the economic upswing will end sooner than it otherwise would have, Korzenik said.
That's the big picture. In the trenches, David Simon, CEO of mall giant Simon Property Group Inc., sees it much the same way.
During an Oct. 26 Simon Property Group conference call, an analyst asked Simon if he would aggressively buy back stock, which recently has sagged in price. He cast aside the idea, saying that at this stage it's wiser to plow the money into properties—ultimately making them more valuable.
"The number one job I should be doing is investing and making my product better," Simon said.
He added: "What I've seen with a number of retailers is, they've not invested in their product … or they've chased the holy grail of internet sales to the detriment of what they should be doing with their physical product.
"Still, people want to go physical shopping. And when they go physical shopping, then you've got to have a nice physical environment."•
Please enable JavaScript to view this content.