It was a banner year for school referendums across Indiana, with all but three of the 20 ballot questions in this year's primary and general elections turning out successfully for the districts.
In the Nov. 8 election, voters said yes—in many cases overwhelmingly—to raising taxes or keeping in place tax hikes to support day-to-day operations and construction projects in nine of 10 cases, including referendums for Washington Township Schools in Indianapolis and Westfield Washington Schools in Hamilton County.
Some advocates say it's a sign the state's schools aren't being funded adequately—and that taxpayers are willing to pay more. Others contend it's a sign that property tax caps in Indiana are having the intended effect of making voters directly responsible for tax hikes.
And many say an overriding concern is what the successful referendums will mean for equitable school funding in Indiana.
The success of this year's ballot measures "shows a pretty clear mandate that our voters do want to support schools and an increased understanding of the fact that school funding has changed and that it is now up to the communities to fill the gaps in funding from the state," said Kristina Frey, a Washington Township Schools parent and volunteer.
Frey said it would "certainly be preferable to me to have the state provide adequate funding without having to go through the referendum process."
"I'm already not looking forward to having to do this again in seven years," she said.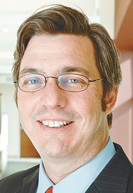 Ketzenberger
But John Ketzenberger, president of the Indiana Fiscal Policy Institute, said the caps are working as the Legislature intended.
"They put in place a mechanism for local schools to raise additional money if they could convince taxpayers to do it, and that's been utilized and often successful, so the outlet they provided is working, too," Ketzenberger said.
This year's referendum success rate of 85 percent is the highest since the votes became a more popular tool for schools after property tax caps were instituted in 2008.
The caps—which voters put into the Indiana Constitution—limit the total property taxes that homeowners, farmers and businesses must pay, which can in turn reduce revenue to all taxing units, including schools. Taxes can go above the caps only if the increases are approved in a referendum.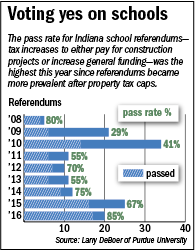 About two-thirds of school referendums passed in 2015, and 75 percent passed in 2014. Comparatively, in 2009 and 2010, the pass rates were just 29 percent, and 41 percent, respectively.
Referendums were few and far between before property tax caps. But along with the caps came a change in the way schools were funded.
The General Assembly in 2008 voted to eliminate property taxes as the revenue source for school district general funds, which pay for most day-to-day expenses and salaries. The state took over those costs, funding them with a 1 percentage point increase in the sales tax and money that had previously been used for property tax relief.
Property taxes still fund capital projects and bus costs.
Since the change, nearly 150 school referendums have been on the ballot—and 85 have been successful.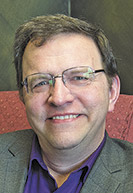 DeBoer
The prevalence of referendums after 2008 is likely due to the recession, Purdue University professor Larry DeBoer said, because the sales tax "was not bringing in an appropriate amount of money to fund schools."
It continues because, while politicians—including Gov. Mike Pence—have bragged about "record" investments in education, spending on schools is actually lower now than it was in 2011, when adjusted for inflation.
"School funding never quite recovered to where schools thought they were going to be," DeBoer said.
DeBoer, an expert on state and local government, said he was somewhat surprised by the success rate of this fall's referendums, but that most were proposed by districts who had tried unsuccessfully at least once before.
"The school corporations have maybe completed a sort: those who think they can win and those who don't think they can win so they don't try," DeBoer said.
Also, much more sophisticated campaigns now accompany school referendums—campaigns that mirror political strategies.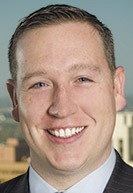 Fisher
"School districts are becoming more strategic about their pitch," said Adam VanOsdol, who covers education for INGroup, a company that publishes several policy newsletters. "They often rely on extensive phone surveys, focus groups and outreach to determine precisely what level of financial support the community is willing to tolerate."
Mark Fisher of the Indy Chamber, who led Marion County's public transit referendum this year, said he believes the school referendums are having success because people want to pay for things that will "protect their property values."
"Attracting residents is dependent on the quality of your school system and we need to make sure that we have high-performing schools that continue to attract new generations of families," Fisher said. "If you want a higher-quality transit system or more parks or schools, you will need to fund those."
But some are worried that a reliance on referendums to support schools could exacerbate an equity problem between wealthy and poor students—particularly if wealthy districts are consistently raising more tax dollars to pay for their schools, while referendums fail or never get off the ground in poorer districts.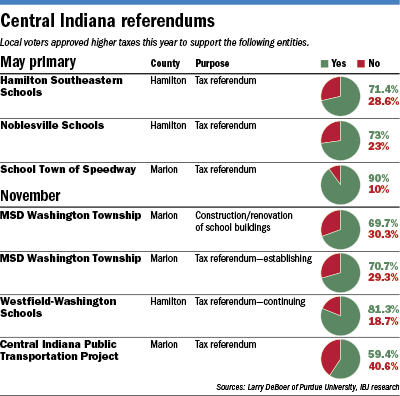 The Legislature has been on a quest for equity in school funding of late. Traditionally, schools that were losing enrollment or served poor students were funded at much higher per-student levels than those in wealthier suburban areas. In 2015, lawmakers changed the school funding formula to one that benefited many of those suburban districts, particularly those that are growing quickly.
But those schools are the ones also seeking—and often passing—referendums to raise more money.
"Even though these suburban school districts were the winners, you're still seeing those exact same districts having to go to referendum," VanOsdol said. "That says something about where school funding is and what people expect from their local schools."
For example, this year, referendums were successful in Hamilton Southeastern Schools, Noblesville Schools and Westfield Washington Schools.
But one for Gary Community School Corp. failed, with nearly 51 percent of voters against it.
"If this keeps going, we're going to wind up with one-third of our state with new and advanced school facilities and higher-paid teachers and two-thirds without," DeBoer said. "That's what the public is voting for. That's what people say they want, but will that be recognized as a kind of equity problem?"•
Please enable JavaScript to view this content.