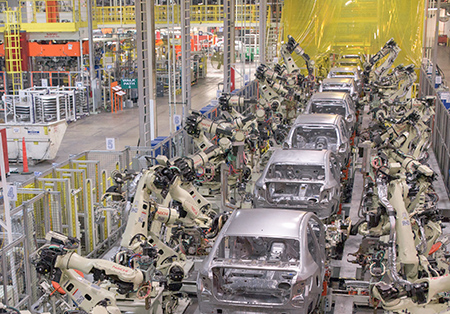 LAFAYETTE—In the U.S. automotive market, Subaru is one of the little guys. The Japan-based automaker has a market share of less than 2 percent, and it sold only about 583,000 vehicles nationwide in 2015.
But the automaker, whose parent company is Fuji Heavy Industries Ltd., is in the midst of a U.S. sales boom—and the company's Lafayette auto plant is racing to keep up.
Subaru of America Inc. says it expects to end 2016 with sales of more than 610,000—a 4.5 percent jump over last year and its eighth consecutive record year.
As Subaru's parent company eyes continued U.S. sales growth, the Lafayette plant—the automaker's only factory outside Japan—could be in line for more expansion and investment.
Easterday
The facility, which operates as Subaru of Indiana Automotive Inc., has invested more than $1.3 billion in upgrades and expansions over the past four years. It's added more than 2,000 workers over that same time, 1,400 of whom came on board in the past year. The facility's footprint occupies nearly 4 million square feet, the equivalent of 69 football fields.
"We have basically doubled the size of the plant," said Tom Easterday, Subaru of Indiana's senior executive vice president.
In 2015, Easterday said, the Lafayette plant made 36 percent of all Subarus sold in North America. By 2018, that's expected to grow beyond 50 percent.
Between the plant's own employees and its variable workforce—on-site workers employed by an outside employment agency—the factory has a staff of more than 5,500.
The facility has made various types of vehicles over the years, including, until this year, the Toyota Camry, which it produced under contract for its Japanese rival. It currently produces three Subaru models: the Outback, a midsize crossover SUV; the Legacy, a midsize sedan; and, as of November, the Impreza compact sedan.
The bulk of Subaru's sales comes from those three models, as well as from the Crosstrek and Forester, which are SUVs made only in Japan.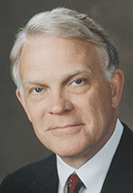 Mutz
In 2018, Lafayette will add production of a yet-to-be-named SUV.
"The growth has been astounding, better than what any of us who worked on that plan imagined," said John Mutz, who, as Indiana's lieutenant governor in the 1980s, worked to bring Subaru to Indiana. Mutz now serves on the board of the Indiana Economic Development Corp.
The Lafayette plant, which started production in 1989, was the first Japanese auto plant in Indiana. Once that happened, Mutz said, it was easier to attract other foreign automakers.
"It sent a great message to Japan," he said.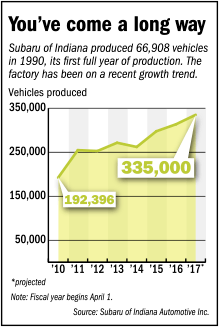 Indiana is now home to two other Japan-based automakers: Toyota's Princeton plant opened in 1998, and Honda's Greensburg facility opened in 2008.
Torrid pace
Even with all the recent expansion, the plant is running hard to meet demand.
Workers have pulled a lot of overtime this year, said company spokeswoman Media Oakes—10-hour shifts and Saturday work.
Ideally, Oakes said, automakers like to have a 30-day supply of finished vehicles ready to ship. Right now, the Lafayette plant has only an 11-day supply in its motor pool.
"We cannot keep up with demand," she said.
During the 2016 fiscal year, which ended in March, the plant produced almost 314,000 vehicles. This year, Easterday said, it is on track to produce 335,000, and that number will grow in years to come.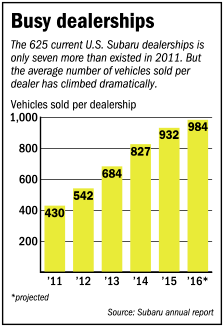 Because the United States is Subaru's largest and fastest-growing market, the Lafayette plant holds a significant place within the company.
According to Subaru's 2016 annual report, the company's sales growth in recent years has come mostly from the United States, which the company calls "our most important market."
In 2012, for instance, Subaru sold 640,000 vehicles, 44 percent of them in the United States and 27 percent in Japan. In 2016, Subaru sold 958,000 vehicles—61 percent of them in the United States.
Subaru plans in 2017 to break the 1-million-sales mark for the first time, with 62 percent of those sales coming from the United States. The company predicts sales of 1.2 million by 2020.
Since its opening, the Lafayette plant has exported vehicles to 52 countries, Easterday said. Today, most of the vehicles stay in the United States. During fiscal 2016, the plant exported only 13,500 vehicles, the vast majority to Canada. The rest went to Mexico, Puerto Rico and Colombia.
"Right now, we're focused on the North American market because we've had such tremendous success in the North American market," Easterday said.
Winning over customers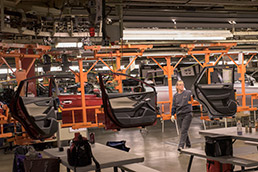 Employees at the Subaru of Indiana plant in Lafayette have been working on Saturdays and pulling overtime shifts to keep up with demand. (IBJ photo/Eric Learned)
One particular point of pride, he said, is Subaru's success in winning new customers.
According to a report from Experian Information Solutions Inc., Subaru is by far the most successful automaker at gaining customers from other brands.
For the 12 months ending in May, the report said, Subaru's conquest/defection ratio was 3.48. In other words, for every customer it lost to another brand, Subaru gained 3.48 customers from another brand.
Subaru's next-closest competitor on this metric is Kia, with a ratio of 1.7. In comparison, General Motors, Toyota, Ford, Mitsubishi and Honda all are losing more customers than they gain, the report says.
Subaru's exact target market varies by model, Oakes said. But in general, the typical Subaru buyer is college-educated, middle- or upper-middle class, probably a pet owner, and enjoys outdoor activities like hiking, running, cycling and skiing.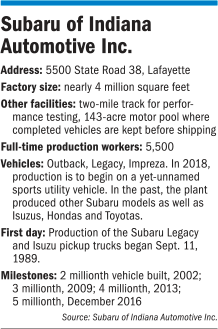 Part of Subaru's success stems from its model mix, said Bernard Swiecki, a senior automotive analyst at the Center for Automotive Research in Ann Arbor, Michigan.
"This is a very good time to be Subaru, because the vehicles that you're making are very much in demand by consumers in the marketplace," Swiecki said.
As one example, he cited the Subaru Outback, which combines features of an SUV and a sedan.
"Crossovers right now are the hottest segment in America," he said.
Poised for more growth?
Assuming Subaru's U.S. sales continue to grow, will the Lafayette plant grow along with it?
Easterday would only say that "it's possible." He said those decisions are made by executives higher up in the company.
"I think there's still more room to expand here," he told IBJ. "I believe our parent company will have the confidence in us to allow us to do that."
Subaru already ranks as the second-largest employer in Tippecanoe County, behind only Purdue University, according to the Indiana Department of Workforce Development. Its pay levels also make it one of the most desirable places to work. Starting pay for production associates, including an hourly attendance bonus, is $16.35 per hour. Top pay for production associates, including the bonus, is $27.03 per hour.
Many automakers produce some of their vehicles in Mexico, where labor costs are lower. When Subaru was deciding where to build Imprezas, Easterday said, the company considered all options—including Mexico—before deciding on Lafayette.
Swiecki said Subaru's pricing differs from that of most automakers, and that strategy could help Lafayette.
Subaru executives say they are not interested in competing based on price.
According to the 2016 annual report, Subaru's incentive program was the lowest in the industry—about $900 per vehicle, compared with the industry average of $3,000 per vehicle.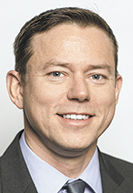 Swiecki
These incentives, Swiecki said, can take various forms, including dealer payments, customer cash-back deals and rebates. Lower incentives mean customers pay closer to the sticker price for a new Subaru than they would for a new vehicle from another maker.
Subaru also doesn't sell to rental fleets, where both new-car sales prices and used-car resale prices tend to be lower, Swiecki said.
Because Subarus tend to sell at higher prices, he said, the company is less sensitive to labor costs than are some makers.
"Getting premium pricing for its vehicles, that removes some of that price pressure to build elsewhere," he said.
Swiecki, who has visited the Lafayette plant, said the facility should have plenty of room to grow if the company decides to do so.
"Don't worry about Subaru outgrowing Lafayette anytime soon," he said.•
Please enable JavaScript to view this content.