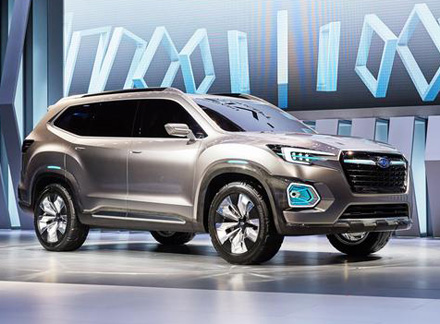 Subaru, a tiny, conservative Japanese brand that builds its automobiles in Indiana, is about to roll out a big, brash, American-style SUV. The decision is either an exercise in kaizen—slow, steady improvement—or a complete loss of cool.
To be sure, the market might be there. Americans are ditching their sedans for SUVs at a dizzying pace. Subaru, however, has become one of the hottest car companies in the country by soberly keeping production below demand and making a few great cars, none of which is a traditional SUV per se. In other words, a super-sized Subaru could be a profit machine or a exercise fraught with distraction.
The odds favor the former. In the United States, sales of SUVs and trucks eclipsed those of cars six years ago and have showed no signs of slowing. At the moment, only one out of every three vehicles rolling out of dealerships is car-shaped. Large, luxurious SUVs in particular have been in demand.
"The future is all trucks (and SUVs)," said Bloomberg Intelligence analyst Kevin Tynan. "And if you think about it, even at 60 percent of the market, that means there's another 40 percent left to grab."
This new machine will be made at the Subaru of Indiana Automotive Inc. operations in West Lafayette, exclusively for American drivers. About 5,500 employees work at SIA.
Subaru said the utility rig will hit dealerships in early 2018 as a close cousin of the Viziv-7 (upper left), a concept model it showed off in Los Angeles late last week. The Viziv-7 is, in a word, huge: It is to a Subaru Impreza what Colorado is to New Jersey. The vehicle has three rows of seats, 21-inch tires and burly roof rails. Stretching 205 inches from bumper to bumper and 72 inches from ground to roof, the Viziv sits squarely in Cadillac Escalade territory, with a boxy silhouette and a massive grill. Frankly, it looks more like a Jeep than a swollen Outback.
"The whole idea was not necessarily to show the details of the car, but to give our future buyers a sense of what the size would be," said Subaru spokesman Dominick Infante. Translation: Hold off on that Toyota Highlander.
Make no mistake, this vehicle is a huge strategic risk for the company. Subaru sells a few sedans. It even has a pudgy running back of a sports car that commands a cultish following. But right now, the automaker lives and dies by the Outback, a rough-and-tumble wagon it's been perfecting since 1994. Its second-best seller, the Forester, is essentially a slightly taller version. A Subaru dealership is thus a bit like a steakhouse: there are other things on the menu, but nobody really goes there for the chicken.
When the company strays from this script, it tends to get in trouble. Its last attempt to take a piece of the traditional SUV market was a minor disaster. From 2005 through 2014, Subaru made the Tribeca, a mid-sized SUV best remembered as one of the worst-selling cars in its category. When all was said and done, Subaru sold an average of about 9,000 Tribecas a year—a number that the Outback hits in about two weeks.
Tynan said designers simply missed on the Tribeca. "It had an ugly grill and just wasn't 'Subaru-y' enough," he explained, referring to the brand's crunchy mix of safety, ruggedness, and affordability.
Subaru admitted it made a mistake by placing the Tribeca close to the luxury class. The company's sweet spot has usually been in the middle–somewhere between Chevrolet and Cadillac. Perhaps naming the SUV after one of Manhattan's richest neighborhoods wasn't the best branding move. The "Portlandia" would have been more appropriate.
"It tended to stand out in our lineup and looked like it was moving off into the territory inhabited by the BMWs," Infante said. The coming SUV, in contrast, "will look like a Subaru, feel like a Subaru, and have Subaru DNA throughout."
The idea is to capture customers who are outgrowing their Outbacks and Foresters as they add kids, dogs, kayaks, or all of the above. "Right now, if you're looking for that third row of seats," Infante lamented, "we're losing you."
Indeed, U.S. drivers will keep flocking to red-hot SUVs such as Volvo's XC90 and Tesla's Model X before Subaru catches up in 2018. Meanwhile, at least the company has time to come up with a decent name.
Please enable JavaScript to view this content.