Brent Steele and Carlin Yoder were Indiana legislators until their terms expired in November. A month later, both work for lobbying groups.

The two say they are following the letter of the state's ethics law, which forbids former lawmakers from lobbying at the Statehouse during a one-year "cooling-off period."

But their employment moves are leading some to question whether that law is strict enough and whether it's time for changes.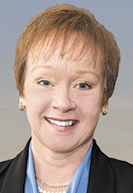 Thompson
"Indiana's ethics laws are almost non-existent," said former Democratic U.S. Rep. Jill Long Thompson, an instructor at Indiana University's School of Public and Environmental Affairs. "Every time the Legislature strengthens them, they find a loophole that allows them to basically avoid the intent of the law. These two examples with Yoder and Steele characterize that very clearly."

Steele, who served 14 years in the Senate after eight in the House, is joining the Vapor Association of Indiana, a lobbying and advocacy group for six e-liquid manufacturers whose permits were approved under a controversial law that is under investigation by the FBI for corruption. Those firms produce the "juice" used in e-cigarettes.

Steele, who did not reply to IBJ's requests for comment, voted for the vaping law when it was under consideration. In other media reports, he said he would follow the cooling-off-period rule by hiring an outside lobbying firm to represent the Vapor Association during the Legislative session that begins Jan. 3.

Yoder, who served eight years in the Senate, is joining the lobbying and public affairs firm The Corydon Group as a vice president in January. The group says it is counting down the 10 months until Yoder can enter the halls of the Indiana Statehouse as a lobbyist.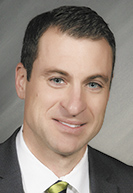 Yoder
Yoder said questions about his new job are "almost offensive" and "ridiculous."

"I'm following the letter of the law," Yoder told IBJ. "I fail to see why there is a story here. I could legally right now set up shop and say anybody can come to me and I'd give them advice" about how to lobby the Legislature.

Chris Gibson, The Corydon Group president, said the firm intends for Yoder to become "an active member of the legislative lobbying team once his cooling-off period is completed."

Until then, Gibson said, Yoder will help the firm work on a variety of other clients since The Corydon Group is "much more than just a quote-unquote lobbying shop."

But Gibson acknowledged that Yoder's experience in the Legislature is what makes him useful to clients.

"Certainly, Carlin's time as a state senator provides a perspective and experience and knowledge base in public policy and the public-policy-making process that clearly is attractive to a firm like ours that is rooted in public-policy debate," Gibson said.

But is providing advice to clients about how to accomplish legislative goals still essentially lobbying even if you're not talking to lawmakers in the halls of the Statehouse?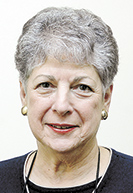 Kennedy
Sheila Suess Kennedy, a professor of law and public policy at the School of Public and Environmental Affairs at IUPUI, thinks so.

"You're sharing valuable lobbying information even if they are not physically making the trek to the Statehouse," Kennedy said. "It is a distinction without a difference."

But state law says there is a difference. The ethics law prohibits former lawmakers from registering as a lobbyist for one year. And the Indiana Lobby Registration Commission defines lobbying as communicating with "any legislative person for the purpose of influencing any legislative action."

Steele's and Yoder's moves are in line with those rules: Yoder will advise clients while he waits to enter the Statehouse again and won't be talking directly to lawmakers. Steele will supervise a lobbyist without himself registering as one.

But good-governance advocates say that shows the law, which went into effect in 2011, is flimsy.

"Is there really much difference between an individually registered lobbyist and being an executive of a group that employs individually registered lobbyists?" said Gerry Lanosga, president of the Indiana Coalition for Open Government and an assistant professor at Indiana University's Media School.

"You have to trust that they're not going to be involved in individual lobbying efforts," he said. "We can't really know."

Despite the fact that the former lawmakers are following the law, Vaughn said the moves "obviously won't serve the public-policy purposes of that law, which was supposed to help remove the appearance of impropriety that automatically happens anytime you have a legislator go through the revolving door and come out a lobbyist."

Thompson said she believes most people "have the intent to behave ethically," but that the lines between lobbyist and lawmaker shouldn't be crossed.

"We're adults," she said. "We have to make choices about our careers. If you're interested in good government, then make a decision: Am I going to lobby or am I going to serve in public office? Make a choice, and recognize that the two functions are very different."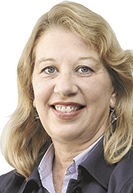 Vaughn
Julia Vaughn, executive director of Common Cause Indiana, said the Legislature should consider creating a two-year cooling-off period, with possible exemptions for lawmakers to return to their old jobs. A longer cooling-off period would make lobbying jobs less attractive to lawmakers, she said.

And she said the Legislature should close the loophole that allowed Steele and Yoder to take their jobs.

"It should be that they can't go to work for any entity that lobbies" during the cooling-off period, Vaughn said.

That would be difficult, though, as most major companies and organizations lobby the Legislature or employ lobbyists.

Changes to the ethics laws have come every few years. The cooling-off period was passed in 2010. And in 2015, as a response to scandals involving other state officials, legislators approved an ethics overhaul that required more financial disclosure from lawmakers and prohibits elected officials from using state resources for politics. It also created a cooling-off period for state employees.

But Vaughn said the problems are unlikely to change unless the Legislature addresses the issues in a holistic way.

"The unfortunate thing is that reform has been episodic and been in response to various scandals," she said. "There's too much of an attitude that, 'That's how politicians are.' Not in a state that doesn't allow it, that puts strict restrictions in place. It's a self-fulfilling prophecy."

Lanosga said strengthening laws could improve confidence in governmental institutions, which he said has been eroding.

"It's really important for people who are in charge of those institutions to take every possible action they can to ensure public confidence," Lanosga said. "This would be one of those areas to tighten up with very little pain."

Vaughn encouraged the public to persuade lawmakers to act—and challenged lawmakers themselves to push it.

"Until we get somebody inside the Indiana General Assembly that decides, 'This is my issue' and, 'This is what I'm going to champion,'" Vaughn said, "we're not going to see any big changes."•