A panel of five leaders of the state's life sciences industry took on a wide range of topics July 24 at IBJ's Power Breakfast at the Westin Indianapolis.
The panelists were:
Michael Evans is founder and president of AIT Laboratories in Indianapolis. He's also been a researcher and professor at such institutions as the IU School of Medicine and Vanderbilt University Medical Center. He recently sold his company to his employees.
David Johnson is president and CEO of Indiana's life sciences initiative BioCrossroads. Under his leadership, BioCrossroads has raised nearly $200 million in venture capital and other investments.
Suzanne O'Shea is an attorney in the health care and life science practice at Baker & Daniels. She returned to Indianapolis after 21 years as regulatory counsel for the Food and Drug Administration.
Jerome Peribere is President and CEO of Indianapolis-based Dow AgroSciences [Note: on July 29 Peribere was named CEO of Dow's Advanced Materials Division and is being succeeded by Antonio Galindez]. He started with Dow Chemical Co.'s French operations in the late-1970s and is a member of the company's management committee.

Bill Stephan is Indiana University's vice president for engagement, a relatively new position set up by IU President Michael McRobbie to match IU's intellectual assets with economic opportunities.
The conversation was moderated by IBJ life sciences reporter Chris O'Malley.
The following is an edited transcript.
____________________
IBJ: Would each of you please give us a brief overview of what's at the top of your agenda right now?

Evans: My major concern with the success we've had the last couple of years is how to maintain that success, how to maintain those values that got us to where we are. I'm very concerned that as we continue to add staff, and we have added quite a number of staff … over 200 the last few years… is how do we maintain the values and culture that got us to where we are now?
Johnson: I think I participated in this breakfast four years ago and the first question that we were asked was, 'How can you get something started in life sciences in Indiana?' If you look at the panel we have today, Mike has a success problem. He's an entrepreneur growing a tremendous company. I don't know if Jerome Peribere has any problems. He's an extraordinarily successful entrepreneur running a larger biotech company here.
Bill Stephan has managed to work both with IU and Purdue to put together a strategy for both universities—the Indiana Innovation Alliance, which is all about life sciences. And Indiana has been able to attract talent like Suzanne O'Shea to come here from Washington, D.C., to actually practice in an area of FDA law and to give advice to many companies who are here today. That would not have been possible four or five years ago to have as many people as we have here today and to have this kind of a panel and this kind of a discussion.
Part of our goal and role at BioCrossroads is to fill the gaps to make sure what is missing gets provided. Part of that for us, of course, has been venture funding and money and seed funding, and I suspect we'll talk a little bit about that today. We are very focused on that this year and continue trying to raise new funds in both the seed and venture level, and we're hoping to have some good news to report on both fronts a little later this year.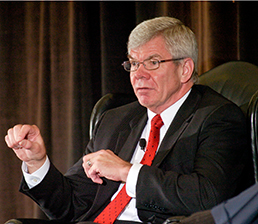 Michael Evans (IBJ Photo/Robin Jerstad)
But, again, that is a success challenge. We're building now off a base of participation here that we just did not have four or five years ago. Similarly, we are spending some time as BioCrossroads up in the northern part of Indiana working with Indiana's orthopedic sector. We're going to talk a lot more about Indiana's orthopedic sector down here in Indianapolis as well because it's an enormous part of this state's life sciences industry. In fact it's an enormous part of the world's life sciences industry. One-third of the global orthopedics market is in little 15,000-population Warsaw, Ind. That means $12 billion of trade revenue coming through that community every year, and that's a tremendous contribution to the state.
We are also very focused on health care reform, another topic I suspect we'll talk about this morning. We're looking to profit from health care reform on the BioCrossroads side; the way that we can do that is by emphasizing health information technology and our strengths in that area. And people are beginning to try to take advantage of what the federal government is wanting states to do in the gathering, exchange and use of better clinical information for better health. We have a lot of good people working in that field here already and we think Indiana can be a national model for success in whatever the new system is that's going to come.
The other area of priority for us this year is spending a great deal of time thinking about not only how new companies, innovation-driven companies,    intellectual property-driven companies get started, but also how they are served by other companies in the biopharmaceutical sector—a company like AIT, for example, that depends on convergence, and how we can have our service sector and our innovation sector and our innovative service sector all working together to build an even stronger economy here. We're getting lots of recognition. I will mention another publication and that is The Economist. It's always good to get recognition from IBJ—we love it—but it's also kind of cool when an international publication says the following: "Though every state in the United States wants to be a life sciences hub, Indiana really is one."
O'Shea: I was at the Food and Drug Administration for 21 years, and most recently I was the product classification officer in the Office of Combination Products at FDA, which is sort of a gateway into the agency for products    that are unclear where they belong in the agency. It's great to be back at Baker & Daniels working with a great law firm with a tremendous amount of life science activity here in Indianapolis. It's been wonderful. It's really just so different from when I left, and so at the top of my agenda right now is to continue building the food and drug law practice at Baker & Daniels. I have terrific colleagues to work with who have tremendous experience in the pharmaceutical and device world. We think that it's really not necessary to go to Washington, D.C., for this kind of service because we have it right here in Indianapolis, and our goal is to serve all the life sciences companies in Indianapolis and Indiana and the entire country.
Peribere: Let's set the stage of the global megatrends. In 1900 there were 1 billion habitants on this planet. In 2000 we were six billion, and 2000 was yesterday. Well, guess what? We're 6.6 billion right now. And when you look at this you say there is a need for more food, and when you realize at the same time the UN has said only a few weeks ago that there were a billion people who were going hungry at night, there is a problem. Therefore, the megatrends for every culture are more food, more productive food producing a sustainable life. It's as simple as that.
And when I'm talking to some people I'm saying, 'Who is going to make that happen?' On whom do we count to resolve these challenges?' I just don't see many other alternatives than science. And you have this magic circle of science driving innovation, driving human progress. That's what we're here for. And then the question is what about Indiana? I think that Indiana is proving that we are a major life science center. Twenty-three percent of the jobs between 2001 and 2007 have been created in the life science sector. So it's not a question of do we participate in this sector, it's 'How can we do even better?' And I guess that's what we're going to be talking about.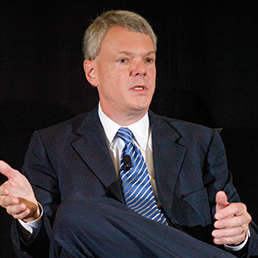 David Johnson (IBJ Photo/Robin Jerstad)
Stephan:
As we accelerate the growth and development of the life sciences sector in our state and realize the success that has been accomplished over the course of the past decade in particular, in representing a higher education institution such as Indiana University we find that as the economy slows that actually, we're kind of cyclical. Our enrollment increased, we have more students coming back to school or more students for the first time beginning to pursue higher education. And really, the key ingredient as we look at continuing to grow and develop this sector, this strategic sector in the state's economy, is the talent pool. And so I think our challenge is to help ensure that in fact we are contributing to the workforce in the sense of really having to pull the talent that life science companies are eager to capture.
 More specifically in terms of focus in my work right now we're constructing a new incubator facility in Bloomington, the Indiana University Innovation Center, and intentionally we are designing the facility to be student-friendly so that as we have life science or tech-based businesses in that facility we'll also have undergraduate and graduate students working side by side with researchers, the faculty members, with entrepreneurs so that not only are they experiencing some of these opportunities but they're also contributing to the growth and development of a lot of these start-up companies.
 So I think for us in many respects that the challenge is to continue to pursue innovative and creative opportunities for our students as enrollments increase and look for ways that we can connect the talent pool with growing opportunities in this sector.
____________________
 
IBJ: As you look down the road a year or two, what key issues, in your view, will confront particularly Indiana's life sciences industry? What has you the most concerned or most optimistic?
Johnson: I think you've probably heard some of those already reflected here. Talent is always going to be an issue. We are really good at attracting talent, but we're going to need more because this is a talent-intensive industry. Money is going to continue to be a challenge, and this is an expensive business. This is an expensive sector to build, and it's an expensive sector to maintain. And it's why if a community or a state were starting in this area today it's almost impossible. We're not starting. We're growing, but it's still expensive. So we're going to have to be all the more creative in that. And finally, I think just sticking to it. This is a sector that has grown over time. If you think about some of the companies we have today and how long ago they started and how long it takes to make things happen, we have to be patient and we have to be persistent. Good case in point, Lilly last week announced the approval of Effient, which is a new blood clotting drug. The patent for Effient was discovered in 1991, so it took 18 years for that particular drug to make it through an incredibly expensive and long and tortuous regulatory cycle and finally emerge as a life-saving product. Everybody would like to do it more quickly than that, but this is not something that happens overnight.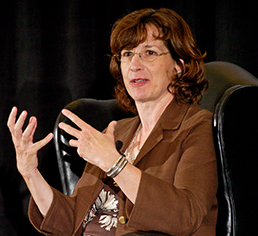 Suzanne O'Shea. (IBJ Photo/Robin Jerstad)
Evans: I would second David's comments in terms of education. It is so critical to our life sciences that we are able to engage young scientists coming out of the universities. Bill Stephan down in Bloomington, Chancellor [Charles] Bantz here at IUPUI, we've benefited so much and we need that resource and intelligence, good young kids coming out, even the small colleges. Indiana is very blessed with the universities and colleges around the state. [There's] really great talent and we've drawn up on that. But our success is going to be based ultimately on that talent coming to us and attracting that talent. We've been very fortunate in attracting people but we've got to maintain that. We've got to maintain that attraction to those students.
Now I can say that we're attracting students from outside the state coming to Indiana, coming to AIT Laboratories. So that to me is a critical feature to our future is to attract that talent, to keep it coming and to keep the resources at IUPUI, IU, Franklin College, St. Joseph College, throughout the state of Indiana, the small colleges, that they produce tremendous talent. And that is our future. That is the future of life sciences.
O'Shea: I've been impressed with Ivy Tech as well, in addition to all the other institutions here in Indiana. As more and more companies locate in Indiana and have the manufacturing processes, I've been very impressed with what Ivy Tech has been doing in tailoring their programs to help that kind of specialized skill-set. [That] will be very helpful in the future.
____________________
 
IBJ: Is there an area where you tend to find the talent pool suffering the most—any particular specialties that really seem to be under-represented here in the state?
Peribere: We have a problem with the type of talent that we have. Most of us have children, and to me it's very simple, we want the best for them, so education is by definition a priority for each of us individually and collectively for the community here. The problem we have is that there are very few people, very few students, who want to study science. It's probably the result of the evolution of our first-world society. But the fact is that people prefer to go into communication and entertainment and literature than going into science, and what we do need here is many more science-oriented students. Indiana is not performing extremely well in this sector. At the end of high school I'm told that about 26 percent of high school-age students are having an acceptable grade on anything which is scientific classes… so it's very low. So I think it's a question of attracting, of motivating, and of educating youngsters that is important. We have programs with several universities here, including Ivy Tech, that you have mentioned. We also are attracting, in our campus, FFA students from across the country and Indiana and all kinds of young kids, communicating to tell them that science can be cool. We've been sponsoring the Children's Museum bioscience rooms. But we need to entertain a climate where science is fun and science is interesting and science is good. That's not the general trend in this country.
____________________
IBJ: What are the state's universities doing to attack the problem?

Stephan: I might mention that, as David alluded earlier, with the leadership of President [France] Cordova and President McRobbie, IU and Purdue    collaborated over the course of the last year to launch the Indiana Innovation Alliance. This was really designed to exploit, if you will, the deep resources that exist at both Purdue and IU in terms of core research activity to be expanded and expanded to the extent that the private sector companies can tap into some of those resources. But also there was a big component of the Alliance that was requesting funding so that we could expand a teaching program, particularly in areas that Jerome has mentioned. At Purdue this would be in areas tied into bioengineering, biomedicine. And at IU it would be an opportunity to expand the School of Medicine.
As many of you know, we have, in addition to the School of Medicine at IUPUI, medical education centers around the state of Indiana. The interest is obviously growing the number of physicians that we're educating as we face a physician shortage in our state and around the country. And while we recognize this is a tough year for the state of Indiana, the Alliance was not funded at the level we had hoped. It did receive funding, fortunately, but I think that that is a continuing challenge for us as we seek to really educate and more effectively address some of the workforce challenges and shortages that we have in key strategic areas. We are going to have to invest, and without that investment we're going to continue to struggle.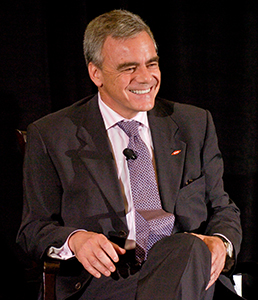 Jerome Peribere (IBJ Photo/Robin Jerstad)
Peribere: Actually, we could run a test. Many of us have children. Can those of you who have children who have studied or who are at the university studying scientific matters raise their hand? Well, that's not very much, is it? So that's the problem. How are we going to go and get the talent? We're going to import from other states or overseas talent. And we're going to do, and we are doing, global collaboration, and we have extraordinary talent from all over. And by the way, there are opportunities with this global recession. It's because people now are looking for new jobs and it is amazing the quality of the talent that you can have. At the same time, if you could have more scientists from Indiana—this is their home, they like to be here—and if they study here they wouldn't go somewhere else. So it's this magic circle I was talking about.
Johnson: One thing that feeds very much into what we're discussing here actually starts even earlier than the college education. BioCrossroads is working with Purdue, with IU and with 12 other universities across the state. Lilly Endowment has been incredibly helpful in this and has really focused on K through 12 science technology, engineering, mathematics education to be sure that our kids are starting to think earlier and earlier about this. One of the things you learn in that area is that if you're in high school and you do not get good backing and teaching in high school algebra, your chances of going on and going the distance in a scientific career, the type of thing we're talking about here, are not high. So we're even focusing on that and on training teachers to be better teachers in that field. The state has a long way to go in that area. But the good news is people are thinking about it and working together on it.
 
____________________
IBJ: I realize this is a moving target, but can you tell us is there any more clarity in terms of federal regulatory initiatives? Suzanne [O'Shea] had mentioned earlier that the FDA apparently is going to be getting more money for enforcement. Is there anything you see down the road in the near future that would be an opportunity or a concern?
Evans: I think one of the initiatives coming out that's not gotten widespread public attention is 'comparative effectiveness.' That's going to be a coming issue in that if you've got an innovative product, an innovative drug—does it really affect the health outcome of that individual? It sounds good, but does it really make an impact on the health care costs of that individual? Does it make a difference? Does it really extend life? Does it prolong life, the quality of life? Those are issues coming out, and the FDA's talking about the comparative effectiveness of treatment. Are you demonstrating that with your new product, your new drug? I do believe it's going to have a tremendous impact in our life sciences, and not necessarily negative, but we're going to have to recognize that this is going to be an issue that we really have not talked about before. What is this comparative effectiveness? Does it make an impact on the patient in terms of quality of life, extended life care—you know, beyond a month or two? That's going to be a question that more and more the FDA I think is going to be asking.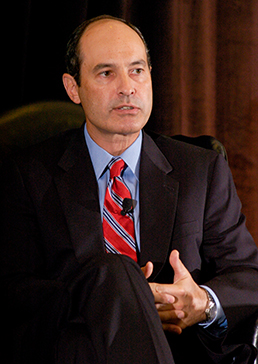 Bill Stephans (IBJ Photo/Robin Jerstad)
Johnson: Part of that impact is going to be whether cost is the only factor that goes into that equation. There's going to be a real need, and we're seeing that from the leadership of companies here. [CEO] John Lechleiter at Lilly is making this case in a wonderful way, that innovation needs to be championed in this environment, that it will do no good for us to have a health care system that covers all unless we are continuing to improve it and make the quality of care even better, so innovation is a big part of that. Another part that we will clearly play a large role in is the information that delivers better health care. Again we're thinking a lot about that here and working on it hard.

O'Shea: I think it's clear that the government's going to get more involved here. The FDA has its biggest budget this year—bigger than ever in its entire history. The agency had a total revamping, a huge amendment to the Food, Drug and Cosmetic Act in 2007, and so I think we will see more enforcement and maybe more stringent standards that Michael mentioned—the comparative effectiveness and some of the other things that are going on. But I really think in some of these there are opportunities in this regulation for companies who had to be proactive about it and can use some of the new regulations to their advantage. One example is the Risk Evaluation and Mitigation Strategy. It's essentially beefed up post-market continuation of the approval process and the studying of products after they're actually on the market. There may be a way to use that to maybe, maybe, lessen the amount of data that would be required to get approval in the first place and then transfer some of that ongoing study into once the product is on the market, so it's a mix from FDA's perspective. I think we will see a lot more involvement from FDA, a lot closer scrutiny for a number of things,    including food safety.
____________________
 
IBJ: Tell us more about how you anticipate federal initiatives, such as health care reform, are likely to affect the industry as a whole in Indiana and/or your particular organizations.
Peribere: Health care reform … I guess that most of the 450 people here today are more qualified to talk about it than me. You all have a very firm opinion on this. All I would comment on is that the cost of health care for companies and for individuals has been growing at a pace that is simply unsustainable to keep businesses in business, and we have to think about that.
Stephan: As we consider health care reform issues, I think from the university standpoint we're obviously looking at prevention as a huge component of addressing the issue long term, and the university recently established two schools of public health, one here in Indianapolis at IUPUI. It will be rooted in the Department of Public Health and School of Medicine focusing on urban health issues, and one in Bloomington that will be located within the School of Health and Physical Education and Recreation, focusing more on rural health and general health and wellness issues. I think again, inasmuch as Indiana University provides the state with leading medical technologies, health care, wellness initiatives, the development of two new schools in public health I think will have some impact in terms of addressing some of the issues that are affecting the wellness, the health and well-being of our workforce in Indiana, and I think, I'll say this directly, it's impossible for Indiana employers with an unhealthy workforce and rising health care costs to compete globally against nations with healthier workforces and employers paying a smaller share of that health care cost.
____________________
 
IBJ: What are some of the key industry collaborations and partnerships occurring in Indiana and perhaps elsewhere? I know, Jerome, Dow Agro has had some notable success in recent years, including the partnership with Monsanto for some genetically-modified corn, which is a big help to your seed business.
Peribere: Collaboration is an essential part of the R&D process right now. Thinking that you have the best scientists in the world doing everything is not sustainable. This is why you have to expose all the forms of collaboration. We do collaborate with all kinds of university startups and all of our competitors around the world. Monsanto is an example, and the EPA has just deregulated a major game-changing product this week, which is the SmartStax concept. This is the first time, and Dow AgroSciences in Indianapolis did it, that anybody has put eight genes in a plant. Well, this is absolutely fabulous. And do you think that Monsanto, which is a big giant in plant biotechnology, would have done it on their own if they could have? Yes, they would. And why didn't they? It's because they couldn't put the two together, so we did that in collaboration and we are going to allow the farmer and customers around the world, first in the US, to take great benefits from this. We are doing work with universities in Indiana and outside of Indiana. Our canola research program is at Saskatchewan University in Canada. We have announced very recently a huge collaboration with the Victoria Bioscience University in Australia. They have game-changing biotechnology companies. It's just the name of the game right now. It's the way it's done. And at the same time we are very proud to announce yesterday that we are also increasing our own facilities here and we are breaking ground 12 months from now on a new research facility that is going to host additional plant scientists.
____________________
 
IBJ: This might be for David or Bill in particular. How disappointed were you to see the 21st Century Fund cut in half in the last state budget session? Are there some positives you can point to looking ahead with the 21st Century Fund regardless of these cuts?
Stephan: Well, you know, it's interesting because the 21st Century Fund has been responsible for significant successes in terms of launching Indiana-based business enterprises that have matured and are employing hundreds of Hoosiers. There's always impatience around the timing and maturity of these companies and the return on investment, if you will. I think that, in difficult economic times, I think that the Fund probably experienced a little bit more pressure in this last session than normally. But I think it's important to remember that you need to have a continuum of funding in place if you're going to nurture, develop, grow and sustain Indiana-based business enterprises in the life sciences and tech sectors and related areas and that funding is absolutely integral to our continued success, not only the life sciences sector but in other knowledge-based activities.  We found ourselves competing a little bit as we were trying to promote the Indiana Innovation Alliance this last legislative session. It seemed to be an either/or proposition, but, really, we view the alliance initiative as one that's entirely complementary and consistent with a long-term strategy to nurture and develop Indiana-based business enterprises in the life sciences sector and beyond.
So I think it's just a sign of the times. I believe there is support to continue to grow the Fund over time. I know the Indiana Economic Development Corp. is anxious to demonstrate more return on investment sooner, but that's a challenge and I think the good news is that we are in the game, we are competing. We have to be mindful what the other states are doing around the country making investments in the life sciences in particular. You know, Massachusetts has invested over a million dollars recently in terms of life sciences activity. Maryland has done something similar. Closer to home. Ohio, has their Third Frontier Initiative that is well underway, a million dollars. The state of Texas just recently authorized a bond initiative that will invest $3 billion in cancer research over a period of years. So we have to continue to make strategic investments in these areas, and I think our Legislature understands that. I think the administration supported that. It's obviously been impacted by the economy, but I'm confident that's going to rebound.
Johnson: I'd just note that of the 70 some investments that the 21st Century Fund has made to date over half of them are in the life sciences area. There are a lot of people sitting here today whose companies would maybe not be here or certainly wouldn't be in the shape they're in without that participation. That's one of the most important things the state can do. So having the Fund cut in half hurts. I think you do have aggressive, creative management, starting with    the Governor and his team over there, who are trying to stretch those dollars as far as possible. We're working hard with them. I know Bill and folks at IU are working hard with them. I know our colleagues at Purdue are. We're going to try to continue to find other ways to bring in other kinds of funding. Maybe the expansion of an NIH grant fund that's coming will help, piecing together dollars wherever we can find them. But the Legislature hopefully will be able, in better times, to put more money back to work.
____________________
IBJ: There's an interesting question someone raises in that why are other parts of the world able to shorten their approval process for new drugs? But are they less thorough? Do they have less red tape? Are they willing to take more risks than we are?
O'Shea: Well, of course I would say that we have the best and we require just the right amount of data to approve our products. Actually, I do think some places require less data, and really you can. We're working with a statute that was written for drugs in 1962 and [we have] the same legal standards that were put in place in 1962. Maybe things are changing. Maybe we would want more risk initially and be willing to make that trade-off between having more risks or less data initially to get things on the market faster.
Right now our balance is stuck somewhere else. I do think that some countries have more recently started playing this game a little—they've gotten into this approval process a little more closely. FDA for a long time was the gold standard for the entire world. I don't think that's as true now as it was years ago. So maybe that's something to think about sort of as a country and part of health care reform is how much risk are we willing to tolerate when things go on the market. I do think that's changing sort of inevitably with the Risk Evaluation and Mitigation Strategies where things are continuing to be studied and so I think we may be moving in that direction. It's a pendulum. If you've been in this world awhile you see that it swings, and I think right now we may be swinging more toward getting on the market more quickly.
____________________

IBJ: Is it more important to entice out-of-state companies to move to Indiana or is it more crucial to keep Indiana businesses in the life science field?
Johnson: Well, it's not really a choice because you really honestly do have to do both, and if you look at the IEDC and you think about the fact they run the 21st Century Fund and spend lots of time trying to attract companies here with the same team, that sort of answers question. This sector, going back to what we've discussed earlier, is large, complex, expensive and involves many different types of skills and talents to make it work. We need to nurture the innovation that we have here. We need to be doing everything we can to accelerate the pace of discovery and technology transfer out of our universities and also handle that through some of our companies here.
Lilly has done a wonderful job of putting some interesting new companies into the market that have spun out new creative collaborations like with Covance—a very interesting transaction—but we also are inevitably going to need to create and start to attract some other companies to come here from the outside to make things happen. Medco is a great example, one of the largest attractions of jobs anywhere in the United States. It's the gift that keeps on giving. It started with 1,200 jobs coming here, and then a very, very close relationship between Medco and Indiana University School of Medicine with a therapeutic research center [that] brought another couple hundred jobs. And now they have an oncology research center here. Medco's an automated pharmacy. They have decided to set up shop in Indiana because this is at the center of where a lot of their plants are. They serve some 60 million patients nationwide, many of whom are clustered around the Midwest. But also they needed to be in a place that had great science, lots of pharmacists, lots of skilled nurses and an industrial clientele and base that really could work with them in developing and building their business. So when it came time for Medco to look at where that might be, there were three or four cities, but Indianapolis and the greater Indianapolis area stood out head and shoulders above them.
Yeah, that's business attraction but it also will end up spurring research and innovation at the School of Medicine and other places around here and some interesting collaborations with other companies. So what you need to have, to answer that question best, are people involved in economic development. The Indy Partnership does the same type of activity here at the regional level who understand how these pieces fit together to figure out where the gaps are, build the ones that need to be built here and go get the pieces that are missing from the outside.
Peribere: By definition it's both. But let's also remember that it's cheaper to retain a customer than to go and find a new one.
____________________
 
IBJ: Well, speaking of which, Jerome, you knew this question was coming. Are you still considering the sale of Dow Agro and is there a timeline and is there a front-runner?
Peribere: Who is the Dow employee asking this question? Let me first say that we are not going to be announcing anything today. I will say that I am not the one deciding whether Dow AgroSciences is to be spun off from the Dow Chemical Company—it is the Dow Chemical Company. If you look at the events in the last six months, Dow had very little choice but to restructure its balance sheet as a result of several factors I'm not going to comment on. And Dow AgroSciences was its best asset. It was great to feel loved like that and at the same time was creating some uncertainty. Through the course of the spring, Dow has restructured its balance sheet, reissued bonds, and it doesn't have to sell Dow AgroSciences. So then it's a question of is the price going to be so fabulous that you can't refuse that proposal? But no matter what, a divestiture of Dow AgroSciences by the Dow Chemical Company would be a lose-lose, because this is exactly what Dow wants to transform itself into, from a chemical company into a specialty company. And AgroSciences is the ultimate of a specialty company. So in essence I would say let's be calm, and things are going fine and I'm doing everything to keep Dow AgroSciences in Indianapolis. I think it's going to work. And by the way, I wouldn't be announcing we're breaking ground on an 80,000-square-foot facility as I did yesterday if I didn't feel confident in Dow AgroSciences remaining in Indianapolis. That's all I can say.
____________________
 
IBJ: Would extending patent protection legislation for life sciences products be a viable component of health care reform?
O'Shea: There's a lot of debate right now on biologics, for generic biologics. And one of the biggest issues in that debate is the length of the patent extension or the length of exclusivity for products like stem cell products and gene therapies and things like that. It may well be good to extend the patent term extension or to increase the time of FDA exclusivity beyond the basic five years now that's granted before the generics are on the market. I'm not really aware that that is something that's being discussed for drugs as opposed to biologics, but it probably would help.
Johnson: The broader question is how are these things linked to health care reform? And given the cost and the safety issues also in developing particularly biologic drugs, if there is a view in Washington that the intellectual property here is not important and that the time should be as short as possible and that there should be as much generic or bio-similar competition as possible promoted for biotech companies and companies like Lilly that make biotech products, we will kill the goose that lays the golden eggs. This stuff is way too hard. It's way too costly and, frankly, it is very much too dangerous to be left in the hands of amateurs. And we know that. We have great deft and great strength in that sector here. It's a message that Indiana really needs to get into in the health care debate—ensuring that they have exclusivity. And adding patent protection is vital to enable those companies to get built. You can go around this room and ask several of our colleagues here who are building biotechnology companies just how hard that process is, how expensive it is and how long it takes. And they're the lucky ones. So this is a topic that we need to do a lot better job in communicating the urgency of to people paying attention to it.
O'Shea: I think FDA for a long time has been real reluctant to have the generics, the follow-ons for the biologics …
Johnson: For good reason.
O'Shea: … for this exact reason, because they're so difficult to copy, and they're very complicated products and hard to make generics out of.
____________________
 
IBJ: What area of specialty does Indiana have the best chance of developing into the next business cluster success story, such as the orthopedics industry in Warsaw? And along that line, what needs to happen for that to occur for this next big business cluster?
Evans: My viewpoint is basically we are developing it here in central Indiana. David's alluded to this a number of times. We've got the infrastructure to service the pharmaceutical industry throughout the world—to manufacture it, to do the testing, to do the distribution. We have become a real hub of the life sciences in terms of service industry. I think it's going to continue to grow. We have some tremendous companies here in central Indiana. John Mills and BioStorage here, it's an important element for any drug company to have biological storage. A number of companies here in central Indiana are going to be the foundation for the growth of pharmaceutical and life sciences companies in Indiana. I think the collaboration is going to be key to doing that. David has alluded to that a number of times in terms of what are our strengths. Those are our strengths. We've been very fortunate with the downturn in the automotive industry to bring some of those process engineers into life sciences and they have been a tremendous help.
Johnson: Mike's exactly right. We have the industry that he's a part of and again, John Mills—I see many people here who are in it., We have a whole contract sector that increasingly is collaborating and partnering with both biotech companies and pharmaceutical companies and all the many steps—the 130 some steps it takes from the time something might be discovered to the time something might be approved to the time it might actually become a new lifesaving medicine. And there's a tremendous business opportunity within that. We have 50 some companies today that are already thriving in that sector, responding to that opportunity. We can do a lot more with that, do a whole initiative. BioCrossroads is really focused on that. You mentioned the orthopedic sector. That is clearly something that as a state we need to pay lots of attention to. Again, it's a third of the world's [orthopedics] market that comes through Warsaw, and many of us participate in that either as consumers of its products or on the research side, with all of our universities working with the companies up there. But in addition, the orthopedic sector eventually is going to be moving toward other types of materials—biologics, biomaterials. This debate all becomes connected. And as that happens with those companies, we want to make sure that their innovation is being supplied on the Indiana landscape.
Evans: First of all, I don't think a lot of people understand that Warsaw community. It's a hundred years old. They started a hundred years ago with that. So it wasn't an overnight success where suddenly they are what they are today. Second, David's very correct. I had some opportunity to interact with Cook Biotech up at Purdue where they're working with the Warsaw companies in terms of life science products, biological products that will be part of the implants, and I think there's a lot of collaboration starting on that front. But I think it's so important to recognize that you don't do this stuff overnight, Warsaw is a hundred years old in terms of their implants materials and that sustained growth.
____________________
 
IBJ: Lilly's CEO stated that the company has established a new facility in New York City because of some unprecedented access to academic excellence—I believe that was roughly how he phrased it. Are Indiana's universities at a competitive disadvantage with other regions, Bill?
Stephan: Well, this is where I think you can't underscore enough the importance of some of the extramural funding or state appropriation    relative to special initiatives or quality enhancement opportunities whereby institutions of higher learning, such as IU and Purdue, can really aggressively go after some of the best and brightest faculty and researchers in the world. And, in fact, when those resources are made available we have been extraordinarily successful in capturing that talent. I can point to Indiana University-Bloomington. We've been able to attract a leading cancer biology researcher. Dean Brater and Chancellor Bantz here at IUPUI and the School of Medicine have been able to recruit some of the leading endocrinologists from the University of Virginia and are focusing their research in areas tied to bone cancers.
And so we can recruit faculty and researchers in areas that are strategic to the state's future and subsectors within the life sciences industry to promote growth and support the growth and talent. And these researchers typically are prolific in terms of their ability to attract new additional resources to support their work going forward. So when the resources are made available, I think we've had extraordinary success. But there's a resource issue. I think the return on investment is huge and when those funds are made available I think we've demonstrated that we can compete with the best and bring the best and brightest to Indiana and keep them here.
Johnson: And what you see is the importance of continuing to build that research excellence. I don't know a lot about the New York City investment you mentioned Lilly's considering. But this is a global market and we are going to have to be able to compete. We don't need to worry if we're not part of it, we're in it, but now we're going to be competing for the talent and for the attraction of business from our companies here every single day. And Jerome's going to do the same thing. Jerome's a patriot, he loves being here, he's proud of Indiana. But for the development that he needs he's going to have to get research support wherever he can get it. So this is a good reason for the General Assembly to be really paying attention to what the directions are and where these companies are going because we need to be the source for that innovation right here.
Peribere: Additionally, I think that we need to be very conscious that it is very wild out there. It's a war. And it's not about being the tallest midget, it's about being the best.•
Please enable JavaScript to view this content.