Should police agencies collect DNA from all arrestees and keep the records on file even if they are never convicted?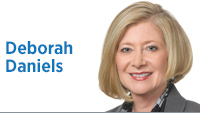 Legislation has been proposed for the third straight year to collect DNA from felony arrestees.
This is a cause I have supported for many years. As an assistant attorney general at the U.S. Department of Justice in 2002, I advocated for a $1 billion initiative to solve crimes, prevent additional victimization and exonerate innocent suspects, through an all-fronts DNA initiative.
At that time, thousands of rapes were going unsolved, violent criminals were not being apprehended, untold numbers of people were being unnecessarily victimized, and innocent suspects were being prosecuted based on mistaken identity. All these problems could be remedied with one readily available tool: DNA analysis.
Funding was made available to crime labs around the country to improve their DNA analysis capabilities and clear up backlogged samples. Additional funding has been made available in subsequent years to enhance state DNA collection laws.
Today, all 50 states require the collection of defendant DNA upon conviction of certain crimes; 48 require it for all felony convictions and 42 include some violent misdemeanors. Of importance, 31 states require arrestee DNA collection, half requiring it for all felony arrests. Some also collect DNA from violent misdemeanor arrestees.
In 2013, the U.S. Supreme Court found this process constitutional, holding: "DNA identification of arrestees … is, like fingerprinting and photographing, a legitimate police booking procedure that is reasonable under the Fourth Amendment."
In fact, DNA identification is far more accurate and reliable than identification through either photographs or fingerprinting. In order to ensure fairness to victims and accused alike, Indiana should be collecting DNA from all arrestees.
Instead, we still collect only from those convicted of certain felonies (crimes against the person and burglary). And we still do not collect DNA from arrestees.
We are thus losing the opportunity to identify repeat offenders before additional people are victimized; and we are losing the benefit of arrestee DNA analysis to exonerate the innocent.
Studies have identified hundreds, even thousands, of crimes that could have been prevented if DNA had been collected upon arrest. A study of only eight offenders in Chicago found that, if their DNA had been collected and analyzed upon their first arrest, at least 60 victims—including 53 rape and murder victims—would have been spared. Two-thirds of those prior arrests were for non-violent crimes, suggesting that a law limited to arrests for violent crimes is insufficient.
In Indiana, we have a recent example in Damoine Wilcoxson, arrested for drug crimes in 2014 and 2015, but not required under Indiana law to give a DNA sample. When his DNA was collected in Ohio upon arrest for a crime of which he was never convicted, he was linked to the slaying of a Zionsville man.
Critics say the proposed DNA-collection legislation is unreasonable and intrusive, but the Supreme Court has settled that question.
They fear the DNA could be used for purposes other than criminal investigations, but federal law and many state laws criminalize such activity. We can, too.
They want the samples expunged if a person is not convicted. There are myriad non-conviction scenarios: missing witnesses, suppression of drug evidence due to a bad search warrant, a consent defense in a rape case, procedural missteps, diversion (dismissal after a guilty plea and probationary period). Wilcoxson's DNA, I'm thankful to say, was not expunged by Ohio, though he was not convicted there.
Legislators can protect all of us—and save lives—with a law testing all felony arrestees, at a minimum, and requiring maintenance of DNA—like fingerprints and photographs—in the database regardless of conviction.•
 
Please enable JavaScript to view this content.