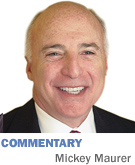 I am taking a hiatus from this column until sometime later this year in order to complete a book. Our editors will publish a favorite column once a month.

When people ask how I developed my management philosophy, I answer, "Spackle."

Spackle is a trademark name for a powder to be mixed with water or a ready-to-use paste designed to fill cracks and holes in plaster before painting or papering. But I didn't always know that.

When I began employment with the Gene B. Glick Co., my immediate superior was envious that I was personally hired by Glick and that I got a lot of face time with the boss. He was particularly upset because I was included as a regular member of Glick's legendary Monday night management meeting in spite of the fact that I had little or no knowledge of construction practices and was only one year out of law school.

I looked forward to Monday night as the high point of a job otherwise made dreary by the boorish behavior of my supervisor. On Monday nights, the Gene B . Glick Co. came alive. Department heads participated in a carefully orchestrated free-for-all discussion and exchange of ideas on current business problems and issues. The group included Bernard Landman, a brilliant lawyer and tactician aptly nicknamed the Wizard, and Jim Bisesi, who was only slightly older than I but already seasoned. Bisesi's competencies, including engineering and construction, were more diverse than anyone in attendance. He even flew the company airplane. The maestro himself, Gene B. Glick, led the team.

The education I received on Monday nights was equivalent to an MBA degree with an emphasis on real estate. It was a treat well worth the travails of the remainder of the week. I took notes. My office procedures and administrative systems are modeled after Glick's management style. (I have also endeavored to emulate Glick's Monday night demeanor, a remarkable serenity in the face of the many calamities and adversities in a typical business life.)

One afternoon while preparing an analysis of an apartment project, I came across a word I did not understand: "What's Spackle?"

I regretted the question as soon as it blurted from my mouth. Rather than capture the opportunity for enlightenment regarding not only Spackle but additional construction lingo, my superior razzed and berated me that I was patently inadequate and ill-prepared for the assigned tasks.

He was right about one thing. I didn't know a lintel from a lattice. But what he was wrong about was more important. He didn't realize employees are an essential element of a successful business and that the role of a manager includes fostering an environment in which employees develop skills and confidence.

Today, we read about lower forecasts, lower earnings and lower stock prices. Classic management response to diminished revenue expectations is a cost-cutting program directed at employees, including wage freezes and layoffs. This remedy achieves a short-term result, often at the expense of long-term business health, and is reminiscent of the experience with my supervisor at the Gene B. Glick Co.

A more reasonable response to the current business environment may be to use the employee team to capture greater market share or to super-serve existing customers. As times improve, this loyal, battle-tested team will be in a position to take advantage of new opportunities.

Incidentally, at the first Monday night meeting following the Spackle incident, I was certain my lack of construction knowledge would be raised. Sure enough, in an attempt to embarrass me in front of the boss, my superior asked me what I knew about Spackle. I was prepared. I recited everything one could possibly learn about Spackle, including color options and chemical composition. My superior was silenced and Glick got a good laugh.

The Spackle incident established an uneasy truce, but, more important, helped me crystallize a management philosophy of caring and respect for the people with whom I work.

Update: Gene Glick, my boss, mentor and friend, died in 2013. I still ask myself on occasion, "What would Glick do?"•

__________

Maurer is a shareholder in IBJ Media Corp., which owns Indianapolis Business Journal. To comment on this column, send e-mail to mmaurer@ibj.com.