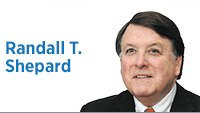 Bringing the Indiana bicentennial to a successful close by moving forward on the new state archives will mean much to the state's future, including our economy.

Some 5-1/2 years of planning and execution began when Gov. Mitch Daniels created the Indiana Bicentennial Commission, superbly led by Becky Skillman and Lee Hamilton. The observance ultimately featured some 1,650 projects and programs in which hundreds of thousands of Hoosiers participated. Most of these were advanced without any tax dollars being put to work.

There has been public-sector support for some of the most visible initiatives. The Bicentennial Nature Trust, for example, has preserved more than 11,000 acres of parks, trails, wetlands and forests for future generations. The General Assembly, Lilly Endowment Inc., the Pulliam Trust and hundreds of contributors assembled tens of millions of dollars to make this happen.

While this remarkable initiative was moving forward, Gov. Mike Pence endorsed four additional projects that would both mark the bicentennial and add to Indiana's tomorrows. These included a visitors' education center for use by the tens of thousands of students and others who come to the Statehouse each year. And a redesign and enhancement of the capitol's west plaza, where so many major public events now occur.

Pence likewise endorsed a new inn at Potato Creek State Park and a new Indiana State Archives. The archives project has been partially designed, pending completion of financing plans. There still seems some chance it will be funded through leasing the state's cell towers. Absent that, Gov. Eric Holcomb has said he favors moving forward using money in the state's general fund.

A new archives building has been on the public radar since a moment 20 years ago when water leaks at the Indiana State Library threatened to destroy some of our most important and irreplaceable history. Volunteers assembled in the dead of night for a rescue.

The O'Bannon administration promptly engineered an interim solution, relocating the state's records to a warehouse-like facility on East 30th Street previously used for textbook storage. Judy O'Bannon led a ceremonial transfer, traveling by horse and wagon, moving some of the most precious items to their new location.

The facility on 30th Street has done its temporary job, but it's clear that a permanent solution is necessary. Indiana's superb state archivist, Jim Corridan, Services Director Alan January, and volunteers like Stephen Towne of the Friends of the Indiana State Archives have been indefatigable in pursuing a real solution. The Pence proposal for a new facility to be built downtown is it.

To be sure, the archives are central to our knowledge of the collective history of Indiana's citizens. The state constitution, legislative records, court files, veterans' histories, and so much more reside there for researchers. But these documents and hosts of others also give us a basis for examining a host of development and economic decisions—What data was used for various regulatory initiatives? Why did a given agency choose one course instead of another? By what metrics may we measure and compare Indiana's development in fields like manufacturing and agriculture?

I'm a fan of history, of course, but I also believe we make better decisions about our future when we can analyze and fully understand how we got where we are.

I'm happy to report that, in addition to Holcomb, legislative leaders like Jim Merritt, Luke Kenley and Tim Brown have been willing to spend time examining ways to get us across the finish line. I say, "Bravo!"•

__________

Shepard, formerly Indiana chief justice, now serves as senior judge and teaches law. Send comments to ibjedit@ibj.com.