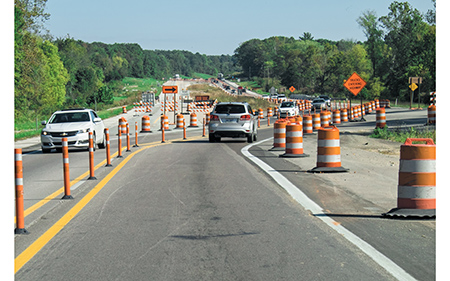 Casual motorists zipping past highway work zones at 70 mph might think road construction methods haven't evolved much since President Dwight D. Eisenhower started building the interstate highway system back in 1956. But experts say looks are deceiving.
"What you can't see when you're driving down the highway is the different types of modern technology incorporated into our roadways," said Will Wingfield, spokesman for the Indiana Department of Transportation.
While roads are still made from time-tested 20th-century staples such as concrete and asphalt, the formulas used to mix them and the techniques used to lay them down are very 21st century. Some of those new approaches are being pioneered by the Joint Transportation Research Program, or JTRP, a sort of bridge-and-highway think tank based at Purdue University that pools the talents of academics from around the state, plus INDOT staffers and private industry.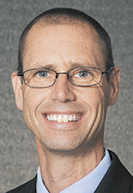 Bullock
"We work collaboratively with INDOT to help them find ways to do things cheaper, better, faster and safer," said Dr. Darcy Bullock, JTRP's director and a professor of civil engineering at Purdue. "At any given time, we have a variety of projects going on with INDOT. Right now, we've got 115 INDOT people working collaboratively with Purdue faculty, staff and students."
That "cheaper, better, faster and safer" mantra could soon be put to the test. According to INDOT, the state will need to raise $1.2 billion more annually over the next 20 years for maintenance and improvements—a daunting need that leaders of the GOP-controlled General Assembly plan to address with a stew of tax increases this session. That could mean expensive changes to the 28,868 "lane miles" of numbered U.S. highways, interstates and state roads over which INDOT holds sway.
Much of that domain isn't exactly in top condition. About 45 percent of INDOT's bridges will need major overhauls in the next 10 years. And while 89 percent of INDOT-maintained roadways boast pavement that's in "fair or better" condition, if funding remains flat, that number will drop in the coming years to 84 percent, with about 500 miles of roadway falling into poor condition.
New approaches to road construction and maintenance—some developed in Indiana—could help the state keep costs down, or at least get more bang for its buck.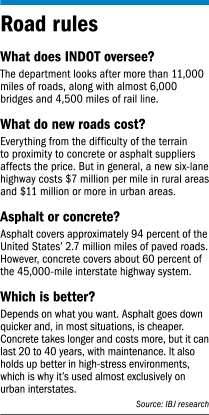 Some are strikingly mundane, such as a JTRP program to develop "intelligent compaction technology," or ICR. Before pavement is laid, the soil is compressed using soil compactors (think of the steamrollers Wile E. Coyote gets run over by in Road Runner cartoons). ICR tracks where the rollers go, how many passes they make over each section of dirt, and even the compactness of the soil. It's far quicker and cheaper than dead reckoning.
"I think many times people don't realize that there's a lot of technology involved in determining how many times you drive back and forth to compact the soil," Bullock said.
Innovations
While there aren't any new, world-beating replacements for the two traditional road surfacing materials—concrete and asphalt—both have received numerous upgrades of late. Purdue researchers developed a
soybean-based, biodegradable sealant for concrete roads that's being tested around the state. A JTRP team also created an "internally cured" concrete that can greatly increase the life of bridges.
There have been similar advancements in asphalt. For instance, traditionally the product has only been available in "hot mix" (the stuff used in the summer for road construction and patching) or "cold mix," a compound often cooked up in the winter and used as a less-than-perfect pothole filler.
The reason potholes sometimes sit unpatched for weeks during winter stems from the nature of asphalt. The piping hot stuff that's poured on roads is ideal for patching, but it can't be transported long distances and doesn't work in bitter cold. Which is why Indiana's asphalt producers typically close up from December to spring—and why that pothole on your street likely won't get filled until the trees start to bud.
However, a new iteration called "warm mix" can accomplish many of the same jobs as hot mix, even though it's typically 50 to 100 degrees cooler. It can be transported farther before use, and works well in cold weather.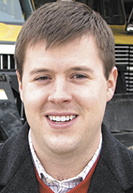 Wingfield
Recycling is also gaining traction. INDOT for years has reused shredded tires, mixing them with sand as embankment fill (from 2008 to 2010, it recycled 1.1 million tires, saving $1.2 billion in material costs). INDOT also grinds up old asphalt and mixes it with fresh asphalt to make new roads. In 2012, the 3 million tons of asphalt spread by INDOT included some 600,000 tons of recycled asphalt pavement, producing $10 million to $15 million in contract cost savings.
"There's a lot of other waste materials like asphalt shingles and other things that can be used as part of the mix," Wingfield said.
Longer lasting
The locally based Heritage Research Group (the research arm of several roadwork-related companies owned by Heritage Group) focuses pretty much entirely on asphalt. Before coming to Indianapolis as associate director of research, Gerald A. Huber spent a decade working for Saskatchewan Highways and Transportation in Canada. He said conditions aren't necessarily tougher there than in Indiana—just different because of the variations in climate.
"A good-performing road in Saskatchewan may not be a good-performing road in Indiana," Huber said. "And a good-performing road in Indiana may not be a good-performing road in, say, Arizona."
In these parts, asphalt roads typically last about 17 years. New technology could add perhaps two to five years more. Heritage and INDOT are working on a multifaceted life-extension program for Indiana's asphalt roads—including experimentation with Superpave 5, a new formula that adjusts the smallest of details, including the number of "air voids" in the product and how hard it is compressed on the road bed, to produce durability gains.
"That's a little bit more than a 10 percent improvement in life," Huber said.
Another innovation focuses on the seams that result as workers lay asphalt lane by lane—creating what typically are roads' weakest points.
INDOT and other highway agencies try to mitigate the problem by piling extra asphalt into the seams. But that makes it tough for lane lines to adhere. Plus, the seams get slippery when wet.
These days, however, road builders can use a system that goes by the not-very-lyrical name of "void-reducing asphalt membrane." It's laid down where the seam will sit, then buried under hot asphalt. The product melts, leaching into the material above and strengthening the joint, all without creating a slick ridge in the road.
"The idea behind void-reducing asphalt membrane is that you lay down the product before you put down the hot mix," Huber said. "It melts and wicks up into the hot mix, so from the surface you can't see it."
Time is money
There are also new developments in concrete roads. For instance, a stretch of U.S. 40 and U.S. 27 that intersects in Richmond is being redone not with poured concrete but with pre-cast slabs cast off-site and assembled on location. One of the advantages of this technique is that repairs could be done much more quickly. And with road construction, time is definitely money.
"When you do repairs on the interstate, the closure time is critical," Bullock said. "It's cheap to put down pavement when you don't have any traffic to contend with. But when you have to maintain traffic with temporary lanes, the cost gets very high. How do you keep the road serviceable and keep traffic moving, yet still do construction? That's the biggest cost driver."
Perhaps one of INDOT's most spectacular recent successes in the "keep 'em moving" department was the reconstruction of the U.S. 421 bridge over the Ohio River at Madison. Using "truss-sliding," a new bridge truss was positioned in one piece over the structure's existing piers in April 2014. Conventional construction would have closed the span for a year. Instead, the 40-foot-wide, 3,181-foot-long replacement truss was slid into place in one shot, closing the bridge for only 10 days.•
Please enable JavaScript to view this content.