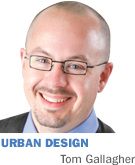 My eldest daughter is a new driver. Following a frustrating evening of navigating one-way streets downtown, she asked me, "What is the point of one-way streets, anyway?" Though I tried to provide an informed response, I couldn't give her a satisfying answer. Like so many things related to our streets, one-ways have become so ubiquitous that we take them for granted.

The idea of one-ways, particularly in cities like Indy, spawned from the "Get in, get out, get to the highway" mentality of post-World War II transportation thinking. The point is to move cars quickly and efficiently through urban areas, facilitating the connection of suburban developments to central business districts. Because the goal was fast movement, it was believed that eliminating conflicts with oncoming traffic would reduce the likelihood of accidents. Additionally, it allowed for wider, multi-lane traffic to be shoehorned into residentially scaled streets in and near downtowns.

Unfortunately, one-way streets also contribute to numerous unintended negative consequences. Most concerning is the tendency to drive at unsafe speeds. People don't drive speed limits; they drive as fast as they feel comfortable driving. Wider lanes and the lack of opposing traffic—hallmarks of one-ways—encourage excessive speeds and provide room for weaving and other erratic traffic behaviors.

In too many cities, including Indianapolis, we've failed to consider how the one-way strategy has worked for motorists, pedestrians and surrounding neighborhoods. But one not need look far to make a compelling case for bringing the one-way experiment to a close.

The idea that one-ways improve traffic flow is among the theories being questioned. In a report published in 2012, Vikash Gayah, a civil engineer and assistant professor at Penn State University, showed that two-way streets perform as well or better than one-ways, particularly for short trips (fewer than 10 blocks), in terms of traffic flow. Gayah's results are due to a slight shift in thinking that takes a person's whole trip into account. His metric, "trip-serving capacity," adds in the common-sense factor that getting to your destination likely involves traveling a circuitous route to compensate for the lack of two-way movement.

From 2008 to 2015, William Riggs of California Polytechnic State University and John Gilderbloom of the University of Louisville studied a set of four streets in an urban neighborhood of Louisville. Two were converted back to two-way movement, the other two were left as a one-way pair. An analysis of data from five years before the conversion and two years after showed that two-way streets had significant reductions in traffic accidents over their previous configuration and over the one-way pair that remained. This, even as traffic volumes increased, likely due to drivers' choosing routes with a more direct path to their destinations.

Riggs and Gilderbloom also found that crime declined on the two-ways while property values increased as much as 11.6 percent. Those numbers went in the opposite direction in the rest of the neighborhood and the city as a whole. Though more study is necessary to understand causality of these beneficial changes, it seems well worth the $100,000-per-mile investment of converting to two-way.

There are other likely benefits worthy of study: Commercial areas get the added visibility afforded by two-way traffic, lane width reduction can add capacity by allowing other transportation modes, and more moderate speeds should reduce CO2 emissions and improve livability in urban neighborhoods disproportionately shaped by one-way corridors.

Indy's urban university, IUPUI, has taken a strong position on one-way streets. For what it sees as a significant benefit to students and the community at large, IUPUI is, together with the city, in the process of converting the major campus one-way pair of Michigan and New York streets back to two-way operation.

Except for rare situations, one-way streets have little place in a contemporary, human-scaled city like Indy, especially one with some of the best "complete streets" policies in the country. The conversions might turn out to be the least costly, quickest return on investment and increase in quality of life offered by any new development in the urban neighborhoods of Indy.•

__________

Gallagher is an urban designer with Ratio.