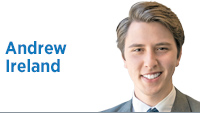 Like a page from a campy Hollywood screenplay, fantastic claims of Kremlin operatives backing President Trump continue to dominate the press. Ever consumed by the latest inkling of evidence, the newest op-ed by the aging vanguards of journalism: Real, palpable corruption is going unchecked.

I had the opportunity to interview lobbyist-turned-convict Jack Abramoff in the summer of 2014. Dubbed the King of K-street by Time Magazine, Abramoff pleaded guilty in 2006 to three felony counts related to his work. Following 43 months in federal prison, Abramoff returned from rock bottom with the autobiography "Capitol Punishment," a tell-all on the dirty underbelly of our government.

Quiet, subdued even, Abramoff is far from the villainous caricature portrayed in the news—perhaps a reason for his former success. In our hour-long conversation, he made one point that stuck: Washington has little interest in policing itself.

"They go through these charades … because they want to show they're cleaning up Washington," he said. "They don't want to stop this."

Abramoff is back in the news this spring for fielding a deal between unsavory foreign characters to curb the growth of Nigeria's Boko Haram. No matter the next chapter, however, his story underscores a concerning phenomenon. As the new administration takes shape, not enough is being done to address Washington's culture of influence.

Congress and beltway power brokers remain fixated on a finite set of scandals. As of late, Russia is on the brain; yet, there is little talk of the legitimate, persistent malfeasance that plagues our nation's capital. This, of course, is not for a lack of questionable acts.

For example, it was recently revealed that the Bureau of Alcohol, Tobacco, Firearms and Explosives maintained an off-the-books account that illegally sold more than $24 million in cigarettes to fund undisclosed activities.

This gave ATF agents a way to finance investigations and pay informants with minimal oversight. Equally damning, two operatives are alleged to have received at least $1 million each from that sum.

The response? A blip on the radar.

In January, the House GOP moved to—and quickly ditched at the urging of the White House—gut the independent Office of Congressional Ethics.

It's of interest to note that this office was founded as a direct response to Abramoff and his influence-peddling scandals. A decade later, it seems the lessons learned from one of Washington's greatest scandals, if any did manifest, have fallen on deaf ears.

In the weeks leading up to Election Day, "Drain the swamp" became a final rallying cry for Republicans. More than shrinking the size of government or changing the cast of characters who lead its many auxiliaries, this phrase hit at stamping out abuse of power in its various forms.

Now, this promise seems lost.

Americans at home see the trees but few grasp how deep the forest goes. Topics like that of Russian influence should be investigated, but clinging to the latest piece of circumstantial evidence or giving weight to anonymous sources and witty headlines does the nation a disservice. All the while, beltway media and Washington's most powerful continue to largely ignore a culture of pervasive corruption.

President Trump, the new administration and Republican leaders in Congress have the opportunity to make a meaningful culture change. Abramoff keenly argues anti-corruption efforts are a never-ending battle; nonetheless, they are worth fighting.•

__________

Ireland is a college Republican at Indiana University. Send comments on this column to ibjedit@ibj.com.