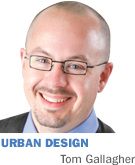 Great cities have an engaging and memorable public realm—a significant collection of shared parks, plazas and streetscapes. There can be little doubt that these places are important to the identity, economy, health and enjoyment of a city. It is no simple task, however, to design them well. It is not enough to just provide an open space with hopes it will become filled with activity. At the same time, places that are over-programmed often miss the mark.

There is truly a subtle and intricate set of parts that define our experience of public places. One of the most important of these components and, it seems, one that is most often overlooked, is the "edge."

Kevin Lynch, in his text "Image of the City," lists edges as one of the five key elements of city form. In his seminal work, "The Social Life of Small Urban Places," William Whyte notes that the edges of public spaces are often where people are most attracted. In fact, understanding boundaries is a basic part of human nature and a significant contributor to our feeling of comfort within a place. Consider the last time you had a conversation with a "close talker" or someone stood too close behind you in a line. Without consciously thinking about it, we naturally seek out appropriate margins and sense when limits have been crossed. Beyond establishing our first impression of a place, its walls, fences and markers provide a reassuring clarity between public, semi-public and private spaces.

Perhaps it is because implementing good edges takes expertly focused awareness that we so often leave them out completely. Unfortunately, without them, we sense something is missing, leaving us uncomfortable with the ambiguity.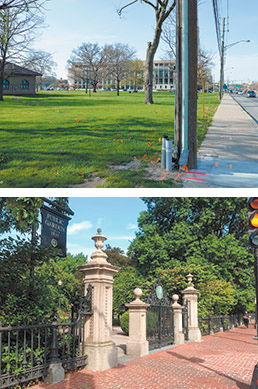 Military Park, top, lacks the defined edge of Boston Public Garden. (Photos courtesy of Ratio)

In the public realm, for which the intent is the democratic use of the space, it is imperative to get the edge details right. A good edge has clear gateways that provide welcoming visual and physical permeability. Using appropriate materials is essential. Chain link tends to suggest denial of entry; wrought-iron pickets insinuate attention to detail. Sometimes scale can make all the difference—a stone wall 30 feet high is fortification, but at 2 feet a wall can be an invitation to take a seat and linger.

Ultimately, well-designed edges, in my opinion, fall into three categories: the Fringe, an Enclosure, or a Seam. Like the borders of the Boston Public Garden, with its wide sidewalk, low iron fence and mature tree cover, a fringe edge is like an introduction, perhaps even an invitation, to what is inside while providing its own pleasant passing experience. Imagine how Indy's Military Park might feel bordered similarly.

The success of most European plazas is due, in part, to the enclosure provided by the adjacent buildings, evidenced by the Piazza Navona in Rome. While Indy has few such places, the outdoor room of Monument Circle is an exceptional example.

The moderate change in elevation from sidewalk to terrace at Bryant Park in Manhattan—facilitated by welcoming stairs, appropriately scaled walls and lush planting—make its edge a seam of public space all its own between the street and the park beyond. Interestingly, it has been made even more so now that, needing maintenance, the iron fence has been removed, making the top of the wall a welcome seating option. Compare this to the feeling of walking along Meridian Street in Indy, next to the American Legion Mall or Obelisk Square, where there is no defined edge.

Excellent public spaces often are what define the most memorable and meaningful experiences within a city. Getting right the subtle elements of their design can mean the difference between a place that is simply used and one that is wholeheartedly embraced.•

__________

Gallagher is an urban designer with Ratio.