Correction: The print edition and earlier online edition misidentified the title of "Mad Mad Hercules."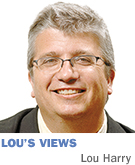 Generosity, skepticism of it, guilt associated with it, and strings tied—or not tied—to it, form the foundation of "The Open Hand," a compelling play by Robert Caisley having its local premiere at the Phoenix Theatre (through May 14).

The specific set-up is enticing: After lunching with a friend, Allison (Leah Brenner) finds herself without cash or a card to pay the bill. The friend, Freya (Julie Maruo), has already skedaddled off to an appointment, fiance Jack (Jay Hemphill) is unreachable by phone, and Allison isn't quite sure what to do.

Enter a well-dressed stranger (Charles Goad), who promptly plops down the bills for the lunch, offers her his umbrella to help dodge the storm that has brewed outside, and is gone as quickly as he arrived.

What, for many others, might have been an interesting anecdote to share with friends and family proves, for Allison, to be an act she can't shake. Is it possible for someone to act that generously without expecting something in return? Is an unconditional gift—if there truly is such a thing—fair to the recipient, given the human desire to balance the scales?

Compounding matters for Allison is an upcoming birthday—a day that clearly carries baggage for her. Why she doesn't want to acknowledge it and how she pursues connectivity with the generous stranger are the two tracks that inevitably collide.

"The Open Hand" is not without its dramaturgical clunks. I had trouble believing, for instance, that Allison—prodded by her fiance—would make a middle-of-the-night phone call to her benefactor, whom she had barely met, inviting him to a dinner party. It would have been far more believable if the call were made at a still-awkward 11. Similarly, the $80 lunch seemed designed, against realism, to raise the stakes but only served to undermine the credibility of the characters. And the dinner party for four—later five—seems a small-cast convenience rather than making sense in the narrative.

But the play and the production pulled me past those blips by fostering a strong desire to know what's going to happen next. And to care. Goad, whose character's turn-the-other cheek actions could be beatific or a facade covering something darker, allows the audience to ask the same questions about him that Allison is. As Allison, Brenner takes us on an emotional journey with the troubled woman, all the while managing to avoid telegraphing where the character is going. And an unexpected story from another character—I won't say which—enriches the piece even further, bringing out the themes not by preaching but through surprising but just-right revelation.

One of the strongest achievements of "The Open Hand" is that it never tips its hand. A smart play given a worthy production, it's one that is likely to lead you to question not only the motivations of others, but to ask yourself tough questions about your own actions.

■ The elements are all there: The wit and offbeat sensibility of playwright Bennett Ayres, the visual creativity of Zach Rosing Productions, and the what-will-they-do-next esthetic of NoExit Performance.

Yet the combination of these three home-grown forces in "Mad Mad Hercules" (through May 7 at IndyFringe) is less than the sum of its parts.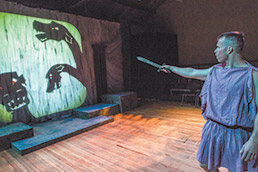 The title hero (Ryan Ruckman) squares off against the multi-headed Hydra in "Mad Mad Hercules" at IndyFringe. (Photo courtesy of Zach Rosing)
Some of those parts are quite delightful. The fully committed Nathan Thomas earns a spot on my actors-to-watch radar for his David Hyde Pierce-like turn as Iolaos. Beverly Roche, who has long been on that radar, ups the urgency as both Hippolyta and Galinthias. The deliberately jerky shadow puppetry makes for a fun Hydra battle. And Ryan Ruckman adds another very funny hunk to his roster of characters, this time bringing his understated, straight-faced humor to the foul-mouthed, steadfast title character whose labors—basically fighting one mythological creature after another—make up much of the play.

Booming pre-show announcements from Zeus, a surprisingly elegant and poetic golden-antlered deer, and Ayres' casual fun with brutal subject matter are distinct pluses as well. Yet a few too many easy, self-referential moments and an overall redundancy keep this seeming like more than an overextended Fringe show.

And on a side note, I have no doubt that this "Bad Bad Hercules" contains more refernces to country music star Trisha Yearwood than any other play based on classical mythology.•

__________

This column appears weekly. Send information on upcoming arts and entertainment events to lharry@ibj.com.