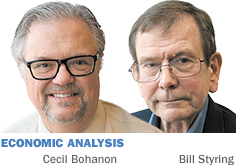 Economists recommend policies that require implementation. Implementation of these policies often creates tension between federal and state authorities. We call this shared power "federalism." The Federalist Papers regarded federalism and its cousin, the separation of powers, as surer bulwarks of liberty than anything written into the Bill of Rights. State and local governments can, if they wish, thwart federal policy—within limits. We've seen examples of such conflicts play out recently.
The Supreme Court's 2012 review of the Affordable Care Act (aka Obamacare) in NFIB vs. Sebelius held that the federal government could not cut off all Medicaid funds to states that chose not to expand Medicaid eligibility. Such a "gun to the head" undermines state sovereignty as guaranteed by the U.S. Constitution. Chief Justice Roberts wrote that "Congress has no authority to order the States to regulate according to its instructions." Conservatives cheered this slapdown. So did many states, including Indiana, that had turned down Medicaid expansion. Progressives wept.
More recently, the Trump administration issued an executive order threatening to withhold federal funds from California cities that do not cooperate with federal enforcement of immigration laws. Two of these so-called sanctuary cities, Santa Clara and San Francisco, filed suit. Federal judge William Orrick, liberally citing the NFIB opinion, ruled that the administration's executive order "is likely unconstitutional under the Tenth Amendment because it seeks to compel the states and local jurisdictions to enforce a federal regulatory program … ." Progressives cheered while conservatives wept.
The principle in both instances is the same. We can't appeal to a principle when it produces outcomes we like but damn it when it produces outcomes we don't like. That's called the rule of law. The feds can't coerce state and local resources, but neither can state and local governments actively undermine federal laws and purposes.
Former Alabama Gov. George Wallace could not use the state police to prevent federal agents from integrating the University of Alabama. But he could stand at the schoolhouse door. New York Mayor William DeBlasio would be ill-advised to send the city cops in to stop an INS deportation raid, although, like Wallace, he can grandstand to his heart's content. Courts must decide exactly what the limits are.
Yes, we want a federal government powerful enough to accomplish its lawful purposes. On the other hand, a federal government that can run roughshod over state and local governments is likely to degenerate rather rapidly into a tyranny that is in no one's interests. No economic policy is that appealing.•
__________
Bohanon is a professor of economics at Ball State University. Styring is an economist and independent researcher. Both also blog at INforefront.com. Send comments to ibjedit@ibj.com.
Please enable JavaScript to view this content.