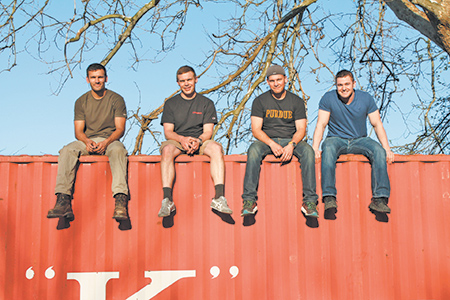 Hydroponics—growing crops in water only, without soil—dates back to the first century, in the Roman Empire.
But four millennials working out of a barn just east of Indianapolis are putting a new spin on the old farming technique. And they're using a surprising space for it.
During an educational outreach mission that took him through South Africa, Chris Moorman came up with a novel idea for refrigerated shipping containers.
Produce—and lots of it—could be grown in them, he surmised after a casual conversation with a local resident that somehow turned to the topic of uses for discarded shipping containers.
After concluding his overseas mission and a five-year tour as a Wall Street stock broker, Moorman decided to build a business on the unusual idea.
An acre's worth of produce can be harvested from a 40-foot shipping container outfitted with his company's high-tech system, according to the 30-year-old Bedford native.
These days, hydroponics is most often conducted in a greenhouse, but that involves high construction costs and building permits.
Moorman's company, Greenfield-based Rubicon Agriculture, offers a self-contained, fully enclosed hydroponics unit, called an AgroBox, for $75,000. A higher-yield model costs $82,000.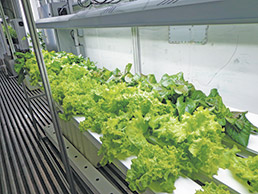 Heads of lettuce in Rubicon's AgroBox mature in less than half the time as those grown outside in a field.
"I've seen a lot of hydroponics operations, but I've never seen or heard of one using a shipping container," said Robert Rode, lab manager of Purdue University's AquaCulture Research Lab.
Rubicon's founders' backgrounds are as unique as their ideas. None of them have farmed.
Moorman, who graduated from Purdue University with an economics degree and is Rubicon's CEO, spent his early career as a commodities trader before discovering his passion for sustainable agriculture during a year-long sojourn through several developing countries.
Moorman's younger brother, Erik, 26, served as a nuclear engineer in the U.S. Navy. Serving on the USN Newport News, he learned about closed-circuit water systems in agriculture.
Jesse Robbins, 26, who, like the Moorman brothers, is from Bedford, and Pat Burton, 28, a Greenfield native, previously worked with automation technology in manufacturing that they now apply to the growing process. Both graduated from Purdue with electrical engineering degrees.
"We're an eclectic group, but we all have vital skills we bring to the table," Moorman said.
Initially, they had difficulty finding financing.
"We were a bunch of guys who never grew anything," looking for funding to start an agricultural company, Moorman said with a laugh.
Eventually, the founders started the firm with $60,000 from their own pockets.
The company, which launched in July 2015, is approaching profitability, Moorman said.
Built-in advantages
Rubicon's system has several advantages, he said. It's "easily movable with a semitruck and a winch. You can put it anywhere."
Also, because the containers are refrigerated, "they have a great insulation rating," Moorman said, making temperature control—critical for maximum hydroponics production—easier and more efficient.
An added plus for Rubicon is that it can buy the containers—after they've made myriad trips across the globe—for pennies on the dollar.
About 2,500 plants can be placed on each unit's floor-to-ceiling tiered shelving and, with only a water and electrical hookup, growers can control conditions inside a Rubicon unit with "pinpoint precision," Moorman said. The key, he added, is a data-collection system that allows growers to monitor conditions for optimal growth.
"If I can't act on the data, the data is just noise," Moorman said. "Having our system is all about actionable data."
Driven by Mitsubishi control components, the system is akin to those used in advanced manufacturing, he said.

Rubicon's units are outfitted with LED lights and a system that controls light spectrum and wavelength, a climate control unit that tightly monitors and controls oxygen and carbon dioxide levels, and a hydration system that recirculates water with a precise mix of nutrients and a carefully set pH balance. Moorman boasts that Rubicon's system uses only 10 percent as much water as traditional farming.
"One of the best parts of our system is, it doesn't require pesticides or herbicides," Moorman said. "It's completely organic."
But hydroponics comes with serious challenges, said Darin Kelly, who operates Good Life Farms in Eminence.
The technique "is technical and not simple," said Kelly, who grows crops traditionally and through hydroponics. "You've got to worry about plumbing, slope, pressure and measuring nutrients. You become a plumber; you become an electrician."
With Rubicon's system, zoning can be a concern, too, Moorman admitted. Since this is a new concept, local zoning officials are still working out the regulations.
Rubicon's system is best suited for predictably growing plants that don't stretch upward too much or have lots of inedible biomass, like corn. Plants like snap peas, kale, basil, oregano, spinach, cilantro and lettuce are ideal.
Moorman said a head of lettuce grown in the field takes more than 60 days to mature— but only 24 in Rubicon's unit. By using phased growing, Moorman said, farmers using Rubicon's system can produce 500 heads of lettuce weekly year-round from a single 320-square-foot container unit.
"For a space that small, that type of production is really super," Purdue's Rode said. "It may even be optimistic. But if they can achieve that, it's very, very good."
Educational component
Moorman has been working to get his system in the hands of several Hoosier high schools, including Shortridge High School in Indianapolis, another in southern Indiana, and one in Omaha, Nebraska. He said it's a great teaching tool.
"We're going to have a generation of farmers that don't live on farms," Moorman said.
But the technology can go beyond farming.
It's the same as that used "to make an intake manifold," he said. "There's a real workforce-development part of this."
He predicted Rubicon's portable system will also be key in furthering the farm-to-table movement and could help solve the problem of food deserts—neighborhoods, often low-income, that are more than a mile from a grocery store.
"The average American meal travels more than 1,500 miles from farm to plate," Moorman said. "Of all the produce consumed in the U.S., 50 percent of it is grown in California, where there is a major water shortage. Those aren't sustainable trends.
"We're taking something—a shipping container—that has been bringing food to you in a more traditional sense and putting it back to work growing food right in your local neighborhood."
No aquaponics
One field Moorman has no interest in is aquaponics, a system not quite as old as hydroponics, but nevertheless one that has been around several centuries. In aquaponics, Rode said, producers have to balance two ecosystems that aren't always compatible.
Aquaponics operations use controlled ponds—often indoors—to raise fish, usually a hardy species like tilapia. The plants draw from the bionutrients in the fish ponds. The upside to aquaponics: Operators can sell both fish and crops. But Rode said establishing conditions that both the fish and crops can thrive in is tough.
"The fish and plants often prefer different pH levels and water temperatures," he said.
Moorman said there's plenty to harvest with the more manageable hydroponics. The U.S. hydroponics industry is projected to hit $9 billion by 2020, according to multiple sources. Moorman said Indiana can nab $2 billion of that, pointing out that Indiana and the four surrounding states spend $20 billion on produce annually.
"We think there's an opportunity for Indiana to be a powerhouse of produce," Moorman said. "But that opportunity comes with a lot of education."•
Please enable JavaScript to view this content.