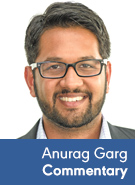 IoT, the internet of things, is the next big thing in tech-based startups and the investment world. While maybe not a common household term yet, virtually everyone is familiar with internet-connected devices: FitBits, Apple Watch, smart cars, the Amazon Echo, etc. The trend is called the internet of things because our "things" are using the internet more than we are. But IoT isn't about making your toaster self-aware; it's about making you more aware.
Right now, the IoT fad is being driven by two basic market instincts: Businesses want data, and consumers want convenience. Data helps businesses understand how to sell to you better. And as consumers, we like the convenience of having our coffee waiting for us in the kitchen when we wake up. These are legitimate values and have brought some innovative and fun products to the market, but they don't represent the potential of IoT.
I say "fad" because there is a surge of businesses trying to connect just about anything to the internet. We have seen smart egg trays, smart hairbrushes and, yes, the smart toaster is real. I even saw something about smart condoms recently (sadly, it was not an April Fool's Day joke). We don't really want or need these things, but business will keep churning them out to see what sticks. The part of IoT that will change your life will become clearer as the fad fades.
Your body is a highly self-aware machine: You know exactly when you cut your hand or place it on a hot surface. Imagine if you did not have reflexes and found out that surface was hot only when you saw your skin burning.
That example might sound silly, but that's how we live every day in our homes and businesses. You find out your furnace has problems only after the heating stops on a cold winter night. Our homes are like a body, with appliances as organs, wiring and HVAC that run the circulatory system, and a skin of walls that protect us from the elements. These systems affect our health and stability, yet we usually don't learn they have a problem until they break down.
Businesses face similar challenges. In manufacturing especially, surprise failure of critical equipment can cost upwards of $50,000 an hour (in some cases, $50,000 a minute).
Our homes and businesses lack a nervous system to say "ouch" when something starts to go wrong. The true potential of IoT is to create a nervous system for the systems we rely on to run our lives.
Every discussion about technology involves the concern that it is making us "dumber and lazier," but IoT is all about awareness. Being able to automatically collect data from our homes, businesses and bodies allows us to make better decisions. Already, sleep trackers are helping people change habits to get a good night's rest, and fitness trackers help us stay consistent with exercise. Even our first generation of smart-home devices is helping us save money and conserve energy.
When my wife's Apple Watch tells her at 8 p.m. that she hasn't done her 30 minutes of exercise today, she pulls out the exercise mats and ensures that both of us get a workout in before bed. There is a whole world of better living, better processes and better habits hidden in data we have not been able to capture until now.
The next level of this connectivity—the ability of data to warn us about problems before they happen—will allow us to prevent breakdowns of household appliances, cars, machines or even our own bodies.
Imagine having a 48-hour warning ahead of a heart attack. Imagine a manufacturing plant telling the maintenance team a week before a machine will break down. Even more, imagine knowing how to change processes and behavior to prevent the problems altogether—a car, for example, that can sense an accident about to happen and take corrective action to avoid it.
This might all sound fantastical, but it is the true reason the world is so excited about the future of IoT. The world already relies on interconnected systems to function; the difference is that we will have the knowledge and insight necessary to keep them running smoothly, improve them, and design systems we haven't thought of yet.•
Garg is CEO of Dattus, an industrial IoT firm with offices in Indianapolis, Chicago and Pune, India.
Please enable JavaScript to view this content.