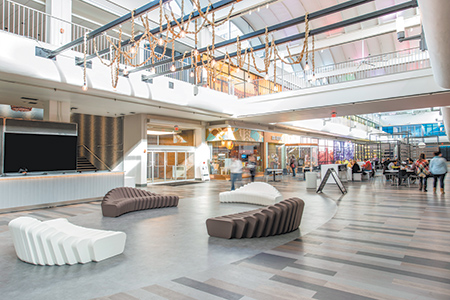 Indianapolis doesn't have a mall that's been converted into a tech-hub or free Wi-Fi covering the Mile Square. But could it? Should it?
IBJ compiled a list of innovative projects in other cities that have garnered national attention and could prompt discussions locally.
Keep in mind that "innovative" is not always synonymous with good—or with successful. But the ideas are worth noting. Some have been fine-tuned through years of trial and error, while others are just getting started.
Pittsburgh
Once a mall…
The Allegheny Center Mall was built in the mid-1960s on the city's north side as one of the country's largest retail centers. At one time boasting 75 stores, it welcomed shoppers for about 20 years until its prominent anchor tenant, Sears, closed. By the 1990s, businesses started taking over the retail space in an attempt to transform the mall into an office hub. But by 2015, offices occupied only 50 percent of the 1.2 million square feet of space.
Then New York developer Faros Properties got involved. In May 2015, company representatives and Pittsburgh Mayor Bill Peduto revealed an ambitious plan to redevelop and revive the complex.
Since then, Faros Properties has spent $250 million to outfit the space for technology companies and entrepreneurs. The mall has been rebranded Nova Place and is about 80 percent occupied. The development features restaurants, a 10,000-square-foot fitness area, common areas, "innovation pods," and the city's largest and newest co-working space, known as Alloy 26.
Wi-Fi is available throughout the three buildings, food trucks set up in a plaza on the property on a rotating schedule, and a food hall that would give new chefs an opportunity to test menus is expected to open soon. And it's still early. Faros is still renovating some areas, and occupancy is expected to keep rising.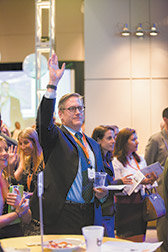 (Photo courtesy of Colorado Technology Association)
Denver
Bidding for C-level access
Ever dream of getting just a few minutes with an exec from a major tech firm to pitch an idea, pick his or her brain, or just make a connection? In Denver, you can have that—for a price.
The annual fundraiser for the Colorado Technology Association is like speed dating for up-and-coming tech companies and established executives. At C-Level @ A Mile High, attendees can talk with some of Colorado's top tech corporate executives, such as the senior vice president and chief information officer for Dish Network, the vice president of global IT for Crocs, and the chief technology officer for HomeAdvisor.
An "ambassador" is assigned to each "celebrity" to keep conversations and the people moving. If an attendee wants more time with the celebrity, he or she can bid on that person's experience package, which could include offerings like dinner with top executives, a golf outing or Broncos club seats.
And, of course, face time.
The event also features a silent auction of items donated by the tech community.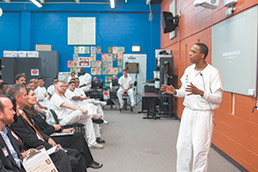 (Photo courtesy of Prison Entrepreneurship Program)
Houston and Dallas
Inmates-to-entrepreneurs
A Texas not-for-profit is helping male inmates learn business skills and launch their own companies upon release. The Prison Entrepreneurship Program, which started in 2004, has graduated more than 1,300 inmates from its rigorous nine-month program and has seen results—100 percent of its graduates are employed within 90 days of release from prison.
Fast forward to 12 months after release, and nearly 100 percent are still employed. More than 200 graduates have launched their own business and some have started hiring other ex-convicts.
But it's not an easy program to get into. Inmates must be within three years of release and cannot have sex offenses on their records.
PEP sends qualifying inmates information and invites them to apply—typically about 2,000 do so. From those, 1,500 are selected and receive a study packet that includes the AP Writing Style Guide, PEP's Ten Driving Values and a Basic Business Vocabulary reference. Two weeks later, the candidates take a 50-question test, and those who score above 70 percent are interviewed in person.
About 500 are usually enrolled in the program and transferred to a facility near Houston or Dallas. The course starts with a three-month leadership academy and is followed by a six-month "mini-MBA" that involves creating and pitching a business. Each graduate receives a Certificate in Entrepreneurship from the Baylor University Hankamer School of Business.
Nationally, about two-thirds of inmates are rearrested within three years of release, but among PEP graduates, the recidivism rate is less than 7 percent.
The program is open only to male inmates now, but the organization is in the process of expanding it to females.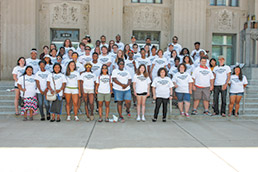 (Photo courtesy of Kalamazoo Promise)
Kalamazoo, Michigan
Sending kids to college
"Free college for everyone" sounds like an unrealistic goal, but that's not the case in Kalamazoo.
In 2005, Kalamazoo Public Schools announced the Kalamazoo Promise, which covers college tuition for all high school graduates who were enrolled in the district from kindergarten. For those who enrolled later, the scholarship is awarded on a sliding scale, and all recipients must have been enrolled in the district at least four years.
The program does not consider GPA or financial need. In fact, students need only fill out a one-page application.
About 90 percent of KPS students are eligible for the funding and, of those, 85 percent apply and receive scholarships. The program covers tuition at nearly 60 public and private colleges and universities in Michigan.
Funding comes from anonymous donors, although some have speculated that the source is local billionaires Ronda Stryker, Jon Stryker and John Brown.
Ronda and Jon Stryker are grandchildren of Homer Stryker, who founded medical technology company Stryker Corp., and Brown ran the company for 32 years. Ronda and Jon Stryker are worth $4.5 billion and $2.6 billion, respectively, according to Forbes, and Brown is worth $2.8 billion.
Since 2006—the first year scholarships were available—more than $85 million has been awarded to more than 4,500 students.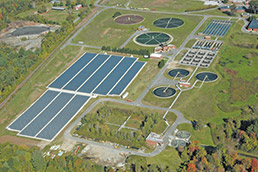 (Photo courtesy of state of Massachusetts)
Massachusetts
Cutting energy use—one water plant at a time
It turns out collaboration can be more than just a buzzword. It can actually yield cost-savings.
A handful of federal and state agencies, organizations and higher education institutions in Massachusetts teamed up years ago to help cut energy use and reduce operational costs at municipal wastewater and drinking water plants across the state.
The premise to municipalities: Embrace the program, complete energy-saving projects, and save money in the long run. Or don't take the offer and keep paying higher bills than necessary. The program helps communities conduct an energy assessment at water treatment plants, identify possible savings and funding sources, and implement new strategies.
The foundation of the program is a 2007 pilot that provided $326,000 in energy-assessment services to 14 municipal utilities. The program has grown and evolved—from early 2008 to 2014, one-third of the state's water and wastewater facilities participated, which saved communities $35 million through reduced energy demand.
In 2014, the state went even further and provided a total of $2.5 million for 30 clean-energy and energy-efficiency projects. Those initiatives are expected to, over 15 years, save $40.2 million and reduce greenhouse-gas emissions equivalent to removing 5,369 cars from the road.
Since 2007, more than 120 facilities have benefited from technical and financial assistance from the program, and the state has seen a 173 percent increase in on-site renewable generation.
Noteworthy
(Other projects worth mentioning)
Free shower program
Seattle
Four community centers throughout the city offer the homeless free use of their showers and bathrooms at set times. All centers are on bus lines.
Wicked Free Wi-Fi
Boston
Wicked Free is an outdoor wireless network everyone can use. It's not perfect—coverage can drop during bad weather, and the network has bandwidth limits and is not exactly everywhere yet—but it's still free Wi-Fi throughout the city.
On our watch list
(It's a little too soon to predict the impact of these projects.)
Public restroom pilot program
Denver
No city wants the unpleasant consequences of being short on public restrooms, but Denver officials also don't want to invest in building restrooms in places they won't be used. So, to figure out the best locations for new facilities, the city is testing spots with mobile restrooms—moveable trailers with stalls and a urinal and an attendant to monitor them. The city is tracking usage and will use the data to determine where to build restrooms.
Hiring homeless
Albuquerque, New Mexico; Chicago; and Portland, Maine
These cities are taking a different approach to helping people get off the streets: Hire them. In Albuquerque—which might have been the first city to adopt this strategy—workers are paid $9 an hour to clean up public areas, like vacant lots and abandoned parks. In Chicago, individuals can earn $55 a day on the work crew. Portland just started its program in April, but the plan is to pay panhandlers $10.68 per hour—the city's minimum wage—to clean public spaces.
Homeless housing
Portland, Oregon
The Multnomah County government is offering to build tiny homes (about 200 square feet) in the back yards of homeowners willing to allow a homeless family to live there for five years. After that, the homeowner is allowed to rent the house to whomever they'd like. The county plans to start with four tiny houses that could be ready for move-in by the end of summer. If that phase is successful, the program could be expanded. At first, the homes might cost as much as $75,000 to build, but if the program scales up, that cost might decrease. Local officials say the program could quickly add housing options for the homeless and break down stereotypes of homeless people.
Array of Things
Chicago
Array of Things is an "urban sensing" project that uses a network of sensor boxes throughout the city that collect data on the environment, infrastructure and activity in real time. The result could yield information like the most populated route for a solo late-night walk to the train station. The data will be available to the public and researchers with a goal of making Chicago healthier, more efficient and more livable.
GreenToGo
Durham, North Carolina
Don't Waste Durham, an organization trying to reduce consumer waste, is coordinating an effort to have restaurants offer reusable and returnable takeout containers. GreenToGo boxes can be checked out through a mobile app at participating restaurants, for takeout orders or dine-in leftovers. Customers later check in the used boxes at drop-off bins at participating restaurants. The restaurants wash and sanitize the containers for reuse. Memberships cost $25 per year.•
Please enable JavaScript to view this content.