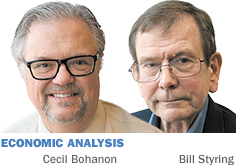 We take clean water for granted. But in large parts of sub-Saharan Africa, clean cooking and drinking water are a spotty or nonexistent luxury. This is despite well-intentioned Western donors sinking wells in African villages for decades. Turns out the donor model of "dig a well and provide free water" isn't so hot at keeping water flowing.
Wells break down and need periodic maintenance and repair as any well-dependent Indiana household knows. On average, an African well can be expected to last six months to two years before needing repair. In the typical donor model, a local quasi-governmental committee, often with grant support, is responsible for the fix. It is quite normal for these entities to be inefficient and corrupt. Repair delays extend months and even years. At any given time, one-third of all village wells in Kenya sport an "Out of Service" sign.
Even when the wells function, there are major problems. "Water is a Human Right!" and "No One Should Pay for Water" are nice-sounding slogans for college campuses. But any economics text will tell you that when something is free, people treat it as an unlimited commodity. Typically, donated African wells are open twice a day—when they work. Villagers quarrel for positions in the queue and no one is responsible for turning the well off. Pools of water form around the well, attracting every disease-bearing mosquito in the neighborhood.
Is there a better way? Sometimes paying for something is better than getting it for free. Enter private enterprise.
Entrepreneurs note that even in the poorest African villages, a majority of residents have cell phones. And in some villages, there's a connection between cell phone use and water availability that seems to work. The water wells in these villages are owned by for-profit companies, are engineered to flow 24/7 and are metered. Village merchants serve as middlemen, selling electronic cell phone tickets that cost the consumer about a penny and provide 20 liters of water. No more quarrelsome queues. No more mosquito-infested pools of water. Repairs get done in hours rather than months or years. Why? A for-profit water company gets no revenue from a non-functioning well.
So which is better? Free water some of the time (with hassle and mosquitos) or cheap (but not free) convenient water all the time? Interestingly, when conversion is made to the price system, almost no one goes back to the old arrangement. Villagers vote with their pennies. Donor generosity is noble but very often belongs with the Good Intentions Paving Company. Markets and prices work.•
__________
Bohanon is a professor of economics at Ball State University. Styring is an economist and independent researcher. Both also blog at INforefront.com. Send comments to ibjedit@ibj.com.
Please enable JavaScript to view this content.