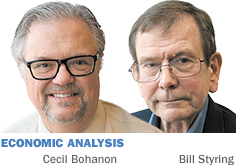 Milton Friedman once quipped that understanding public finance is really very simple: "Governments spend whatever revenue they can raise, plus whatever else they can get away with." The "whatever else" is borrowed money. Sometime in early autumn, the U.S. Treasury will run out of cash and once again beg Congress to raise the debt limit.
Dante must have reserved a special Circle of Hell for the American public, which is forced to watch this debt-limit spectacle over and over, knowing it will turn out as it always turns out. Politicians use the occasion to prance and posture around their favorite totem. Democrats will moan that the budget imbalance is caused by tax giveaways to the rich. Republicans will gripe about profligate spending. This will drag on while pundits harrumph about how a default on the public debt would be worse than nuclear war. In the end, there will be a few cosmetic changes so everyone can claim victory. The politicians will boast to their respective bases how they "fought" for them. The debt limit will go up. And Congress will go back to whatever it is Congress goes back to.
This exercise is worse than useless. It's dangerous. It distracts from the real problem: Politicians love spending money and hate raising taxes. One gives pleasure and gains votes. The other inflicts pain and loses votes. If spending pleasure had to be matched by inflicting tax pain, spending would be restrained. Borrowing money postpones the imposition of tax pain and makes the spending appear free. Government grows because the spending pleasure is now and the pain is later: always after the next election. If lucky, the piper's bill can be laid off on unborn generations.
The danger of the debt-limit Kabuki dance is its capacity for deception. Opposing, or seeming to oppose, a debt-limit increase can be passed off to gullible constituents as evidence of fiscal probity. This is sophistry. Debt is the result of past spending and taxing decisions. By the time the debt-limit increase is on the table, the fiscal horse has been let out of the barn. If the choices are to raise the debt limit or default, everyone knows default won't happen.
If we thought the debt limit restrained government growth, we'd be all for it. But when is the last time you heard someone vote against a spending bill because "it will breach the debt limit next year"?•
__________
Bohanon is a professor of economics at Ball State University. Styring is an economist and independent researcher. Both also blog at INforefront.com. Send comments to ibjedit@ibj.com.
Please enable JavaScript to view this content.